"Every year I would tell my mom, 'This summer I'm going to catch a record,'" explained South Carolina high school teacher Nikki Colwell—this year, that promise became a reality.
Colwell has been fishing her entire life, alongside her father, Rob. "There are photos of me fishing while wearing a diaper," she told Greenville News.
All the practice has clearly paid off: last month, Colwell caught what has just been certified as the largest spinner shark to be caught in South Carolina's recorded history. Even more impressive is the fact that the massive shark actually broke Colwell's fishing rod mid-catch, forcing her to reel it in with her hands.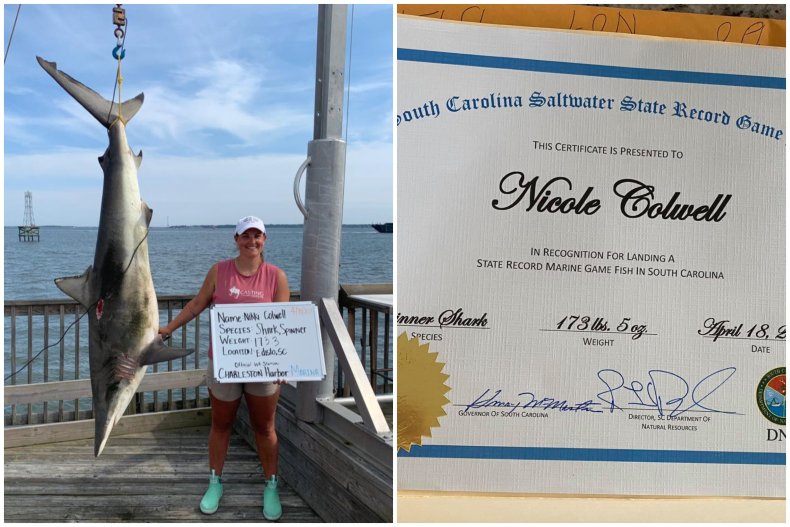 The 27-year-old teacher was fishing with her dad about nine miles off the coast when she caught the record-breaking shark in mid-April. As reported by The State, the two were heading home due to bad weather when their anchor got stuck.
They decided to wait it out and kill time with some shark fishing. "I like to eat shark, my dad likes to eat shark, so I just wanted something we could keep and eat," Colwell said.
The father-daughter duo reportedly releases 90 to 95 percent of their shark catches, says Greenville News. Whatever they keep they use for food, distributing it among family and friends.
Colwell was reportedly eating a peanut butter and jelly sandwich when she felt the tug on her line. "I let it run for a few minutes so I could finish my Uncrustable sandwich," she told The State.
However, the calm didn't last long. "When we finally got it to the boat, that is kind of when it went crazy," Colwell explained. Eventually, the shark became so agitated that it broke the top of her fishing rod. "It was crazy...I've never had a rod break."
When they finally got the shark aboard their boat, their "hands were trashed from hand-lining, and gaffing and tying the ropes off." But Colwell's father, with his decades of experience, had a suspicion that their catch might be of a noteworthy size.
"You could just see in his facial expressions. The wheels were turning that I think this might be a pretty big one," Colwell told WYFF.
According to The State, the duo then brought the giant shark to the Charleston Harbor Marina, where it weighed in at 173 pounds and five ounces—beating the former spinner shark record by about two pounds. They called the Department of Natural Resources and began the lengthy process of getting their catch certified.
Colwell officially received her certificate last week, "in recognition for landing a state record marine game fish in South Carolina."
"It got really surreal at that moment," said Colwell to WYFF, describing the accomplishment. "I almost started crying at the dock because it's something I've wanted for a really, really long time."