South Carolina Woman Killed by Alligator After Being Attacked While Walking Dog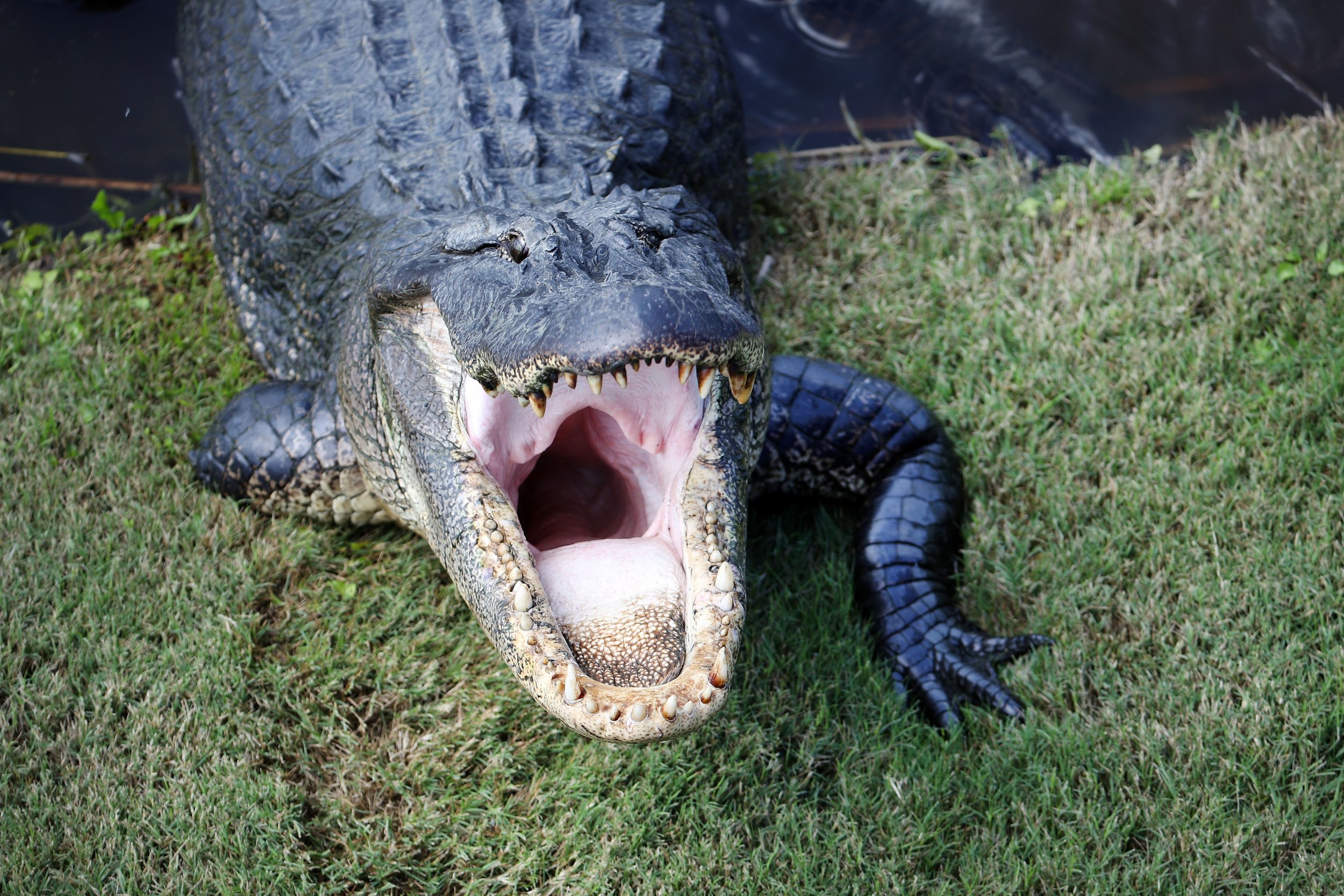 A woman identified as Cassandra Cline, was killed after being attacked by an alligator while walking her dog on Hilton Head Island, South Carolina, on Monday.
A forensic autopsy is scheduled for the 45-year-old at the Medical Center of South Carolina to determine the cause of the death, Beaufort County Sheriff's Office said in a press release.
Around 9:30 a.m. local time on Monday, Beaufort County deputies along with Hilton Head Island Fire Rescue and Sea Pines Security Personnel responded to a lagoon in the Sea Pines Plantation after receiving reports of an alligator attacking a woman, according to the press release.
Witnesses told officials that the woman was walking her dog near the lagoon, located inside a private community, when the alligator attacked and pulled her underwater. Fire personnel recovered the woman's body from inside the lagoon. The woman's dog did not appear to be harmed during the attack.
"It appears the alligator went after her dog and she tried to protect it," Sam Chappalear of the South Carolina Department of Natural Resources told The Charlotte Observer.
The alligator, which was reportedly eight feet in length, was located and captured at the scene. Chappalear confirmed to The Charlotte Observer that the alligator was euthanized.
While alligator attacks are rare, they do sometimes occur. in June, the Florida Fish and Wildlife Conservation announced that it believed an alligator was responsible for the death of 47-year-old Shizuka Matsuki. Matsuki disappeared while walking her dogs near a lake in Davie, Florida, according to The New York Times. The 12-and-a-half-foot alligator was removed from the lake and a necropsy revealed human remains inside the alligator.
In 2016, a 2-year-old boy was also killed while playing in a lagoon at a Disney World resort when an alligator attacked and drowned him.
Frank Mazziotti, a professor of wildlife ecology at the University of Florida's Fort Lauderdale Research and Education Center debunked the long-held belief that a person should run in a zigzag motion to escape an oncoming alligator attack.
Mazziotti told ABC News that alligators tend to attack humans when they feel their territory is being threatened, so the longer a person is in their territory, the longer they'll try to attack.
"When you run back and forth, you are in fact exposing yourself to attack for a longer period of time than if you just ran in a straight direction and got out of there," he explained. "Once you're no longer a threat, it has no interest in you."
In the event a person is bitten by an alligator, Mazziotti encouraged the victim to "fight like hell," because the more the person fights back the more likely it is that the alligator will give up and let go.
Blake Smith, a resident of the Sea Pines neighborhood, told The Charlotte Observer that it was "odd" to hear that a woman had been attacked by an alligator because out of the five years he's lived there, it's the first time he's heard of an aggressive alligator. Despite it being extremely rare, he added that it's "concerning" that it happened because he has a young son.
South Carolina has only had one previous alligator-related death in the last 42 years and even then, it was uncertain if an alligator was the cause. David Lucas of the South Carolina Department of Natural Resources told WSOC that in 2016 a woman wandered off from a nursing home and was later found in a pound. She'd been bitten rather badly but Lucas explained it's uncertain if she was bitten after she fell into the pond or if she was attacked and dragged into the water.