South China Sea: Two More U.S. Bombers Fly Over Disputed Territory During Night Drills
Two U.S bombers flew over the disputed South China Sea, the U.S. Air Force said in a statement on Friday, asserting the right to treat the region as international territory, despite China's territorial claims in the busy waterway.
Before their flight on Thursday, the two B-1Bs trained with Japanese jet fighters in the neighboring East China Sea, the first time the two forces have ever conducted night-time drills.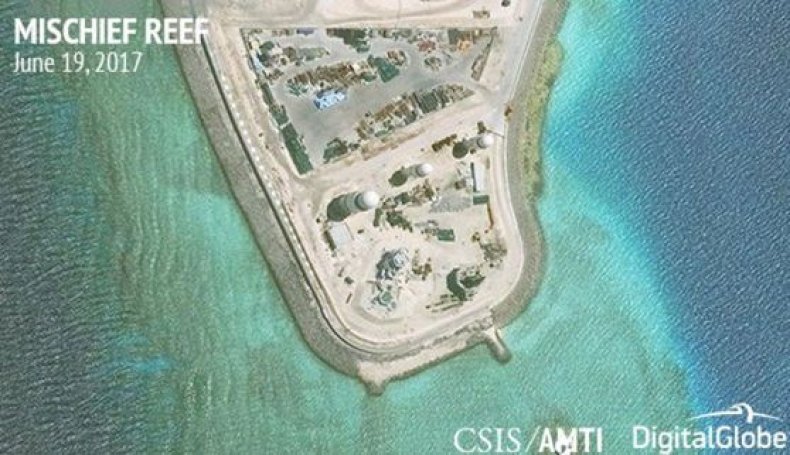 That U.S. military activity came amid heightened tension in the region after North Korea claimed it has developed a long range missile that could threaten the United States.
The U.S. wants China to do more to pressure Pyongyang to halt development o0f itsnuclear and missile programs.
China has been expanding its territory in the South China Sea by building islands over the past five years that it claims are for "navigational purposes". However, satellite photographs suggest some of the islands, often built on reefs and rocky outcrops, have military capabilities.
China denies it is militarizing the islands it has built.
Alessio Patalano, senior lecturer in Asian security and war studies at King's College London says: "The Chinese decide where to make islands by looking at the furthest possible range of planes, and radio stations, and then work where they need to build to make sure they have every area covered. Currently they have a neat triangle with range that extends across most of the South China Sea."
This isn't the first time U.S. bombers have flown over the region. On June 9 the U.S. Pacific Command said on its website that two U.S. Air Force B-1B Lancer bombers flew a 10-hour training mission from Guam over the South China Sea, in conjunction with the Navy's USS Sterett guided-missile destroyer.
The exercise comes after a U.S. warship in late May carried out a "maneuvering drill" within 12 nautical miles of an artificial island built up by China in the area.