South China Sea: Xi Jinping Warns Mattis China Won't Surrender 'One Inch' of Territory
President Xi Jinping warned U.S. Defense Secretary Jim Mattis that China would not give up "even an inch" of territory in the Pacific Ocean Wednesday, during Mattis's first state visit to Beijing.
During a meeting inside Beijing's Great Hall of People, Xi told Mattis that while China had only peaceful intentions and would not "cause chaos," there can be no concessions on territorial issues. "We cannot lose even one inch of the territory left behind by our ancestors. What is other people's, we do not want at all," state television reported Xi as saying.
Following their conversation, Mattis told Xi that their talks had been "very, very" good. "I am happy to be in China and we are assigning the same high degree of importance to the military relationship [with China]," he said.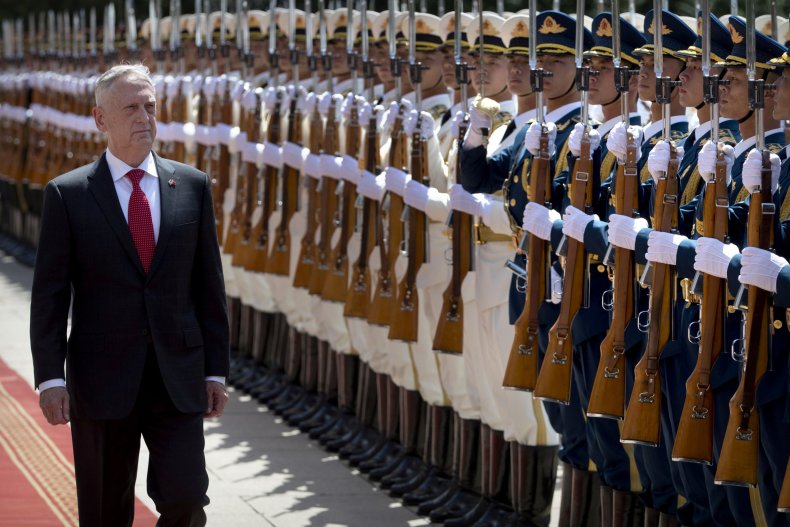 Xi's remarks underscored deep-rooted areas of tension in Sino-U.S. relations, particularly over what the Pentagon views as China's militarization of the South China Sea, a vital transit route for world trade. Beijing is also deeply suspicious of U.S. intentions toward self-governing and democratic Taiwan, which is armed by the United States. China views the island as a sacred part of its territory.
In May, the Pentagon withdrew an invitation to China to join a multinational naval exercise, citing China's military moves in the South China Sea. The U.S. decision upset Beijing and was raised during Mattis's talks, officials said.
U.S. defense officials told reporters traveling with Mattis that the talks were generally positive and candid. While both sides acknowledged points of friction, they also sought to focus on areas of alignment—including a shared goal of denuclearization of the Korean peninsula.
"Areas of disagreement were identified but not necessarily dwelt upon," said Randall Schriver, assistant secretary of defense for Asian and Pacific security affairs, adding that both sides agreed to continue discussions on the South China Sea.
Before Mattis and Xi's meeting, Steve Tsang, a political scientist and director of the SOAS China Institute, told Newsweek that "there's no way they would bridge their differences" on the South China Sea. "[Mattis] has signaled to the Chinese that he is willing to come and talk in a friendly way... He's not going to Beijing to pick a fight," he said.
Earlier that day, China's Defense Minister, Wei Fenghe, told Mattis that the U.S. and China could develop together if both sides demonstrate mutual respect and avoid confrontations. "China and the United States' two militaries must implement the consensus of the two countries' leaders, increase mutual trust, strengthen cooperation and manage risks to turn ties between the two militaries into a factor for stability in the bilateral relationship," Wei said.
Mattis arrived in Beijing on Tuesday for the three-day state visit with the aim of advancing security dialogue between the U.S. and China. He is the first Pentagon chief to visit the Asian nation since 2014.
On the day of his arrival, Chinese warships had reportedly been holding daily military combat drills in waters near Taiwan for more than a week, according to Beijing state media. Mattis's visit came just one week after North Korean leader Kim Jong Un visited Xi in China for the third time since March.