South Dakota Could Become 10th State to Ban Transgender Athletes After Bill Advances
South Dakota could become the 10th state to ban transgender athletes after a bill banning transgender women from female school sports leagues advanced to the state Senate on Friday.
The bill, emphatically backed by Republican Gov. Kristi Noem, passed the Senate State Affairs Committee in an 8-1 vote, according to KELO-TV. The committee, chaired by Republican state Sen. Gary Commack, is comprised of nine members, a majority of them Republicans. State Sen. Troy Heinert, the lone Democrat on the committee, was the only vote against the bill.
The bill would make students compete on sports teams matching the sex listed on their birth certificates "issued at or near the time of the athlete's birth," NBC News reported.
It would also permit girls to sue schools, school boards, activities associations, or colleges for damages should the girl face "direct or indirect harm" by competing with a transgender girl in school athletic competitions, according to The Forum of Fargo-Moorhead.
"Common sense tells us that males have an unfair physical advantage over females in athletic competition," Noem had previously said in a statement, according to The Associated Press.
Rachel Oglesby, Noem's senior policy advisor, said the bill was "an act to protect fairness in women's sports" during her testimony for the bill, The Forum of Fargo-Moorhead reported. She argued that allowing transgender girls to join school sports could potentially threaten Title IX protection for girls.
"Girls deserve to compete on a level playing field," Oglesby said, according to The Forum of Fargo-Moorhead. "Similarly gifted and trained males will always have advantages over females."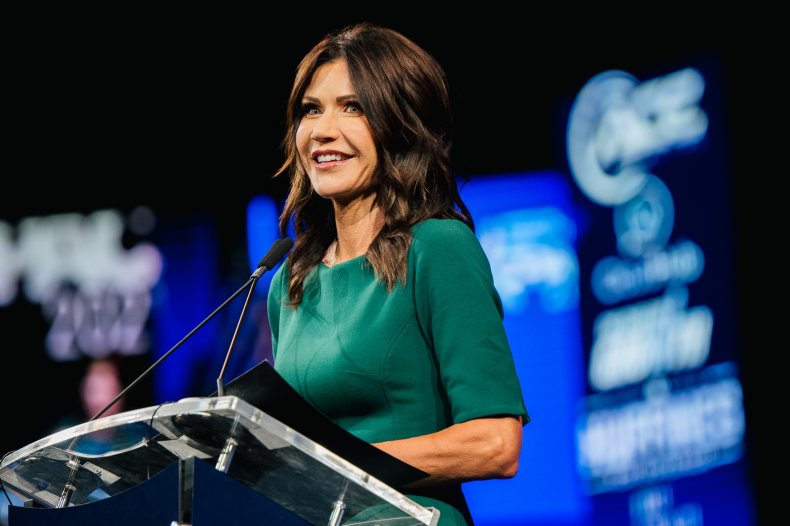 Politicians are making public schools choose between violating federal policy or state policy, groups representing the schools said, AP reported. If the U.S. Department of Health and Human services investigate a school and discover they have violated students' right, the school could lose federal funds, the Associated School Boards said.
"This particular bill does nothing, does absolutely nothing as far as helping young people," said Dianna Miller, who represents South Dakota's largest school districts, according to AP. "What it is is discriminatory, unfair, and it's not necessary."
The high school activities association also said it already implemented a policy ensuring fair competition, AP reported. On a case-by-case basis, the schools review applications from transgender athletes. They only have allowed a transgender girl to play in a girls' sport once. The association said she did not hinder the competition.
Noem previously vetoed a similar bill restricting trans women and girls from competing in female sports leagues in March, saying it had "significant unintended consequences."
On Wednesday, Noem released an ad promoting the bill on her Twitter. The ad debuted on prime-time news programs nationwide Wednesday night. In the tweet, Noem said the bill will "give South Dakota the strongest law protecting female sports in the nation."
"In South Dakota, only girls play girls' sports," the ad says at the start.
The ad runs for 30 seconds, saying that Noem had "protected girls' sports for years and never backed down."