South Dakota Doctor Says He Has Family Members Who 'Deny' COVID 'Exists,' as State's Positivity Rate Stands at 56 Percent
A South Dakota doctor warned that he has family members who still deny the reality of the COVID-19 pandemic, even as his state's testing positivity rate continues to be the second-highest in the country at about 56 percent.
As of Thursday morning, South Dakota's COVID-19 positivity rate stood at 55.9 percent, making it the highest in the nation after Wyoming. Since the start of the pandemic, the midwestern state—which has a population of about 885,000—has seen a total of more than 68,000 novel coronavirus infections and 674 deaths.
The seven-day average of new infections in South Dakota is currently north of 1,400 per day. Despite the surge in new infections, medical professionals in the state have said many still do not believe the pandemic is real.
"I have family members that deny it exists. It's hard to have that conversation with them," Dr. Austin Simonson, an internal medicine specialist at the Sanford Medical Center in Sioux Falls, South Dakota, told CNN on Thursday.
"There's a profound ability for people to think 'it won't happen to me, it happens to other people,' and that's unfortunate," Simonson said.
The doctor described dealing with the COVID-19 pandemic as a "marathon" for medical professionals, saying "we're on mile 13"—or just half-way through the crisis.
"It is exhausting," he said, explaining that the "difficulty" is getting everyone to realize that "we have a long way to go" before the pandemic is over.
"The South Dakota Department of Health has provided South Dakotans with science, facts and data related to COVID-19 throughout the pandemic. We will continue to provide this information to South Dakotans during our regular media briefings and daily updates to COVID.SD.GOV," a spokesperson for the health department told Newsweek in an email.
Jodi Doering, a registered emergency room nurse from South Dakota, posted a tweet that went viral this week, pointing out that many of her COVID-19 patients deny the existence of the virus.
"The ones that stick out are those who still don't believe the virus is real. The ones who scream at you for a magic medicine and that Joe Biden is Going to ruin the USA. All while gasping for breath on 100% Vapotherm," Doering wrote. "They tell you there must be another reason they are sick. They call you names and ask why you have to wear all that 'stuff' because they don't have COVID because it's not real. Yes. This really happens."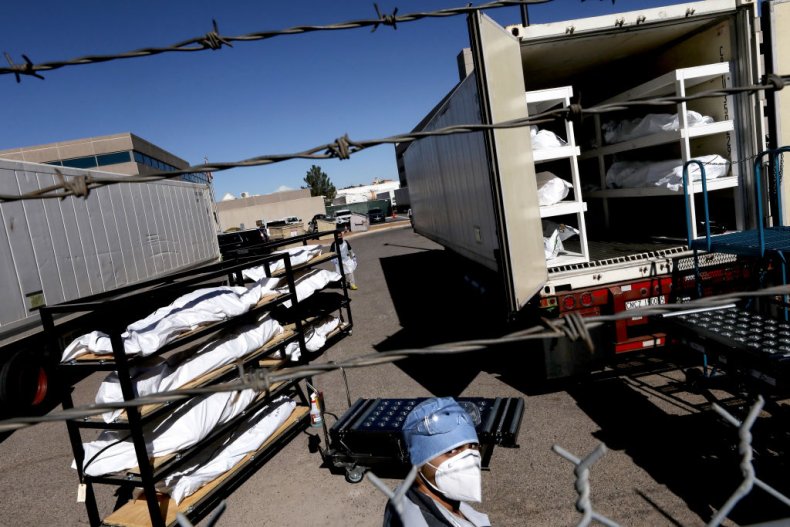 South Dakota's Governor Kristi Noem, a Republican, has faced criticism for declining to implement further COVID-19 restrictions as the pandemic surges in her state. The governor has refused to implement a mask mandate and questioned the well-established science showing the effectiveness of masks. She has also declined to put restrictions on restaurants and bars, something members of the White House Coronavirus Task Force have advocated for.
Dr. Anthony Fauci, a key member of the task force and the director of the National Institute of Allergy and Infectious Diseases, expressed shock that some Americans still do not believe in the pandemic in an interview published Thursday by The New York Times.
"I was stunned by the fact that in certain areas of the country, even though the devastation of the outbreak is clear, some people are still saying it's fake news," Fauci told the newspaper. "That is a very difficult thing to get over."
This article has been updated with comment from South Dakota's Department of Health.