South Dakota Gov. Resists Statewide Mask Mandate as Weekly Positivity Rate Remains Second Highest in the Country
South Dakota Governor Kristi Noem continued to resist a statewide mask mandate on Wednesday, telling reporters she doesn't want to impose a mask order just "to make people feel good" as the state sees the highest positivity rate in the nation.
"Over the past week, cases are on the rase in 48 states. Some have said that my refusal to mandate masks is the reason why our cases are rising here in the state of South Dakota, and that is just not true," Noem said during a Wednesday press conference. "Others have said that my refusal to advance harsh restrictions like lockdowns is another one of the reasons why our cases are rising and that is also not true."
The Republican governor added: "There are 41 states that have some kind of a mask mandate. Cases are on the rise in 39 of those 41 states."
Noem claimed that South Dakota's mortality rate over the course of the pandemic remains below the national average and "far below other states like New York." However, the New York Times reports that the state's death rate increased by nearly 50 percent in the last two weeks, bringing the total death toll to 674 as of Wednesday. South Dakota also currently leads the nation in hospitalizations, with 658 currently hospitalized from COVID-19 per 1 million people as of Tuesday.
South Dakota's 7-day positivity rate is currently over 55 percent, making it the second-highest in the nation after Wyoming, which reported a more than 70 percent positivity rate over the last seven days, according to data from Johns Hopkins University. Last week, South Dakota's positivity rate was 58.4 percent.
While Wyoming Gov. Mark Gordon has, like Noem, resisted issuing a statewide mask order, Iowa Gov. Kim Reynolds, who has dismissed a mask mandate for months, announced on Monday that anyone over the age of 2 is required to wear a face covering indoors, noting "the pandemic in Iowa is the worst it has ever been." Iowa currently has the third-highest positivity rate in the nation at 51 percent in the past week.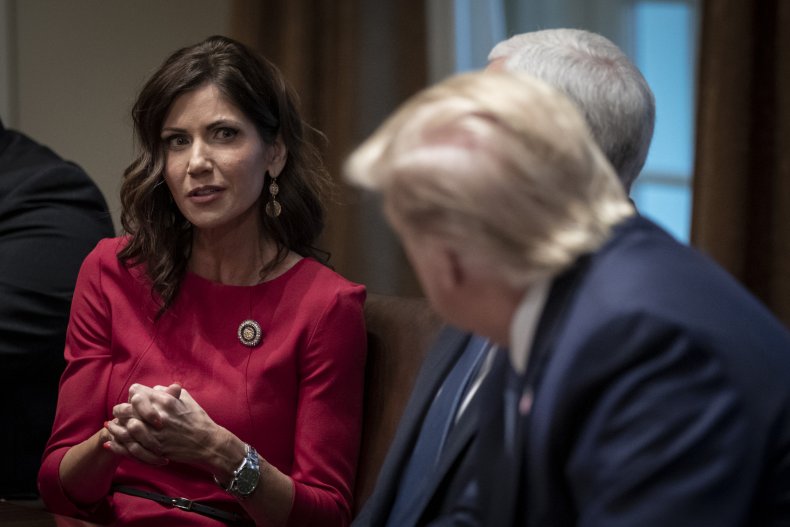 South Dakota reported over 1,000 new cases on Wednesday, bringing its total to more than 67,000 total cases since the start of the pandemic, according to the COVID Tracking Project. South Dakota and neighboring North Dakota have had some of the highest rates of COVID-19 infections, hospitalizations and deaths in the nation and the world in the past few weeks as the virus continues to ravage through the Midwest.
Despite the alarming data, Noem stands firm on her refusal to issue a statewide mask mandate for now.
"I've consistently said that people that want to wear masks should wear masks and people who don't shouldn't be shamed because they choose not to," she said in the news conference. "It has been clear from the beginning that I'm not in favor of mandating mask wearing, I don't believe that I have the authority to mandate that, and that people can use their own personal responsibility to make a decision when it comes to mask."
She later said that she was more concerned with "respect" and how "neighbors are treating neighbors" in their communities, stating that those who choose not to stay safe during a pandemic should still be treated with respect and understanding because it's a "personal decision." She followed up that belief by saying that people who are concerned about the virus have the option to simply choose not to be around the people who aren't as careful.
Her remarks come just days after a South Dakota nurse's tweet about working the front lines during the pandemic went viral, in which she explains that patients are dying from the virus and still don't believe it's a real threat.
"The ones that stick out are those who still don't believe the virus is real. The ones who scream at you for a magic medicine and that Joe Biden is going to ruin the USA. All while gasping for breath on 100% Vapotherm," Jodi Doering tweeted on Saturday. "They tell you there must be another reason they are sick. They call you names and ask why you have to wear all that 'stuff' because they don't have COVID because it's not real."
In the last two weeks, there were 2,047 new cases per 100,000 people in South Dakota, according to Johns Hopkins University, meaning that approximately one of every 49 people tested positive.
Meanwhile, the governor's office said last week that Noem, who is well-known in Republican circles for her hands-off approach, will not put a mask order into effect even if President-elect Joe Biden implements any federal COVID-19 orders.
"It's a good day for freedom," Noem's office said in a statement to the Sioux Falls Argus Leader. "Joe Biden realizes that the president doesn't have the authority to institute a mask mandate. For that matter, neither does Governor Noem, which is why she has provided her citizens with the full scope of the science and trusted them to make the best decisions for themselves and their loved ones."
The governor's spokeswoman Maggie Siedel questioned the effectiveness of masks in an email to the Associated Press this week.
"The facts are simple: mask mandates, harsh lockdowns, massive testing and contact tracing haven't worked – in the United States or abroad," she wrote.
When asked for additional comment by Newsweek, Noem's office referred the publication to remarks made at the press conference.