At a time when the United States saw a record-high number of overdose deaths, South Dakota saw the largest decline, something Governor Kristi Noem attributes to her decision to keep the state open during the pandemic.
Experts raised concerns early during the pandemic about the potential for lockdowns to have a negative impact on people's mental and physical health. Some questioned whether the "cure" would be worse than the virus, pointing to increases in drug and alcohol use, and in the first year of the pandemic, drug overdose deaths nationwide increased by almost 30 percent, topping 100,000 for the first time.
South Dakota saw the largest percentage decline in reported deaths, at about 19 percent, going from 95 in April 2020 to 77 in April 2021, according to preliminary data from the Centers for Disease Control and Prevention (CDC). Noem was one of seven governors to not order schools or businesses to close during the pandemic, although several executive orders made recommendations to residents and businesses to modify their behaviors.
Noem, a potential 2024 presidential contender, often touts her state remaining open during the pandemic in speeches, a possible appeal to Republican voters. Ian Fury, Noem's communications director, told Newsweek that Noem "absolutely" believes the lack of lockdown orders is why the state saw a decline in overdose deaths.
"We gave people the flexibility to go about their lives. We respected them," Noem posted on Twitter in July when data about December 2019 to December 2020 overdose deaths was released.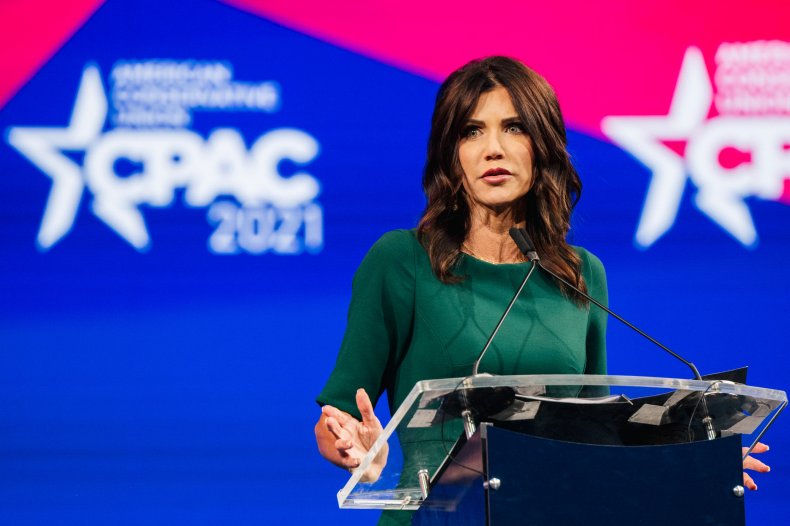 An estimated 100,000 Americans died of drug overdoses in the 12-month period ending in April 2021, something President Joe Biden called a "tragic milestone." Experts largely believe the increase is predominantly attributable to the increasing prevalence of fentanyl, a deadly synthetic opioid, and the COVID-19 pandemic. The pandemic left many people feeling socially isolated, out of work, and in some cases, unable to obtain care because of the potential for the virus to spread.
Dr. Nora Volkow, director of the National Institute of Drug Abuse, told The New York Times that people who struggle with addiction and those in recovery are prone to relapse. The pandemic heightening people's mental health disorders fueled an already growing health crisis.
While South Dakota's decline in drug overdose deaths lends itself to the belief that staying open prevented harmful effects to people's mental health, the data shows a bit of a mixed bag.
Along with South Dakota, New Jersey, New Hampshire and Delaware also saw decreases in opioid deaths, although not nearly on as big a scale. All three states, which saw declines ranging from about 1 percent to 7 percent, implemented stay-at-home orders, shut down businesses and reduced people's movements to "essential" needs.
Alexandra Altman, deputy press secretary for New Jersey Governor Phil Murphy told Newsweek the governor believed the state's "comprehensive, data-driven approach" to the pandemic prevented an acceleration in overdose deaths.
"The Murphy Administration has also implemented many programs to erase the stigma associated with opioid use disorder and people who use drugs, close gaps in treatment, expand access and use of life-saving medicines like naloxone, and support the work of syringe exchange programs and harm reduction centers," Altman said.
During the pandemic, New Jersey deemed harm reduction centers essential so they could continue to operate even when other businesses were closed. Delaware Lieutenant Governor Bethany Hall-Long told Newsweek their state-run Bridge Clinics also remained open and they continue to be a "critical" part of the state's response to drug use.
"While there clearly is much more to work to reduce the horrific toll that substance use disorder is taking on Delawareans and their families, we know that our state's on-the-ground efforts, in partnership with providers and other community organizations, are making a difference," said Hall-Long said.
Newsweek reached out to Governors Chris Sununu of New Hampshire and John Carney of Delaware for comment.
Implementing mitigation measures in some places also meant delaying treatment for people struggling with addiction. While rehabilitation facilities aren't at the same heightened risk as nursing homes, communal living facilities, where people share rooms and common spaces, present particular challenges at preventing outbreaks.
"It's hard to underestimate the effects of the pandemic on the community with opioid use disorder," Dr. Caleb Alexander, a professor of epidemiology and medicine at the Johns Hopkins Bloomberg School of Public Health told Kaiser Health News in July 2020. "The pandemic has profoundly disrupted the drug markets. Normally that would drive more people to treatment. Yet treatment is harder to come by."
Just as states with strict COVID-19 measures weren't guaranteed to see an uptick in overdose deaths, the same was true for those who were relatively lenient in their policies.
Iowa, Florida, Wyoming, Texas and Alaska were among the states with the fewest COVID-19 restrictions as of April 6, according to WalletHub. However, Texas and Alaska had significantly high increases in deaths, at more than 30 percent, followed by Florida at 26 percent and then Iowa and Wyoming at less than 20 percent.
Experts suggest that it's possible some people also turned to drugs to cope with the anxiety of the pandemic and the loss of loved ones, indicating that people's personal connection to COVID-19 may have helped fuel overdose deaths, along with lockdowns.
The most recent numbers prompted experts and lawmakers to call for people to address the drug epidemic in the country and work to curb deaths. For many, that includes increasing access to lifesaving medications, something Hall-Long credited with driving down deaths in Delaware, and cracking down on drug cartels who transport fentanyl.
This article has been updated with comment from Alexandra Altman, deputy press secretary for Governor Phil Murphy, and Delaware Lieutenant Governor Bethany Hall-Long.