South Dakota Governor Faces Subpoena in Investigation into Daughter's Real Estate License
South Dakota lawmakers are putting pressure on Governor Kristi Noem to turn in a document that could shed some light in an investigation into whether there was a conflict of interest when her daughter was given another chance at a real estate appraiser license.
The Associated Press reported that last year, a state agency moved to deny Noem's daughter, Kassidy Peters, an upgraded appraiser license. Shortly after, Noem and Peters met with state employees overseeing her application. Four months after that, Peters received her license.
Noem told AP the meeting was not related to the license. She said there was already an agreement between Peters and state regulators, stating that she would seek further education and resubmit her work samples, put into place before the meeting, and that the agreement was not discussed at the meeting.
The Legislature's Government Operations and Audit Committee is ready to issue a subpoena for the signed agreement if the Department of Labor and Regulation doesn't hand it in before then.
The lawmakers are looking to confirm the timing of the agreement. According to AP, the subpoena requires approval from the Executive Board, a committee of top legislators meeting next week.
For more reporting from the Associated Press, see below.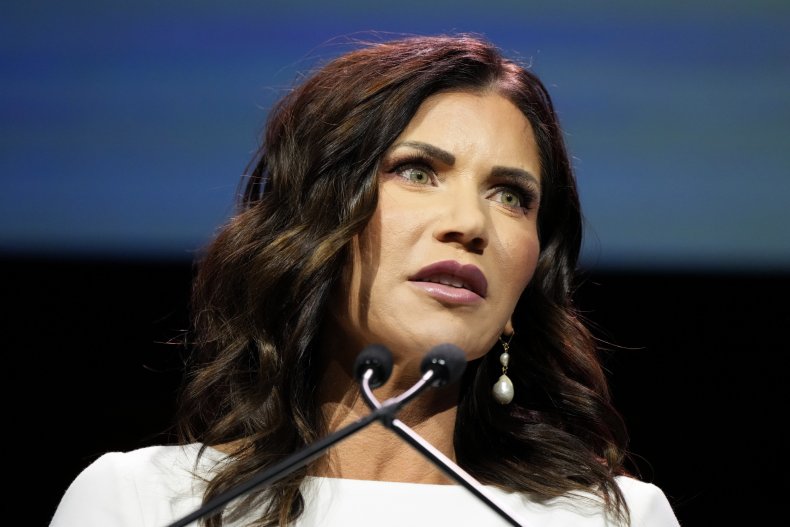 Secretary of Labor Marcia Hultman, who was also at the meeting in the governor's mansion last year, gave a similar account to Noem's when she was questioned by lawmakers in October, although she said that the agreement was briefly discussed at the end of the meeting.
After hearing from Hultman, lawmakers moved to request the agreement from her department to confirm the sequence of the agreement being implemented and the meeting. They also agreed to keep any documents confidential to the committee.
The Department of Labor and Regulation did not immediately respond to a question from AP about whether it would fulfill the request from lawmakers.
Noem has indicated she is loath to turn it over.
"When you make a decision and open something up, it sets precedent," she said at a news conference last week after being asked if she would release the documents. "That's why for consistency and to make sure that I'm being fair—because that's exactly what I'm focused on—I would have to set that same precedent for everybody."
While the agreements themselves state they are open to public inspection, the Department of Labor and Regulation denied a request from AP for them, citing an exemption that allows the government to keep records secret if they deal with examinations. An appeals office later ruled that the department was right to deny the records request.
Lawmakers also plan to finalize a list of questions to send to a lawyer representing the former director of the Appraiser Certification Program, Sherry Bren. She was pressured to retire late last year by Hultman, shortly after Peters received her license. Bren filed an age discrimination complaint and received a $200,000 payment from the state to withdraw the complaint and leave her job.
Noem has said the settlement had nothing to do with her daughter.
The committee had requested that Bren appear before them last month, but she declined. Part of her settlement agreement with the state bars her from disparaging state officials. However, Bren told AP that she would answer questions from lawmakers through her attorney and that she would "correct any factual inaccuracies" in Hultman's testimony to the committee.
Republican state Representative Chris Karr, one of the lawmakers on the committee, said, "We're just trying to sort through it and see what is accurate, what is true and what is misinformation so we get the facts."