South Dakota Governor Mocks Joe Biden's Message as COVID Deaths Rise by 47% in 2 Weeks
South Dakota Governor Kristi Noem mocked President-elect Joe Biden's message reassuring struggling Americans on Twitter while COVID-19 deaths in South Dakota reach new heights.
Biden tweeted on Wednesday a message of hope for Americans undergoing the hardships of a global pandemic—now approaching the ninth month in the U.S.—writing that "help is on the way" as he prepares to take the presidential role next month. Noem mocked his message with a quoted phrase, "'I'm from the government, and I'm here to help," which then-President Ronald Reagan called "the nine most terrifying words in the English language" during a 1986 news conference.
Noem's tweet comes as South Dakota continues to see a surge in coronavirus deaths and hospitalizations, a trend the state has observed over the past two months. On Wednesday, South Dakota reported 47 new COVID-19 deaths, bringing its death toll to a total of 995 across the state. South Dakota saw a 47 percent increase in deaths over the past two weeks, remaining consistent with the data from two weeks prior, which came to a 46 percent increase. It currently has 112 COVID-19 deaths per 100,000 people—ninth in the nation—and the daily average deaths in the state over the past week was 18 percent, according to data compiled by The New York Times.
South Dakota also has the highest rate of hospitalizations per capita in the nation—with Indiana in second place—based on data from the COVID Tracking Project. The state's 41 percent testing positivity rate is also one of the nation's highest, according to Johns Hopkins University. Fortunately, the number of weekly new cases has been steadily decreasing, with 6,053 reported in the past week compared with nearly 10,000 just two weeks prior.
As South Dakota continues grappling with COVID-19 deaths and hospitalizations, Noem has consistently opposed a statewide mask mandate despite the state having the worst COVID-19 spikes in the nation. In a press conference on November 18, Noem said that her powers as governor don't allow her to impose a statewide mask mandate. She also claimed that she's "getting more concerned about how neighbors are treating neighbors" rather than the benefits of a statewide mask order.
"Some have said that my refusal to mandate masks is a reason why our cases are rising here in South Dakota, and that is not true," Noem said.
"I've consistently said people that want to wear masks should wear masks and people who don't should not be shamed because they choose not to," she added. Meanwhile, neighboring states like North Dakota, Iowa and Minnesota have imposed statewide mask mandates to combat the rapid spread of the virus.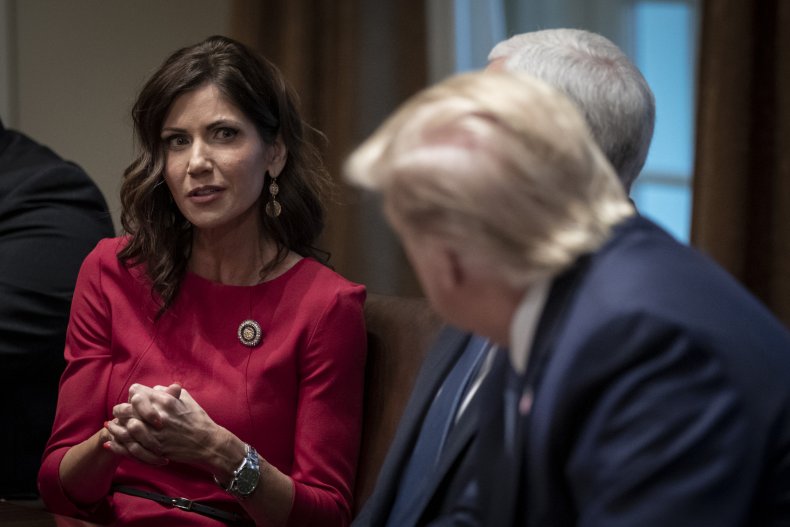 Last week, the White House Coronavirus Task Force provided all 50 states with specific recommendations for controlling the coronavirus pandemic. The task force recommended that South Dakota require face coverings in public settings and proposed implementing "aggressive measures" to slow the spread.
"Given the extraordinarily high test positivity and incidence, among the highest in the world, aggressive measures to limit additional hospital overruns and preventable mortality are warranted and strongly recommended," the report said.
In a Tuesday news conference, Biden introduced top advisers in his administration that he says will help rebuild the U.S. economy, which continues to suffer as a result of the coronavirus pandemic. He also took the opportunity to deliver a message of hope to Americans, stating, "I know times are tough, but I want you to know that help is on the way."
Biden said that he chose a "first-rate team" of liberal advisers, who are "tested and experienced" at addressing economic inequality and tackling the current economic crisis.
"From the most unequal economic and job crisis in modern history, we can build a new American economy that works for all Americans, not just some," he said during his speech in Wilmington, Delaware.