South Dakota Leads U.S. in Largest COVID Case Increase, With 312 Percent Rise in 14 Days
South Dakota has seen a 312 percent increase in COVID-19 cases over the past two weeks, according to The New York Times COVID tracker, nearly double the rate of the second most infectious state, West Virginia.
The state averages 221 new cases a day and 118 hospitalizations. Forty-eight percent of people are vaccinated in the state which has declined to implement indoor mask mandates.
South Dakota's rising rates come just over a week after the state concluded it's 10-day Sturgis Motorcycle Rally that attracted an estimated 525,000 people. The event featured concerts, parties, bike shows, and bar crawls and rakes in an estimated $800 million for the state. Last year's rally was called a "super spreader event" and resulted in an almost 200 percent uptick in the South Dakota's two-week case average.
Despite the case surge, Republican Governor Kristi Noem told the Associated Press she does not plan to ramp up messaging encouraging vaccination. When asked about issuing mask mandates, Noem told the AP such actions go beyond what she sees as the governor's scope of power.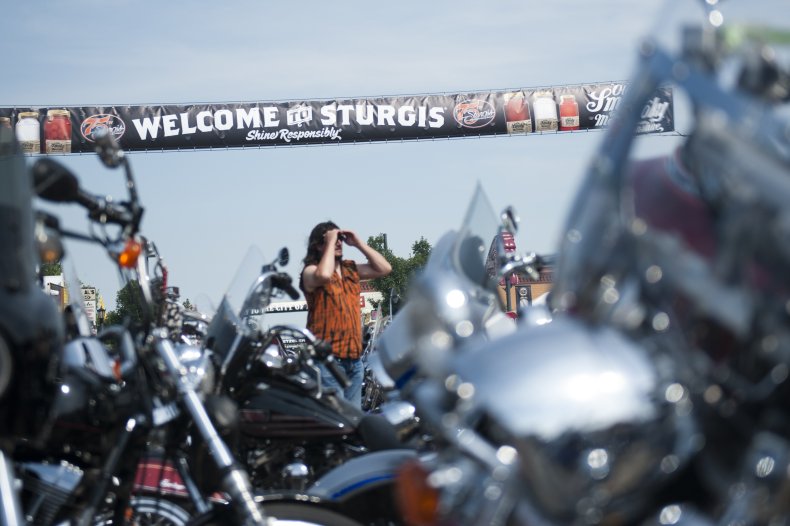 "Any other governor that took a stronger mitigation measure, they broke their oath to the Constitution," she told the AP. "Every governor that closed a business could be sued for the taking of that business."
Some see Noem as a potential candidate for the GOP's 2024 presidential nomination if former President Donald Trump declines to run. While she told the AP she's not currently looking toward anything beyond the governorship, she's rallied crowds with her anti-regulatory messaging at the Conservative Political Action Conference in Iowa and gained national attention for her hands-off handling of the pandemic.
The state's drop-off in cases following the 2020 Sturgis Rally surge has been touted by Noem as a success. However, that situation and her anti-regulatory messaging has not stopped her from completely shunning vaccination efforts. In March, Noem released a video crediting Trump for leading development of the vaccine, saying there would be no "heavy hand" government mandating but that state would instead "trust our people to do the right thing."
Since this video though, Noem has double-downed on her hands off approach. Encouraging vaccination continues to prove unpopular with segments of the Republican party, with Trump being booed at a recent Alabama rally for encouraging his supporters to get the shot.
Noem believes her messaging around vaccination has been sufficient, telling the AP that any more announcements could read "a saturation level where people start to tune you out."