South Dakota Meat Processing Plant, Which Produces About 5% of US' Pork Supply, to Go on Strike
The union at a Smithfield Foods meat processing plant in South Dakota, which generates approximately 5 percent of the U.S. pork supply, has received authorization to go on strike before resuming contract negotiations Tuesday. The Sioux Falls chapter for the United Food and Commercial Workers Union documented a 98-percent approval for the strike on Monday, the union said.
The union rejected Smithfield's first contract offer last week, despite company representatives saying the proposed deal was in "full alignment" with UFCW-approved offers at other plants. Before a Tuesday meeting with Smithfield representatives, union leaders said they want to avoid going on strike if possible.
"We're not going to change our stand," said B.J. Motley, the president of the local union.
A COVID-19 outbreak swept through the Smithfield plant last year, killing four workers and infecting almost 1,300 in total. The Sioux Falls chapter is requesting pay increases to mirror rates at a nearby JBS pork plant, as well as adjustments to break times and health insurance expenses.
For more reporting from the Associated Press, see below: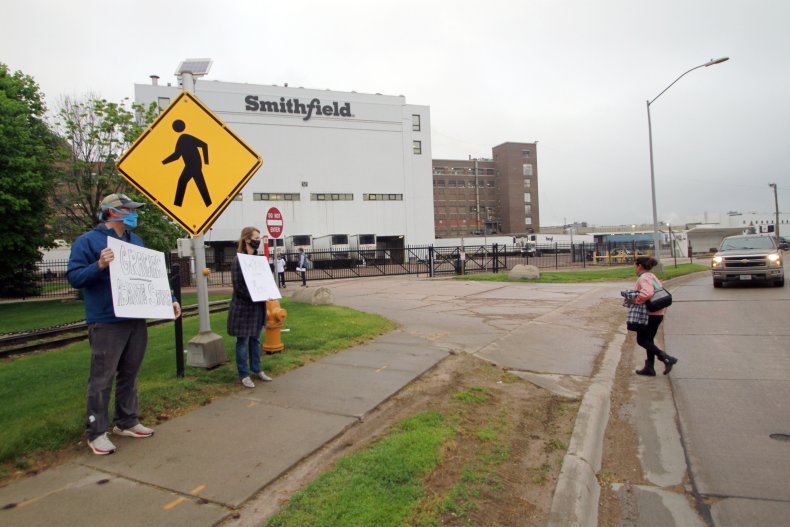 Smithfield, like other large meatpacking companies, spent millions of dollars to incentivize workers and outfit plants with plexiglass safety barriers. It has pointed out that after the plant reopened, large outbreaks were avoided.
But workers at the plant have complained they are working harder and longer amid a workforce shortage created by both the pandemic and its economic effects. They say workers have left the plant, either to work at other meatpacking plants offering better pay or for service industry jobs that have suddenly boosted wages.
Smithfield Foods did not immediately respond to a request for comment Tuesday.
Motley did not offer a deadline for when a strike could happen, but said the union would wait until Smithfield makes a final contract offer.