Coronavirus Recoveries in South Korea Outnumber New Cases for First Time Since Outbreak Began
New cases of COVID-19 in South Korea appear to be declining, and on Friday the Korea Centers for Disease Control and Prevention (KCDC) reported more recoveries than new cases.
South Korea has had one of the largest outbreaks of the new coronavirus, and nearly 8,000 people have contracted the virus, which has killed 67 people in the country. The outbreak appears to be waning, though, and on Friday the KCDC reported that 177 additional people were pronounced recovered from the virus and that there were only 110 new cases.
South Korea reported its first case on January 20, and in the two months since, 510 people have recovered and 7,402 remain in isolation. Cases appear to be on the decline, but the KCDC urged people not to become complacent about prevention measures because new cases are still emerging in small clusters from businesses, churches, cafes and medical facilities.
Through the weekend, everyone was advised to continue practicing social distancing and personal hygiene measures and to refrain from visiting community spaces or public gatherings.
"We assess that we've put out a big fire but cannot lower our guard yet," Seoul Mayor Park Won-soon told a briefing, according to Reuters.
Dr. Maria Van Kerkhove, head of the Outbreak Investigation Task Force at the Institut Pasteur's Center for Global Health, said South Korea's ability to bring the outbreak under control was in part due to its "really aggressive case and contact finding." Of the total cases in South Korea, officials have been able to identify the origin of nearly 80 percent. The remaining 20 percent are either under investigation or sporadic, according to the KCDC.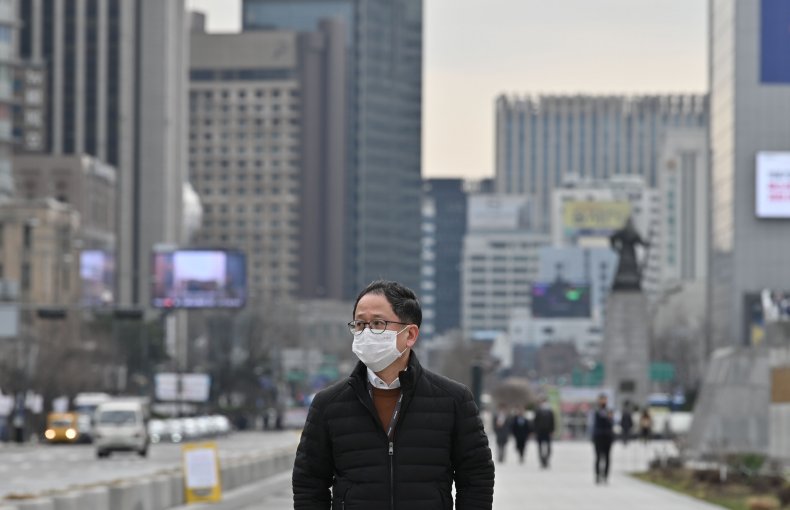 On Wednesday, the World Health Organization (WHO) designated the outbreak a pandemic after weeks of expressing concern that the usage of the term would signal to people that the fight was over and there was nothing that could be done. Thanks to Korea, said Dr. Mike Ryan, executive director of the WHO Health Emergencies Program, officials have seen that there's a "strong element of controllability" with COVID-19.
"That doesn't mean we'll completely stop it, but what it does mean is there's a real chance to blunt the curve, there's a real chance to bend the curve and reduce the number of cases that our health system has to cope with and give the health system a chance to save more lives," Ryan added.
Although the country has managed to "turn the corner," according to Prime Minister Chung Sye-kyun, he expressed concerns that people socializing at home and foreign visitors coming into the country could further the spread of the virus.
To prevent imported cases, the South Korean government expanded travel restrictions, set to go into effect on Sunday. Both Korean and international travelers will be subjected to border checks if they've visited or lived in France, Germany, Spain, the United Kingdom or the Netherlands.
People coming from China have been under similar immigration rules, and on Wednesday the KCDC designated Italy and Iran, two countries with massive outbreaks, as quarantine inspection areas. Anyone traveling from those two countries who has suspected symptoms was asked to install a self-diagnosis application on a cellphone and could be quarantined, if necessary.
WHO Director-General Tedros Adhanom Ghebreyesus pointed to countries that have turned the tide on the virus, such as South Korea, as an example to other countries that are still dealing with outbreaks.
"The challenge for many countries who are now dealing with large clusters or community transmission is not whether they can do the same; it's whether they will," Ghebreyesus said Wednesday.