South Korea Coronavirus Second Wave Hits Over 100 Cases as Country Struggles to Contain New Outbreak
A new cluster of coronavirus cases in the South Korean capital of Seoul has reached 102, according to the latest report Tuesday by the Korea Centers for Disease Control (KCDC).
The new cluster appears to have emerged after a 29-year-old man visited several nightclubs and bars in Itaewon, a neighborhood in Seoul, before testing positive last week, South Korea's Yonhap News reports.
Of the 102 cases, 64 are in Seoul, 23 are in the Gyeonggi province, seven are in the city of Incheon and five are in the North Chungcheong province. The North Jeolla province, Busan and Jeju province each have one case, the KCDC reports.
"More than 36 percent of cases are asymptomatic and the rate of spread is very high," Mayor Park Won-soon said on Tuesday.
South Korean health authorities have urged anyone who has visited the area in late April and early May to get tested for the virus.
The local government was reported to have secured a list of 10,905 people who visit the Itaewon district using data provided by mobile operators, Yonhap News reports.
"The National Police Agency has established an operation system with 8,559 officers...to track down [people] who cannot be identified through credit card information or data provided by mobile operators," a health ministry official from the country's Central Disaster and Safety Countermeasures Headquarters, Yoon Tae-ho, said. He noted that thousands of police would be deployed to track them down, Bloomberg/Agence-France-Presse reports.
Over 7,000 people who have visited the area have reportedly been tested in the last two weeks, according to Park, who on Monday announced a two million won ($1,638) fine for anyone who avoids getting tested.
Many of the bars and clubs in question cater to members of the lesbian, gay, bisexual, transgender and queer (LGBTQ) community and Yoon raised concern that individuals within the LGBTQ community may avoid getting tested out of fear of discrimination due to homosexuality often being considered taboo in Korean society.
"We release the movement of confirmed patients to encourage anyone who might be exposed [to] get tested voluntarily," Yoon said at a briefing on Monday.
"We urge you to refrain from distributing patients' personal information or groundless rumours, which not only hurts them but can also be subject to punishment," he added.
On Saturday, Park ordered more than 2,100 nightclubs, bars and discos in Seoul to be closed, while other venues were urged to enforce precautionary measures. On Sunday, Gyeonggi province and Incheon saw similar closures, the Associated Press reports.
"The infection cluster, which recently occurred in entertainment facilities, has raised awareness that even during the stabilization phase, similar situations can arise again, anytime, anywhere in an enclosed, crowded space," South Korean President Moon Jae-in said on Sunday.
He added "there's no reason to stand still out of fear," and said that the country had "the right quarantine and medical systems combined with experience to respond quickly to any unexpected infection clusters that might occur."
As fears grow over a new cluster of infections in the country, the director of the KCDC, Jeong Eun-kyeong, was hesitant to call the latest outbreak a second wave of cases, noting "the epidemic is ongoing."
Earlier this year, South Korea reported the highest number of cases outside China, where the virus was first detected. The country saw an explosion of infections in the wake of the outbreak, reporting over 500 daily new cases for several days from around late February to early March.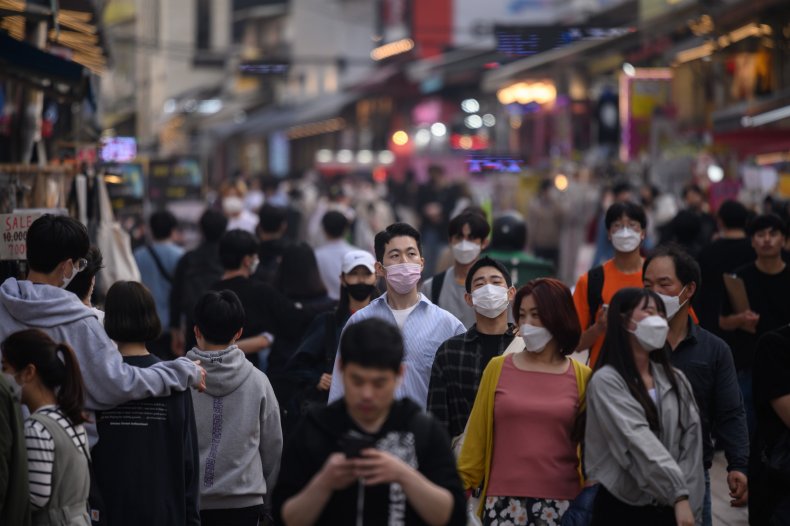 Most cases in the country were in the city of Daegu, which is home to a branch of the Shincheonji Church of Jesus, the Temple of the Tabernacle of the Testimony. The religious group is known to hold mass services with members sitting on the floor in close proximity for long periods.
However, the nation began to see a dramatic drop in cases, with new infections starting to plateau from around March 12 to April 1. Daily new cases dropped below 100 from April 2 and below 10 from April 21, according to figures from the KCDC.
South Korea's robust virus testing has played a key role in helping to contain the outbreak. The country has tested over 654,000 people for the virus as of May 8, according to the figures from the country's Ministry of Health and Welfare.
Last month, the country hit a new milestone, reporting no new domestic cases since February for the first time.
South Korea has seen 10,936 cases, including 258 deaths, to date. The novel coronavirus, which was first reported in Wuhan, China, has infected more than 4.2 million people across the globe. More than 1.4 million have recovered from infection, while over 287,800 have died, according to the latest figures from Johns Hopkins University.
The graphic below, provided by Statista, illustrates countries with the most confirmed COVID-19 cases.