South Korea's 'Slam Eagle' Fighter Jet Compared to North Korea's Warplanes
North Korean jets conducted firing drills near South Korea on Thursday, prompting the South Korean military to carry out an "overwhelming" response involving 30 aircraft. According to NK News, the South Korean military said the response included aircraft such as the F-15K fighter jet, but it didn't provide information about where the response took place.
North Korea's drills came after the nation launched two short-range ballistic missiles Thursday, the news outlet reported.
South Korea's F-15K "Slam Eagle" fighter jet is manufactured by Boeing for the nation. According to the website Airforce Technology, the planes can conduct "long-range precision strike missions during day or night, in all weather conditions," and are "equipped with state-of-the-art mission equipment to conduct air-to-ground, air-to-air, and air-to-sea missions." Its weapons include a cannon and air missiles guided by radar.
According to a Forbes report published in June 2021, North Korea hasn't added new combat aircraft to its arsenal in over 30 years. The news outlet said that according to Joseph Dempsey, a research associate for defense and military analysis at the International Institute for Strategic Studies, about 75 of its combat aircraft can be used.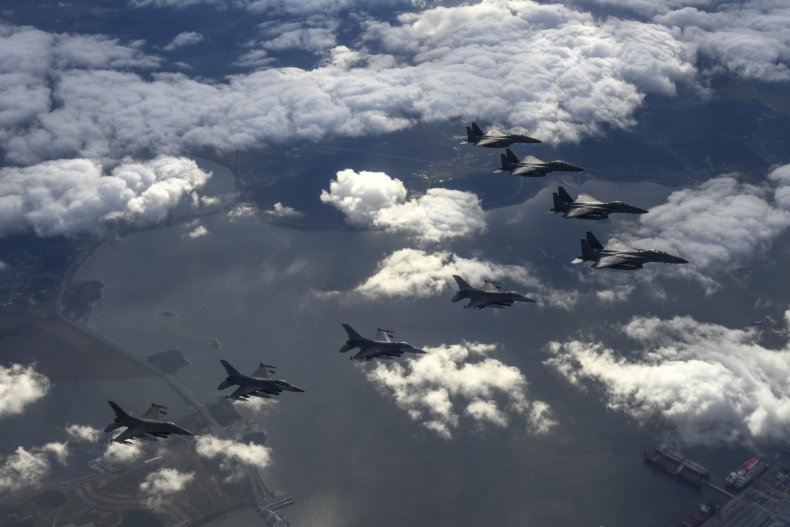 "While much remains uncertain about the [Korean People's Air and Air-Defence Force] in general and its aircraft inventory in particular, what is certain is that its aircraft are not getting any younger," Dempsey wrote in a report last year. "The air force has shown ingenuity and adaptability in keeping many obsolescent or obsolete types in service far beyond what might have been expected, even if it had no other option. Just how much longer it can continue to do so is another question."
According to Dempsey, South Korea's air force has more than 500 combat aircraft at its disposal.
Ryo Hinata-Yamaguchi, project assistant professor at the University of Tokyo's Research Center for Advanced Science and Technology, told NK News that the North Korean air force could have used Soviet-era fighter jets in its drills.
"North Korea's most modern and capable fighters are the MiG-29s. I'd be watching to see if the DPRK deployed those, or other aircraft, and how they used them," Hinata-Yamaguchi said.
North Korea's ballistic missile launch on Thursday is one of several this week. On Wednesday, South Korean and Japanese officials said the nation fired two missiles toward Japan.
North Korea fired another missile over Japan on Tuesday.
Newsweek has reached out to the International Institute for Strategic Studies and other North Korea experts for comment.