Flu vaccinations in South Korea will continue as scheduled, with most of the latest deaths following inoculation reported to not be linked to the flu shots, health officials said Monday.
Of the 59 people who died after receiving the flu vaccine this year (up from 48 on Saturday), 46 of those deaths were believed to have no connection to the flu shot. An investigation into the 13 remaining fatalities has been launched, the Korea Disease Control and Prevention Agency (KDCA) revealed in a statement.
The KDCA noted: "There is no causal relationship between death and the vaccine, so we decided not to consider discontinuing use."
South Korean Prime Minister Chung Sye-kyun said: "We will respect the scientific judgment of experts and start vaccinations for seniors aged 62 to 69 as scheduled," at a meeting held at the South Korea's Central Disaster and Safety Countermeasures Headquarters on Sunday.
On Monday, South Korean President Moon Jae-in urged: "Please trust the health authorities to review the conclusions and presentations made with experts. It is confirmed that there is no direct causal relationship between death and vaccination as a result of examinations and comprehensive judgments such as autopsy on cases reported so far," at a meeting held at the Cheongwadae, the president's executive office and official residence.
Last week, the Korean Medical Association "recommended to withhold vaccination for one week," but clarified it was not suggesting vaccinations be stopped and called for further investigation before any decisions are made, according to South Korea's Chosun Ilbo newspaper.
The KDCA noted none of the recent 59 deaths has been caused by anaphylactic shock, a severe allergic reaction that could happen following vaccination.
"You must die within a few hours immediately after vaccination to see anaphylactic shock. Most [of the recent] deaths took more than a day, and if you died within a short time, there were other underlying diseases," according to a KDCA official, the Chosun Ilbo reported.
Guillain-Barre Syndrome, a rare disorder causing muscle weakness and sometimes paralysis, is another condition that could occur after receiving the flu vaccine. "There is a case of muscle asthenia over several weeks or months, and no such case has occurred among the deaths after vaccination this year," a KDCA official noted.
As of Sunday, a total 1,231 people in South Korea reported side effects after getting the flu shot this year, according to health authorities, who said they will continue to investigate the cause of the recent deaths following vaccination.
More than 9.4 million people in South Korea have received the flu shot so far since this year's vaccination program began in September, Reuters reported.
The KDCA noted the latest number of deaths following the flu vaccination is not greater than previous years. Last year, 1,531 people aged 65 years and older died within seven days after receiving a flu shot, according to the KDCA. "This is the number of people who died after vaccination, regardless of the vaccination causality," KDCA Commissioner Jeong Eun-kyeong said.
South Korea's Minister of Health and Welfare Park Neung-hoo said: "Vaccination offers far greater benefits compared to side effects, and both the WHO [World Health Organization] and domestic and overseas experts agree," at a briefing on Sunday.
President Moon noted Monday: "This year, it is necessary to expand flu vaccinations not only to prevent the flu, but also to prevent simultaneous infection and spread of the flu and coronavirus. We hope that by missing the right dose due to excessive anxiety, the fatality rate does not pose a greater risk of getting a significant flu."
The latest deaths following flu vaccination come amid the ongoing COVID-19 outbreak, which has killed 457 and infected 25,836 people in South Korea, according to the latest report Sunday by WHO.
Earlier this year in a letter to President Moon, Bill Gates, the co-founder of Microsoft, revealed that 200 million vaccine kits could be produced per year starting June next year if South Korea's SK Bioscience develops a successful COVID-19 vaccine.
Gates said he was "impressed by South Korea's response" to the outbreak, noting he believed "Korea is at the forefront of vaccine development in the private sector," South Korea's Donga newspaper reported.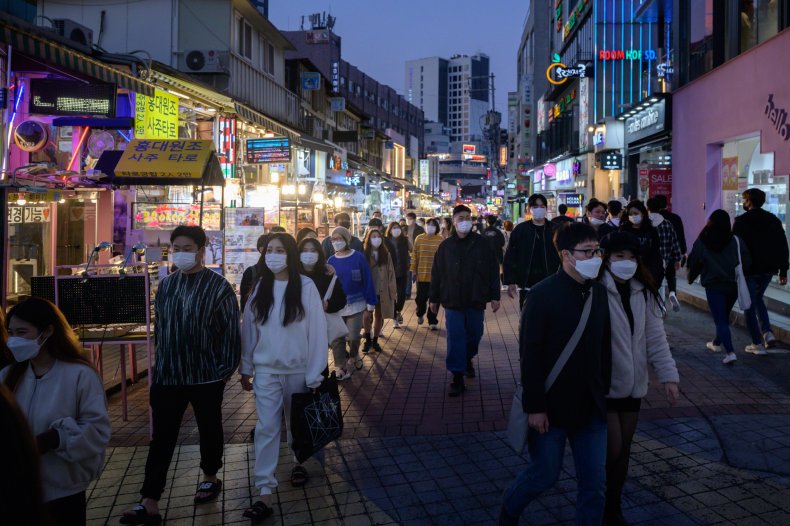 Uncommon Knowledge
Newsweek is committed to challenging conventional wisdom and finding connections in the search for common ground.
Newsweek is committed to challenging conventional wisdom and finding connections in the search for common ground.
About the writer
Soo Kim is a Newsweek SEO Reporter is based in London, UK. She reports on various trends and lifestyle stories, from health, fitness and travel to psychology, relationships and family issues. She is also a South Korea expert who regularly covers Korean culture/entertainment for Newsweek, including the latest K-dramas, films and K-pop news, and is the author of the book How to Live Korean, which is available in eight languages. Soo also covered the COVID-19 pandemic extensively from 2020 through 2021 after joining the general news desk of Newsweek in 2019 from the Daily Telegraph (a U.K. national newspaper) where she was a travel reporter/editor from 2010. She is a graduate of Binghamton University in New York and the journalism school of City University in London, where she earned a Masters in international journalism. Languages spoken: English and Korean.
Follow her on Twitter at @MissSooKim or Instagram at @miss.soo.kim
You can get in touch with Soo by emailing s.kim@newsweek.com