South Korea, Hailed for Pandemic Response, Backtracks on Reopening After COVID-19 Cases Jump
Despite recently reopening businesses amid an impressive decline in new coronavirus case, the South Korean government has issued a nationwide health advisory for bars and nightclubs to close down for 30 more days after health officials tracked 13 new cases to a single person who attended five nightclubs and bars in the country's capital city of Seoul.
"We believe we will have another community infection," said Vice Health Minister Kim Gang-lip at a Friday press briefing. "The spread took place in enclosed and crowded spaces. Transmission with no known source of infection can lead to a widespread cluster infection and that is why the government is not letting its guard down."
The man in question had no symptoms when he visited the nightspots. He eventually tested positive on Wednesday and gained admittance to a hospital in Suwon, a city south of Seoul, according to the UPI wire service.
Officials think he may have come in contact with over 1,500 people during his night out. City officials are now using CCTV and credit card records to help identify visitors and are encouraging them to self-isolate and immediately report any coronavirus symptoms to local hospitals.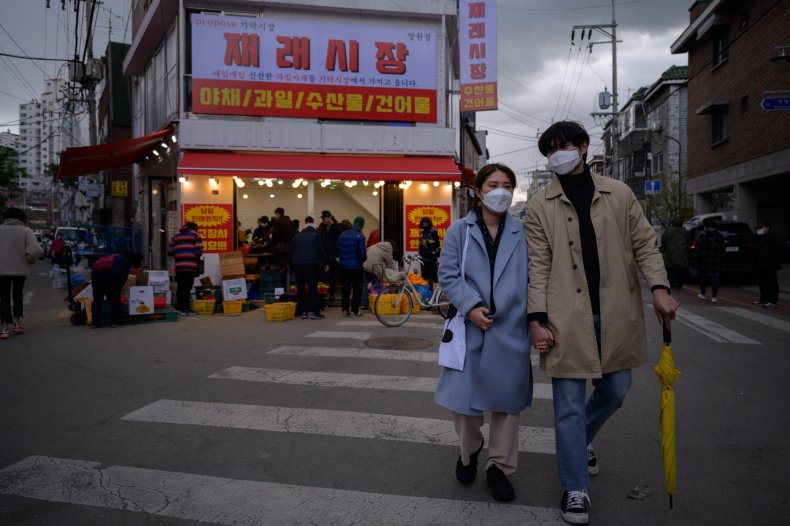 With a decline in new cases, South Korea has allowed places of worship, museums venues, recreational facilities and nightclubs to recently resume business. The country's high schools begin reopening next week and its lower schools will gradually reopen throughout May.
However, similar to the reopening plans of many U.S. states, South Korea has said it will pull back on and reverse reopenings if new cases emerge.
While the number of coronavirus cases in South Korea originally exploded in late February and early March, the country's Ministry of Health worked hard to conduct rigorous contact tracing, contacting anyone who had attended venues where patients with confirmed cases of coronavirus had gone. Using a combination of interviews and cellphone surveillance, anyone in proximity to these patients and their neighbors were widely tested and all encouraged to self-quarantine.
Within the first two weeks of March, new daily cases in South Korea declined from 800 to fewer than 100, according to The Atlantic.
The country undoubtedly learned how to effectively manage viral outbreaks due to its 2002 Severe Acute Respiratory Syndrome (SARS) outbreak and its 2015 Middle East Respiratory Syndrome (MERS) epidemic. Both are earlier forms of coronavirus that differ structurally from the COVID-19 novel coronavirus.
During its MERS outbreak, the government rewrote its laws to allow "fast and free testing, expansive tracing technology, and mandatory isolation of the most severe cases," The Atlantic writes. These three things allowed it to tackle COVID-19 with urgency.
At the start of the coronavirus, the government urged medical companies to rapidly develop testing kits and informed manufacturers to prepare for their increased production. The government then opened up 600 national testing centers and drive-through testing spots to ensure that hospitals wouldn't be overwhelmed with unaware patients experiencing symptoms.
When a citizen becomes a confirmed case, the government sends out a text message urging people to visit a website that shows the travel routes and places that person had wandered. Using security camera footage and credit card numbers, the government then contacts anyone who might have crossed paths with the infected individual—a trade-off between privacy and public health that most citizens seem to accept as a price of navigating occasional epidemics.
People who go into quarantine are checked on twice a day by health officials and encouraged to use different towels, dishes and bathrooms than the ones used by their housemates. The country also requires anyone visiting from foreign countries to download an app that records their health symptoms when they first arrive and then requires symptom updates for days afterward.