South Korea Health Officials Declare Second Wave of Coronavirus
Health officials in South Korea declared the country is going through a second wave of coronavirus infections after reporting a number of newly confirmed cases, especially in the Greater Seoul area.
On Monday, the director of the Korea Centers for Disease Control and Prevention, Jung Eun-kyeong, said South Korea's Children's Day, a national holiday that took place May 5, marked the beginning of a new wave of infections.
"In the metropolitan area, we believe that the first wave was from March to April, as well as February to March," Jung said. "Then we see that the second wave, which was triggered by the May holiday, has been going on."
Social distancing rules in the country began easing after the holiday weekend in May, and the country has been slowly reopening since. But after new clusters of cases were identified in the Seoul metropolitan area, officials reimposed some measures in late May.
In the past month, South Korea has seen 30 to 50 new cases a day, mostly in the densely populated capital city. Before the long weekend, the country had reduced the daily cases to single digits after reaching a peak of 900 daily cases at the end of February.
South Korea was praised globally for its quick control of the outbreak and set a precedent for other countries on how to effectively track and test for the virus.
On Tuesday, South Korea reported 46 new cases, bringing the total count to 12,484.
"We originally predicted that the second wave would emerge in fall or winter," Jung said. "Our forecast turned out to be wrong. As long as people have close contact with others, we believe that infections will continue."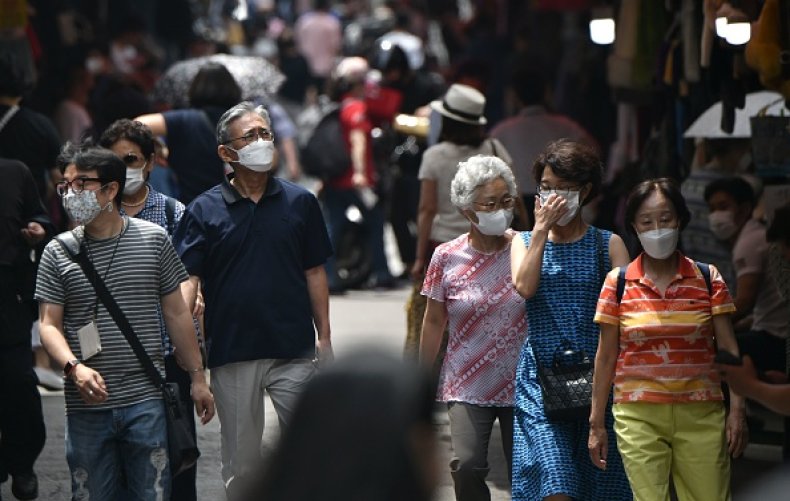 On Monday, Seoul Mayor Park Won-soon threatened to reintroduce strict social distancing measures if the number of infections in the city continues to top 30 over the next three days.
He warned that while the daily numbers may seem manageable, the figures could hit the hundreds if infections continue to climb. Park also attributed the new figures to people beginning to take public transportation again.
The mayor is also concerned about what rising cases in Seoul will mean for the rest of the country. According to the Associated Press, Park said, "If Seoul gets penetrated, the entire Republic of Korea gets penetrated."
However, South Korean President Moon Jae-in said he is confident the outbreak "still can be controlled."
"What has been discovered in the past five months is that you can prevent virus infections as long as you follow the basic disinfection rules and the government's guidelines," he said Tuesday.
Newsweek reached out to Korea Centers for Disease Control and Prevention for comment but did not hear back before publication.