A South Korean official has expressed hope to Newsweek that a milestone gathering organized by rival North Korea will provide an opportunity to get their stalled peace process back on track.
North Korea convened its ruling Korean Workers' Party 8th Party Congress early Wednesday Pyongyang time, bringing together up to 5,000 delegates and 2,000 observers for a rare gathering designed to chart out the country's next five-year plan following a consequential period of successes and failures.
Overseeing the proceedings is Supreme Leader Kim Jong Un, who has just entered his 10th year of rule since succeeding his late father in late 2011. Over this decade he has asserted claims of military achievements, such as the country's most powerful nuclear weapons tests to-date and longer-range missile launches. He likewise claimed major diplomatic wins, including multiple summits with both U.S. President Donald Trump and South Korean President Moon Jae-in.
But diplomatic progress has stalled in the last two years, and tensions have steadily increased across the Korean Peninsula. Observing from across the heavily fortified Demilitarized Zone (DMZ), Seoul officials are watching closely for signs of hope that Kim might once again be considering extending an olive branch to a willing Moon administration.
"We will continue to keep an eye on the trends of the 8th Party Congress being hosted in North Korea," a South Korean Foreign Ministry official told Newsweek. "I hope that this North Korean party congress will serve as an opportunity to contribute to peace on the Korean Peninsula and the development of inter-Korean relations."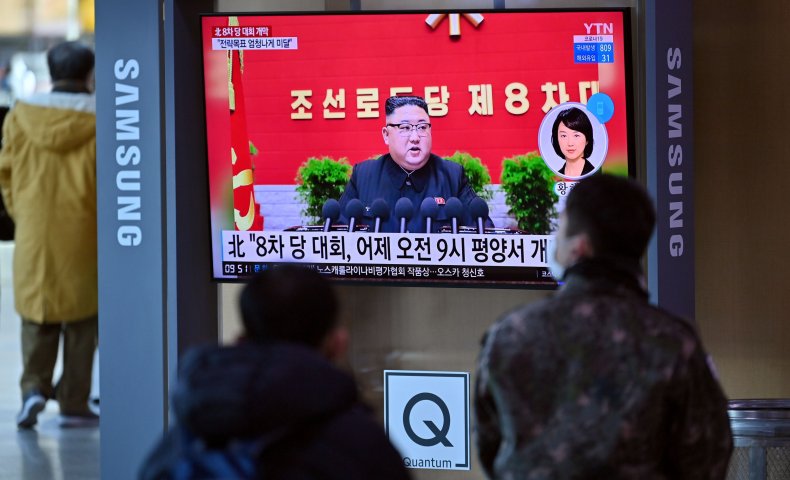 Hours later, Kim Jong Un appeared to offer a positive sign as news emerged from Pyongyang of the results of the 8th Party Congress' third session.
"The report studied the issue of affairs with south Korea as required by the prevailing situation and the changed times and declared the general orientation and the policy stand of our Party for comprehensively expanding and developing the external relations," the official Korean Central News Agency reported.
Such language appeared to indicate Kim Jong Un would embolden interactions with South Korea, and perhaps elsewhere in the outside world as well.
Language elsewhere in the report dealt with domestic policies. Newsweek recently spoke with experts who agreed that the 8th Party Congress would likely focus on North Korea's internal affairs moreso than revolve around talks with South Korea or the U.S.
Kim Jong Un has publicly admitted his prior five-year plan released in 2016—at the first such congress in 36 years—fell short amid the "unprecedented, worst-ever trials" experienced since then, and especially over the past year.
But Kim has maintained hope in his public statements that the 8th Party Congress would represent a turning point, allowing him to restructure domestic policies to better suit his tightly controlled and isolated state.
Agenda items for the Congress on its second day included "transport, capital construction and building-materials industry, communications, commerce, land and environment protection, urban management" as well as "external economic relations"—a broad descriptor for a country with few legitimate trade ties as it faces some of the world's most intensive international sanctions put in place due to international concerns over its nuclear weapons program and human rights violations.
Efforts to foster inter-Korean economic ties were among the focuses of one of the most ambitious peace processes launched by the two Koreas, one nation bifurcated at the 38th Parallel after World War II, which then faced off against each other in the Korean War, with South Korea aligned with the U.S. and North Korea aligned with China.
In 2018, Kim Jong Un and Moon held a record three inter-Korean summits and vowed to take steps to integrate their vastly different economies, while seeking measures toward peace and, ultimately, reunification. Parallel negotiations between Pyongyang and Washington began to fray in 2019, however, leaving the future for reconciliation uncertain as tensions dominated 2020, a year already fraught with international anxieties induced by the COVID-19 pandemic.
North Korea has yet to report a single case of the novel coronavirus disease, but South Korean officials have expressed skepticism, particularly since North Korea has imposed lockdown measures common to pandemic control. These doubts have been met with especially harsh words from Pyongyang, where Kim Jong Un's sister, Kim Yo Jong, serves as first vice-department director of the ruling Korean Workers' Party Central Committee, and has been tasked with handling state affairs related to Seoul and Washington.
Kim Jong Un's mention Wednesday of "placing the state defense capabilities on a much higher level"—a sign of a possible military focus for the next five years—was viewed with concern by observers hoping for improved relations between the two Koreas.
Still, Moon has said he would continue to work for better ties to his northern neighbor, and will continue to pursue nuclear disarmament.
"If conditions allow, we will make every last effort for the denuclearization of the Korean Peninsula, permanent peace and development of inter-Korean relations," Moon said Thursday during a New Year's address.
The tone of inter-Korean discussions has often been influenced by Washington, where civil and political unrest has distracted the president and policymakers. Trump's refusal to recognize his electoral loss to President-elect Joe Biden culminated Wednesday in his supporters staging a violent siege of the U.S. Capitol, where four died amid clashes between protesters and security forces.
The U.S. continues to be the worst-hit in the world by COVID-19, with more than 350,000 deaths, while federal efforts to distribute vaccines fall far short of expectations as the virus surges.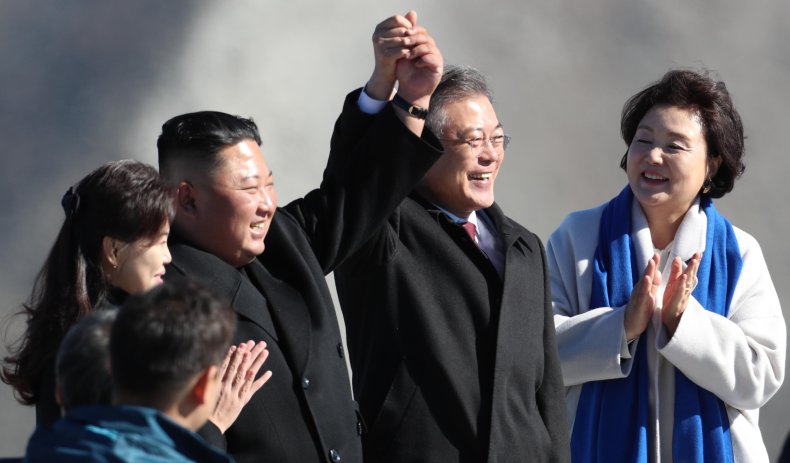 Special Representative for North Korea Stephen Biegun traveled last month to South Korea to shore up ties between Washington and Seoul, which were strained as a result of an ongoing dispute over cost-sharing of their military alliance. Trump has demanded South Korea pay billions more, while an exact figure remains unsettled as Biden is set to take office in less than two weeks.
Secretary of State Mike Pompeo recently hailed the Trump administration's claims of success in dealing with North Korea such as making the government there "weaker" and halting its nuclear and missile tests—this despite the fact that the halt was a self-imposed moratorium Kim Jong Un renounced a year ago.
Biden has criticized Trump's meetings with Kim Jong Un, but has also vowed to work with regional friends and foes alike in handling the issue.
"In North Korea, President Biden will empower our negotiators and jump start a sustained, coordinated campaign with our allies and others, including China, to advance our shared objective of a denuclearized North Korea," his official foreign policy statement reads.
Asked about Seoul's expectations of the incoming administration, a second South Korean Foreign Ministry official recently told Newsweek it looked forward to working with Washington on the matter.
"The ROK-US alliance has served as the foundation for peace and prosperity on the Peninsula and in the region," the official said. "The ROK government will continue to work closely with the U.S. government for the denuclearization and the establishment of permanent peace on the Korean Peninsula."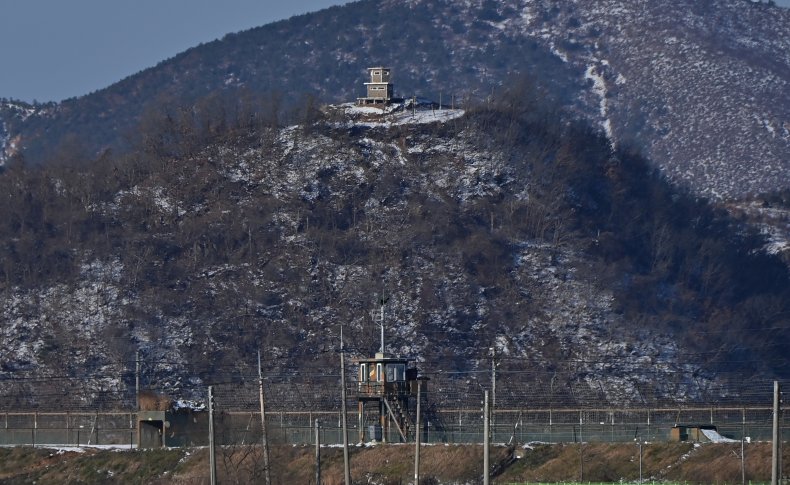 This article has been updated to include a report on the third-day session of North Korea's 8th Party Congress.