K-dramas are next in line to ride the Korean wave—or hallyu—the phenomenon where South Korean culture takes the world by storm.
After the success of movies such as Parasite and Minari and record-breaking K-pop artists such as BTS, K-drama shows on Netflix—such as Kingdom and It's Okay To Not Be Okay—are winning fans all over the globe.
Korean shows are watched in more than 30 languages on the streamer, including English, German, French, Swedish, Hindi, Portuguese and Bahasa Indonesia, the company says.
K-dramas have been one of the driving forces of South Korea's entertainment industry for decades. Their quality has improved tremendously from the series I grew up watching in the 1990s and early 2000s, with big budgets and more varied characters and storylines than ever before.
Hallyu is coming full circle with the popularity of Netflix K-dramas, as the term "Korean wave" was coined in the late 1990s after a drama called What Is Love? became a hit in China. In 2003, another K-drama—Winter Sonata—was hugely popular in Japan. This spread the Korean wave across the rest of Asia before the rise of K-pop turned it into a global phenomenon.
Korean content performs well across the world, including in the U.S. and Canada, the U.K., France, Mexico, Argentina, Brazil and Australia, according to Netflix.
The streamer announced this year that it would be investing nearly $500 million in Korea "to add more variety and diversity to our growing slate."
Minyoung Kim, Netflix's VP of content for Korea, Southeast Asia, Australia and New Zealand, said in February: "Audiences around the world are falling in love with Korean stories, artists and culture.
"Great Korean stories are nothing new. In fact, storytelling is deeply rooted in Korean culture," she added.
"This year, we have Korean dramas like The Silent Sea, Squid Game and Kingdom: Ashin of the North" as well as "our first Korean sitcom, So Not Worth It."
Here we unpack five of the most compelling Korean shows on Netflix to kick-start your obsession with K-drama.
'It's Okay To Not Be Okay'
The critically acclaimed romantic drama It's Okay To Not Be Okay was hailed as one of the "best international television shows of 2020" by The New York Times.
The series follows a budding relationship between antisocial children's author Ko Moon-young (played by Seo Yea-ji) and Moon Gang-tae (Kim Soo-hyun), a caretaker at a psychiatric ward who has spent his entire life looking after his autistic older brother.
Moon-young aggressively pursues Gang-tae, resulting in heated clashes that ultimately bring the couple closer together.
The filterless and fearless heroine might remind some viewers of Villanelle, the psychopathic assassin from Killing Eve—and a direct translation of the show's Korean name is "You're a psycho but it's OK." Moon-young doesn't have the same killer instinct, however, and her strong personality is balanced by the glimpses of vulnerability drawn out by Gang-tae, who is unwaveringly patient yet stubborn.
Several scenes have a dark fairytale feel, similar to the children's stories written by Moon-young, with snowy fields, forest backdrops and the heroine's fairytale princess outfits and long flowing hair.
Other sequences switch between fantasy and reality, such as a trippy scene where a VIP psychiatric patient walks viewers through how he sees the world.
The show marked the highly anticipated return of Kim, one of South Korea's highest paid actors, to the small screen following his obligatory military service.
'Kingdom'
Another show that made the Times list of best international shows last year, Kingdom is about a nation plagued by an unknown disease that spreads like wildfire among its people and later mutates into a more virulent form. Sound familiar?
Kingdom was Netflix's first original Korean series when it premiered in January 2019. The second season began on March 13 last year, just days after the World Health Organization declared COVID-19 a pandemic.
Political corruption and conspiracy meet over-the-top blood and gore in this riveting sageuk (period drama) with a zombie twist. Viewers with weak stomachs won't enjoy its scenes of decapitations and zombies noisily chowing down.
Crown Prince Lee Chang stumbles on the mysterious illness while investigating the rumored death of his father, the king, who—mini spoiler alert—died but became a zombie after being vaccinated with a "resurrection plant." The widowed, pregnant queen and government officials looking to oust Lee hide the truth about the king (and the zombie plague) from the people in a bid to secure the vacant throne for the queen's unborn child.
Seeking the truth behind his father's illness, Lee sets out to find the doctor who last treated the king. He comes across Seo-bi (Bae Doo-na), the doctor's assistant, who is also trying to discover what is causing the masses to become zombies by night.
The series is set in an interesting point in the country's history: the Joseon dynasty. The Joseon era planted the seeds for modern Korean society, from provincial governments and social classes to the establishment of Hanyang—modern-day Seoul.
In the first season, Lee and his allies attempt to fight the zombies and contain the outbreak. The second season shows them learning more about the illness and ends on a cliffhanger. A special standalone episode (Kingdom: Ashin of the North) exploring the backstory of a mysterious character who appeared at the end of Season 2 is due to air this year.
A third season is reportedly on the cards but an official announcement has yet to be made.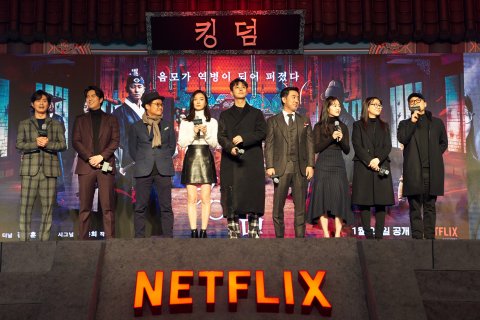 'Vincenzo'
The gripping crime drama Vincenzo, which premiered on Netflix in late February, is also sprinkled with moments of light-hearted relief, not least from its main character Vincenzo Cassano, played by household name Song Joong-ki.
In an interview with Korean media, Song described the series as like gulping "a refreshing glass of Sprite" for its burst of strong characters.
Vincenzo is the adopted son of Don Fabio, the head of an Italian mafia clan, and eventually becomes a lawyer/consigliere for the family. He visits his birth land of South Korea in a bid to recover tons of gold hidden below a building that has been illegally seized by another company. The series follows his attempt to reclaim this site as the gangster forms an unlikely alliance with a neighborhood family law firm.
From the first episode, viewers see multiple sides of Vincenzo that break the conventional image of a ruthless consigliere, played out in his comic exchanges with the building's troublesome tenants.
Between some surprising plot twists and glimpses of a troubled past, viewers will want to stick around to see whether Vincenzo is a good guy turned bad or a bad guy turning good.
'The Uncanny Counter'
This engrossing sci-fi action drama, which premiered on Netflix in November 2020, follows four seemingly ordinary people who in fact have extraordinary powers—and secretly work as "counters," tracking down and fighting demons who prey on humans.
Three of the counters work at a noodle shop, while the group's youngest and newest member, So Mun, is a high school student.
Each counter works with a partner spirit from Yung, a purgatory-like space between the living world and the afterlife. All the counters are physically stronger than other humans and each has a unique gift, such as the power to heal or to read and erase memories.
So Mun's "boy-next-door-turned-superhero" persona will be familiar to fans of Spider-Man. Like Peter Parker, So Mun lost both his parents as a child and was raised by extended family (his grandparents).
The series is packed with satisfying, high-adrenaline fight scenes as the counters battle increasingly stronger demons, as well as heartfelt moments between the four who become like a family.
As their stories unfold, the counters also find themselves taking on school violence, police corruption and difficult questions about their pasts.
'Record of Youth'
This hip, stylish and sweet romantic drama follows a group of twentysomethings trying to make it in the fashion and acting industries. A make-up artist assigned to work at a fashion show suddenly meets her long-time celebrity crush there and the pair form an unexpected friendship.
The celebrity crush is Sa Hye-jun, played by Park Bo-gum, another of the country's best known actors.
Hye-jun is a model/actor from a working-class family who found breakout success seven years earlier. But now he juggles several part-time jobs while hustling for his next big break.
Won Hae-hyo, one of Hye-jun's best friends since childhood, is also a model/actor. Coming from a wealthy family, Hae-hyo has had better luck in the industry—partly thanks to his mother doing whatever she can to boost his success.
The two men meet make-up artist Ahn Jeong-ha at a fashion show. Jeong-ha is played by Park So-dam, now best known as the daughter "Jessica" in Parasite.
Dotted with heartwarming exchanges, fateful encounters and cute/witty banter, Record of Youth is in many ways a quintessential romantic K-drama.
But the series is more than just a love story, touching on themes of class, family values and relationships in Korean society. Several scenes offer a glimpse into modern life for youth people in South Korea, from the characters' stylish clothes and fancy technology to the realities of celebrity culture.