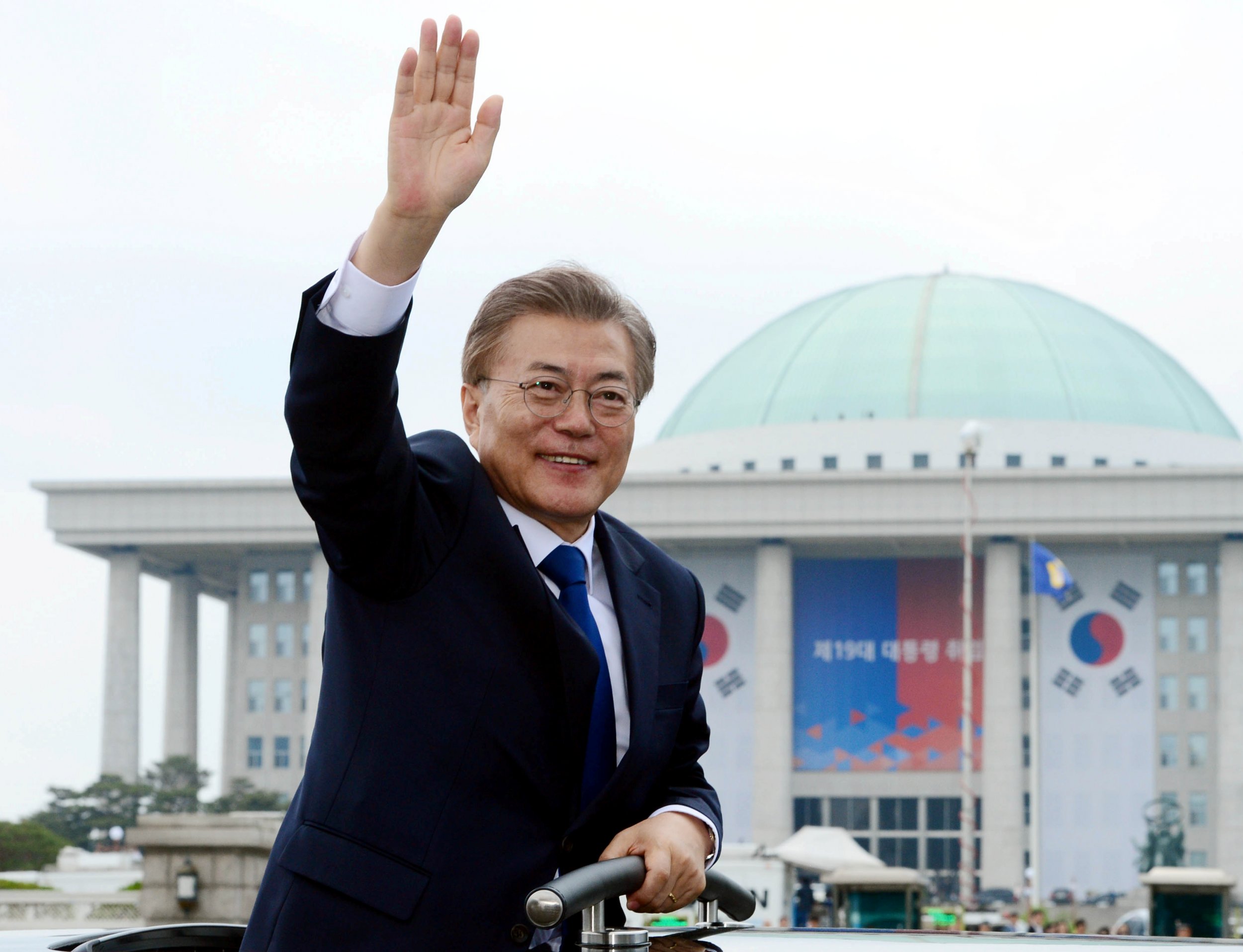 One day after he won a landslide victory in South Korea, Moon Jae-in was sworn in as president, after vowing to prioritize relations with North Korea, and saying that he would consider visiting if the conditions were right.
The 64-year-old Democratic Party member is a former human rights lawyer and the son of North Korean immigrants, who fled to the South during the civil war in the 1950s.
He promised a two pronged approach to North Korea during his election campaign, recommending a continuation of sanctions and opening up a dialogue between the two countries.
"I will do everything I can to build peace on the Korean peninsula," Moon said during his inauguration speech. "If needed I will fly to Washington immediately. I will also go to Beijing and Tokyo and even Pyongyang in the right circumstances," he added.
Tensions between the two countries have risen in recent weeks after North Korea conducted three missile tests in April. The U.S. and China have also become more openly involved, with President Donald Trump's administration moving away from a previous policy of "strategic patience" and China warning North Korean leader Kim Jong Un not to conduct more tests. In April, Trump sent the USS Carl Vinson supercarrier to the region and has conducted military drills with Japan, provoking anger from North Korea.
The United States' installation of its THAAD anti-missile system in South Korea sparked protests among local residents concerned it puts South Korea on the front line in a potential war. China has also opposed the system, saying its radar allows for monitoring in its territory. In an interview with Reuters on April 28, Trump said he expected South Korea to pay $1 billion for THAAD, despite it being an American manufactured and installed piece of equipment. However, two days the White House confirmed the U.S. would still pay for the system.
Moon has also committed to probing deeper into corruption that has plagued South Korea for the last decade, something he spoke frequently on during his campaign. He was expelled from school when protesting against Park Cheung-hee, the father of disgraced leader Park Geun-hye, imprisoned in April on corruption charges after four months of investigations. Moon led peaceful protests late last year against what he called the rising corruption that system had encouraged.
On Moon's election win, the U.S. said it looked forward to continuing to "strengthen the alliance" and to "deepen the enduring friendship and partnership," according to Sean Spicer, the White House Press Secretary.
Moon rejected the usual lavish inauguration celebration, opting for a shorter ceremony and speech to highlight his preference for what he called a "more egalitarian" society.