South Korea Professor Whose Kids Crashed TV Interview Delights Viewers as Children Disrupt Him Again Live On Air
After disappointing Twitter with an interview in February, in which his kids didn't burst through the door, Professor Robert E. Kelly has given fans what they want in a new interview with the BBC.
Professor Kelly, or as he is better known, BBC Dad, appeared on BBC World News this morning with his family; wife Jung-a, daughter Marion, and son James, delighting viewers and Twitter users.
The family rose to fame in March 2017 when Professor Kelly was being interviewed live by BBC news. His daughter walked into the office and right up to her father while her little brother followed in a baby walker. Kelly unsuccessfully tried to gently push his daughter away, but his wife came to the rescue and took the two children out of the room, while Kelly paused and apologized.
Kelly was then interviewed by Sky in February 2020 when he mentioned that his children would not be going to school the following day due to the coronavirus outbreak, and viewers impatiently watched the door awaiting their entrance.
As the children were a no-show, viewers took to Twitter to vent their disappointment, asking "Where is the baby?" and pleading "Come on, Bob, just give us the content we need."
This time around, the entire family was on camera—on purpose—being interviewed by the BBC on life in South Korea during the coronavirus pandemic and lockdown.
Jung-a explained what they had been up to during the lockdown and the children delighted viewers with their antics, with Marion jumping around, hugging her dad and stroking his hair, while James fidgeted and tried to jump from his mother's lap. He eventually succeeded and left the room, only to return with a video game.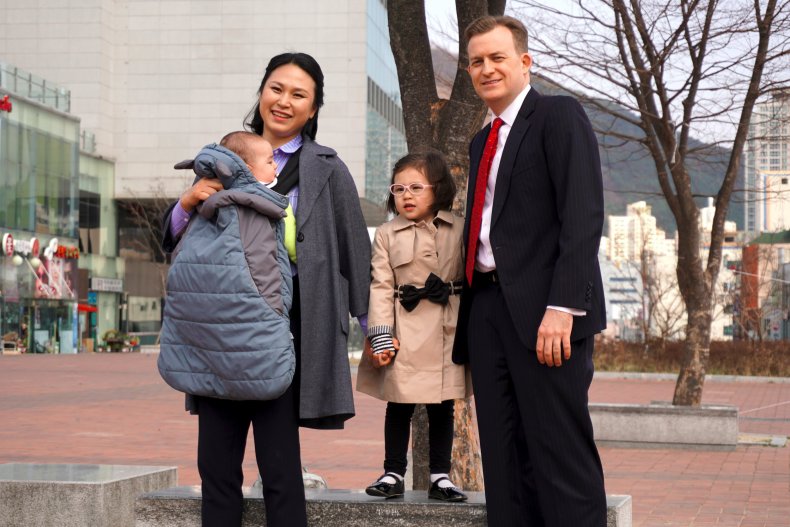 Kelly tried to apologize for his children's lively behavior and said: "Sorry, my kids are..." to which BBC interviewer David Eades said: "You must never apologize... That's one thing you can never apologize for now, it's part of the scene."
Scott Bryan shared a clip of the interview on Twitter and said: "omg our [favorite] family have returned to BBC world news"
Kelly has been updating his Twitter followers with what his family has been up to while under lockdown. On March 16, Kelly tweeted a photo of himself and James, saying: "This is what happens when I sit down at my desk now to try to work. It is basically impossible for me to work now. Be kind to your employees with kids. After two weeks penned up in the house, those kids are gonna be climbing the walls."
South Korea Professor Whose Kids Crashed TV Interview Delights Viewers as Children Disrupt Him Again Live On Air | U.S.