South Korea Reacts to North Korea's Missile by Testing Plan to Bomb Kim Jong Un
The South Korean air force conducted live-fire drills Tuesday, hours after North Korea flew a ballistic missile over Japan.
Four F-15 fighter jets practiced a drill against the North Korea's leader Kim Jong Un, dropping eight MK-84 bombs against a simulated target at the Pilsung training range.
The test was meant as a warning signal in response to North Korea's latest provocation.
"If North Korea threatens the security of the South Korean people and the South Korea-U.S. alliance with their nuclear weapons and missiles, our air forces will exterminate the leadership of North Korea with our strong strike capabilities," South Korean Colonel Lee Kuk-No said in a video released by the country's military, quoted in Reuters.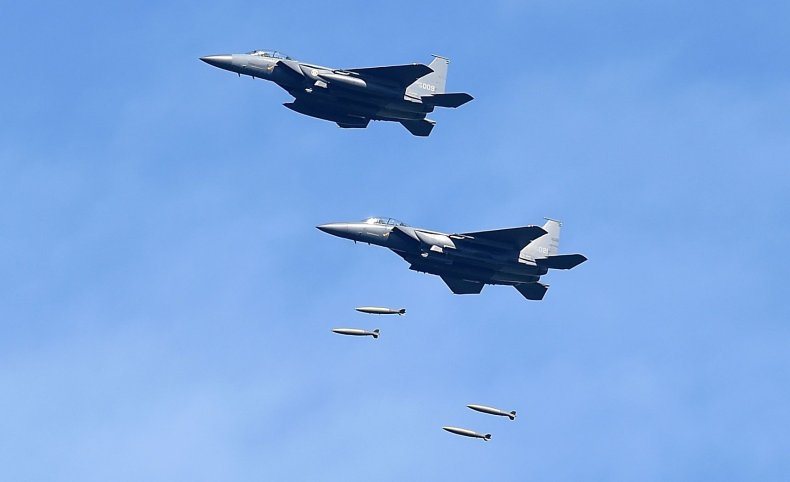 According to the South Korean military, North Korea launched a rocket, likely an intermediate-range ballistic missile Hwasong-12, from a site near the capital Pyongyang, just before 6 a.m. local time (4 p.m. ET).
The missile flew for an estimated 2,700 km (1,680 miles), reaching an altitude of about 550 km (340 miles), for 14 minutes. It passed over the Japanese island of Hokkaido before breaking up in three pieces and landing in the Pacific.
The missile test came a few days after Pyongyang launched three short-range ballistic missiles, two of which failed in flight and a third that appeared to have blown up almost immediately, according to the U.S. Pacific Command.
The recent missile tests interrupt a month-long lull that was recently described by U.S. President Donald Trump as a sign that Kim Jong Un had begun "to respect the American leadership" after appearing to step back from threats to hit the U.S. territory of Guam with four Hwasong-12 rockets.
The state-controlled North Korean press had however continued to make threats against the U.S. and South Korea, as the two began their annual military drills, which Pyongyang opposes, as they deal with several scenarios, including the removal of North Korean leadership. The drills, which began August 21, are scheduled to end Thursday.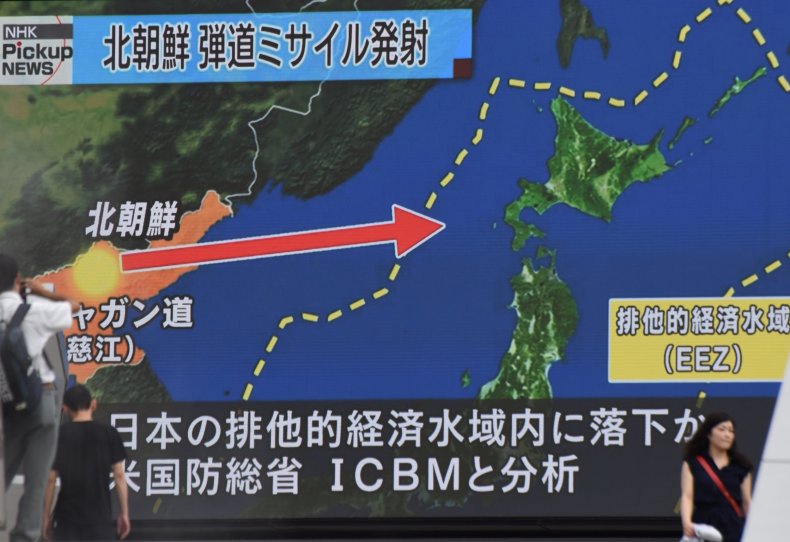 Japan also conducted military drills Tuesday to test the anti-ballistic missile system PAC-3. Japan's Prime Minister Shinzo Abe condemned the attack as an "unprecedented" threat to stability in the region. "A missile launch across Japan is an outrageous act that poses an unprecedented, grave and serious threat, and significantly undermines the peace and security of the region," he said in a statement.
He called for an emergency meeting of the U.N. Security Council, which will convene in New York later Tuesday, and spoke to Trump. The American president has yet to make a public statement on the matter, but told Abe the U.S. stood "100 percent" behind Japan, local media reported, citing a government official.
American, South Korean and Japanese top diplomats on North Korea policy also agreed to take "stern measures" against Pyongyang at the meeting.
"The top representatives shared their recognition that the latest North Korean ballistic missile launch which passed through Japan's airspace is a serious act of escalating tension," the South Korean foreign ministry said in a statement quoted in the Yonhap news agency.
"They agreed to take stern measures through close cooperation among South Korea, the U.S. and Japan, including a powerful response at the United Nations Security Council level," it added.