South Korea Returns Remains of 20 Chinese Soldiers Relaxing Ties Between Former Enemies
The remains of 20 Chinese People's Volunteers who fought alongside North Korea in the 1950-53 Korean War were repatriated as part of South Korea's efforts to normalize ties with its former enemy.
A Chinese People's Army plane containing 20 identical caskets, each covered by a Chinese flag, departed South Korea's Incheon International Airport on Wednesday morning and landed in China's Shenyang Taoxian International Airport a few hours later.
The ceremony was attended by South Korea's Defense Minister Song Young-moo, China's vice minister of civil affairs Gao Xiaobing and Beijing's Ambassador to Seoul, Qiu Guohong.
"Historically, the repatriation of (soldiers') remains between the two parties involved in a battle is a humanitarian move and also carries a peace message to heal past wounds and move mutual ties forward," Song said in a speech on Wednesday, according to Yonhap news agency.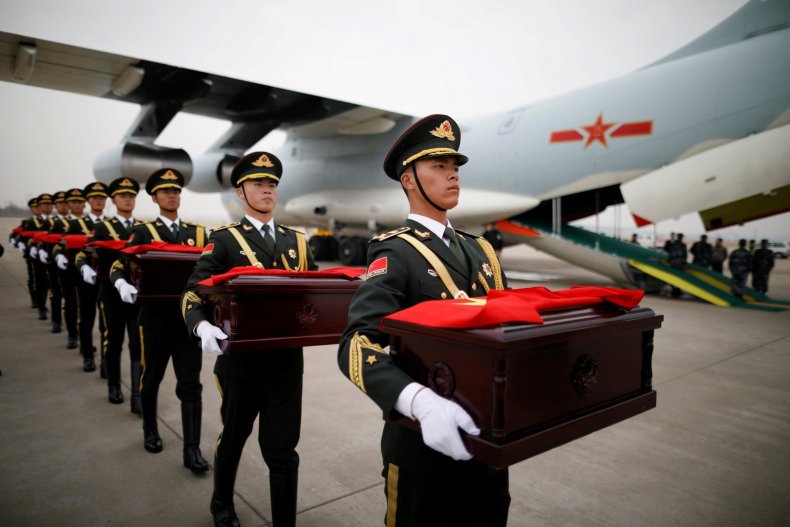 It was the fifth time such a ceremony took place, but the first attended by the South Korean defense minister. Since South Korea agreed to the repatriations in 2013, it has returned the remains of 569 soldiers, usually ahead of the Chinese Qingming or Ching Ming Festival—known in English as "Tomb-Sweeping Day"— held in early April to honor ancestors.
The soldiers' remains were exhumed last year from several sites in South Korea's northeastern province of Gangwon, according to Agence-France Press, and included brown-stained bones and skulls, as well as personal belongings such as coins.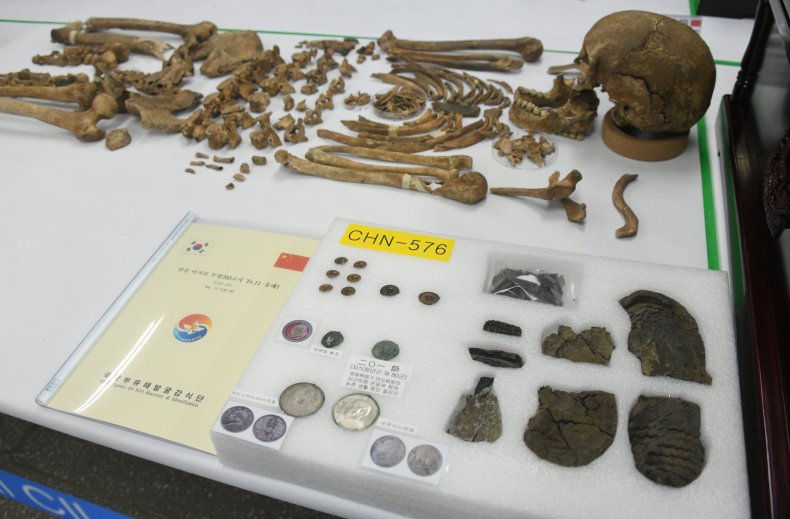 The burial of the unidentified soldiers is scheduled for Thursday morning at the Korean Martyrs' Cemetery in Shenyang, China state media reported.
It remains unclear how many of the soldiers Chinese leader Mao Zedong volunteered to fight along Kim Il Sung's North Korean troops against South Korea and the U.S. died in the war. China estimates the number to be around 180,000—including Mao's eldest son Mao Anying, but other sources double the number of Chinese casualties, to around 400,000.