South Korea Sending Troops, Contacting Other Nations After Iran Seizes Ship
South Korea is sending military forces to respond to the seizure of one of its tankers by Iran, an endeavor in which it is seeking to work with other nations operating in the region.
Iran's elite Revolutionary Guard announced Monday that its Zulfiqar fleet had seized a South Korean vessel operating in the Islamic Republic's First Naval District in the Persian Gulf "due to a series of violations of marine environmental laws" after it departed from Saudi Arabia's Al-Jubail port.
The ship, Hankuk Chemi, was said to be transporting up to 7,200 tons of oil-based chemicals, and carrying a crew of South Korean, Indonesian, Vietnamese and Myanmar nationals. Both ship and crew are being held at Iran's Bandar Abbas port, where the Revolutionary Guard said "the issue is to be dealt with by the judicial officials."
In response to the incident, a South Korean Defense Ministry official told Newsweek the country, officially known as the Republic of Korea (ROK), had "sent anti-piracy troops near the Strait of Hormuz for the ROK oil tanker directly."
Asked if South Korea would seek support from the International Maritime Security Construct, a U.S.-led coalition of at least nine nations designed to prevent acts of sabotage and prevent Iran from seizing international ships after a restive 2019 near the Strait of Hormuz, the official said Seoul sought "close cooperation with regards to the ROK government's and multinational anti-piracy naval troops."
The Strait of Hormuz is the world's most important maritime oil traffic chokepoint and a recurring flashpoint for U.S.-Iran tensions and threats that have severely escalated since Donald Trump took office in 2017.
U.S. Central Command's Navy 5th Fleet did not immediately respond to Newsweek's for comment.
The U.S. and South Korea are military allies and, while their mutual defense was established to ward off attacks from rival North Korea, it obliges each to come to the other's aid in the event of any "external armed attack."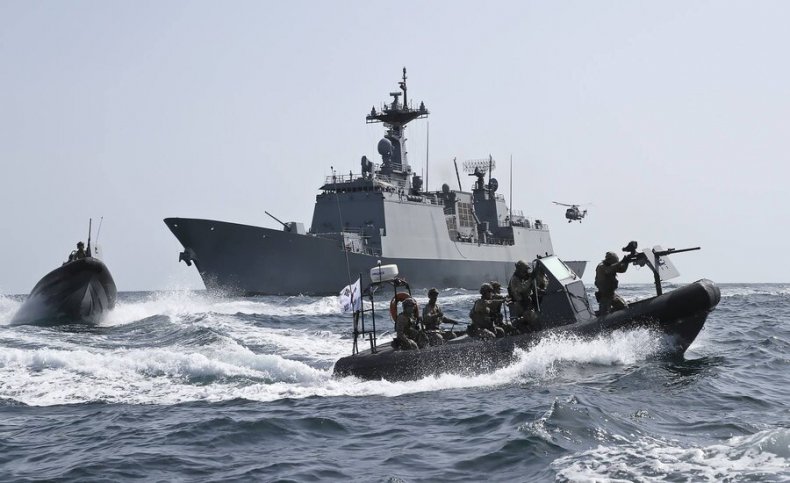 Anxieties over potential escalations in the Persian Gulf have run especially high around the one-year anniversary over the past weekend of the U.S. killing of Revolutionary Guard Quds Force commander Major General Qassem Soleimani in Iraq.
Iranian permanent mission to the United Nations spokesperson Alireza Miryousefi recently denounced the killing of the influential and controversial Iranian military leader's death last year as "something that was almost universally condemned as an illegal and terror act (by even U.S. allies)." He added that "it has not affected Iran's national security policy."
"What it has done is illustrate to the entire world the true nature of the Administration in flouting international law and norms, and the desperation it feels in its inability to bring Iran to its knees," he told Newsweek. "Iran has endured Trump and his allies, and will continue its foreign and security policies as it always has."
Miryousefi added a warning.
"There is an appearance that the U.S. is setting traps or provocations to provide an excuse to initiate armed conflict in the last days of the administration," he said. "Iran is fully prepared to defend itself and will, if it comes to pass, react openly and decisively."
The U.S. military twice flew nuclear-capable B-52 bombers over the Middle East in recent weeks in a show of force against the Islamic Republic, which Trump accused of plotting to attack U.S. interests in the wake of a rocket attack that hit Washington's embassy in Baghdad last month.
The U.S. leader has just over two weeks left in office but has refused to recognize the electoral victory of his rival, President-elect Joe Biden, who has signaled a more diplomatic approach to Iran. Uncertainty over Trump's actions have spread globally, and friends and foes alike have kept a careful eye on U.S. movements.
The USS Nimitz aircraft carrier was set to depart the region but was abruptly ordered to remain due to "the recent threats issued by Iranian leaders against President Trump and other U.S. government officials," according to a statement issued Sunday by Acting Secretary of Defense Chris Miller. "No one should doubt the resolve of the United States of America," he added.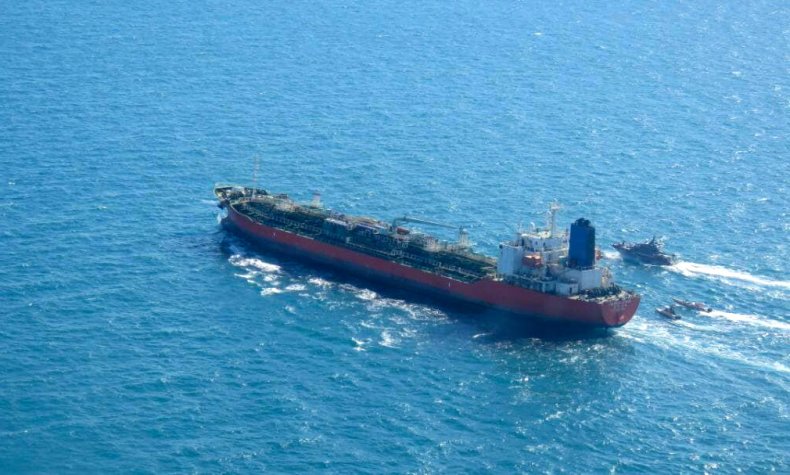 The South Korean Foreign Ministry has called for the early release of Hankuk Chemi, the latest international ship to be seized by the Revolutionary Guard, which has a history of detaining foreign vessels deemed to be endangering maritime traffic or in violation of rules near or within the critical crossing.
A ministry spokesperson later confirmed to Newsweek that the ship's crew were in good condition and that efforts were being made both in South Korea and Iran to ensure their safety. The spokesperson reiterated that consultations were being made both with Iran and other members of the international community to resolve the issue.
A previously scheduled visit by First Vice Minister Choi Jong-kun to Iran on Sunday was set to take place regardless of the incident, the spokesperson said.
Iranian Foreign Ministry spokesperson Saeed Khatibzadeh said additional information on the incident would soon be released, but maintained that "the matter is purely technical" and related to the vessel's alleged pollution of the waterway.
"The Islamic Republic of Iran, like other countries, is sensitive to such violations, especially pollution of the marine environment, so it will deal with it within the framework of the law," Khatibzadeh said. "This incident is not exceptional and has occurred in similar previous cases in Iran and the waters of other countries, and is normal."
South Korea was one of Iran's top oil buyers prior to the imposition of sanctions by the Trump administration after the unilateral exit of the U.S. from a 2015 nuclear deal in 2018. Tehran officials have since urged Seoul to release of billions of dollars of Iranian assets frozen by South Korea as a result of its adherence to U.S. sanctions, though South Korea has so far refused despite successive meetings on the issue.
Iran also enjoys friendly ties to North Korea, another U.S.-sanctioned state with which South Korea has struggled to improve relations amid an unprecedented peace process launched as Washington left the Iran nuclear agreement two and a half years ago. The U.S.-North Korea relationship has since frayed, leaving their future uncertain ahead of Biden's inauguration set for January 20 and North Korea's upcoming Eighth Party Congress set to be held sometime this month.
As for Washington and Tehran, things remain especially tense as Iran—which, unlike North Korea, has maintained it didn't seek nuclear weapons—announced Monday it would enrich uranium at 20%, straying further from the limits of the nuclear deal the U.S. abandoned entirely under Trump.
Iranian officials have assured that the country would immediately return to the accord's limits once the U.S. reentered into compliance, as Biden has vowed to do.
This article has been updated to include information provided by the South Korean Foreign Ministry.