Soccer Club Apologizes for Filling Up Stadium With Sex Dolls Advertising Porn Sites
A South Korean soccer club has said it is "deeply sorry" after the "mannequins" it used to replace fans in the stands turned out to be sex dolls.
South Korea was among the first countries to welcome back professional sports in the midst of the novel coronavirus pandemic. Two weeks ago, the country's baseball and soccer leagues—the KBO and K-League—both resumed behind closed doors.
To address the lack of fans, FC Seoul opted to order 30 mannequins and dot them around the stadium in a bid to add a touch of realism to their game against Gwangju FC on Sunday.
The plan, however, spectacularly backfired when social media users pointed out the mannequins looked suspiciously like sex dolls and that some were holding placards advertising adult websites—pornography is banned in South Korea.
"We would like to apologize to the fans," the 2016 K-League winner said in a statement posted on Facebook and Instagram.
"We are deeply sorry. Our intention was to do something light-hearted in these difficult times. We will think hard about what we need to do to ensure that something like this never happens again."
The club, however, maintained that the mannequins were "premium mannequins" rather than sex dolls, although it conceded the mannequins were manufactured by a company that produces sex toys.
FC Seoul said last week it was contacted by a company called Dalcom, which offered to provide mannequins to fill some of the empty seats.
Following the social media fiasco, Dalcom insisted it had nothing to do with the adverts, explaining they came from a sex toy company that had previously placed an order with Dalcom, and wanted to have pictures of the mannequins taken before the game.
"They were supposed to take all the logos down before the game started," Dalcom director Cho Young-june was quoted as saying by the BBC.
"But there were several hairbands and logos left to be caught by public eye."
FC Seoul said it had been simply victim of a mix-up, indicating it had been reassured by the suppliers that the mannequins were not sex toys.
However, the club's director Lee Ji-hoon admitted to the the BBC that FC Seoul had not carried out a background check on Dalcom and had therefore not realized the company produced X-rated toys.
Bundesliga club Borussia Monchengladbach is adopting a more family-friendly solution ahead of its first home game without fans next week.
On Saturday, Germany's top-flight division became the first major European league to resume in the midst of the coronavirus pandemic.
Monchengladbach played away at the weekend but is in the process of installing over 16,000 life-size cut-outs of fans in the stands ahead of their game against Bayer Leverkusen on Saturday.
Fans can pay for their own cut-outs at a cost equivalent to $20, with all proceedings going to local charities.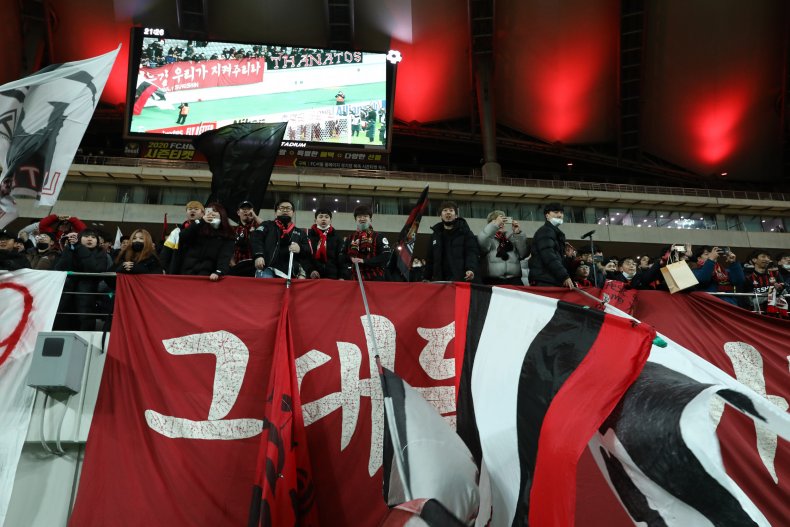 Soccer Club Apologizes for Filling Up Stadium With Sex Dolls Advertising Porn Sites | Sports