South Korean President Moon Jae-in called on the U.S. to officially declare an end to the Korean War during an interview Friday, adding that the North had "promised complete denuclearization."
"If North Korea takes certain measures, the end-of-war declaration would be a political statement that would announce that the long-standing hostile relations between Pyongyang and Washington had ended," Moon told the BBC, adding that he wanted the declaration to happen at the "earliest possible date."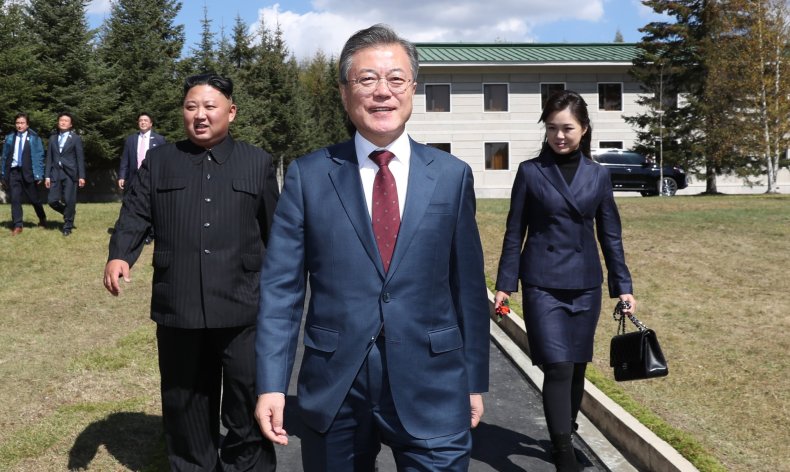 The Korean War, which began in 1950, technically never ended, as only an armistice was signed in 1953. It will only officially be declared over once a peace treaty is signed.
The United States has long taken the stance that it would not officially declare an end to the war or remove sanctions until the North made permanent changes regarding denuclearization.
Moon said that Kim Jong Un wanted to rid his country of nuclear weapons for economic development but also wanted to ensure that the country's safety was guaranteed.
"By complete denuclearization, he meant to start by stopping additional nuclear and missile tests, and then abolish the facilities that produce the nukes and develop the missiles, and all the existing nuclear weapons and materials," Moon said, according to a transcript of the interview obtained by Reuters.
The president's comments came one day after South Korea backpedaled on remarks made by Foreign Minister Kang Kyung-wha, who said that the country was considering lifting sanctions put in place following a 2010 attack that left 46 South Korean sailors dead.
"At the current stage, I think it's a little early for us to call for the lifting or easing of the U.N. sanctions," Unification Minister Cho Myoung-gyon said Thursday, adding that South Korea would only consider lifting sanctions if North Korea admitted to the attack, according to CBS News.
South Korean conservatives and President Trump were critical of the initial idea of lifting sanctions. Trump said South Korea "won't do that without our approval. They do nothing without our approval."
Moon, however, remained optimistic that if North Korea made sincere moves toward denuclearization, sanctions on the country would be removed.
"I believe North Korea must move forward actual denuclearization steps to enable such a condition. U.N. sanctions, as you may know, have intensified amid North Korea's continued provocations," the president said, according to Yonhap News Agency. "I believe if North Korea continues to take sincere denuclearization steps, and when it is believed to have reached a point of no return, the U.N. sanctions may start to be eased."