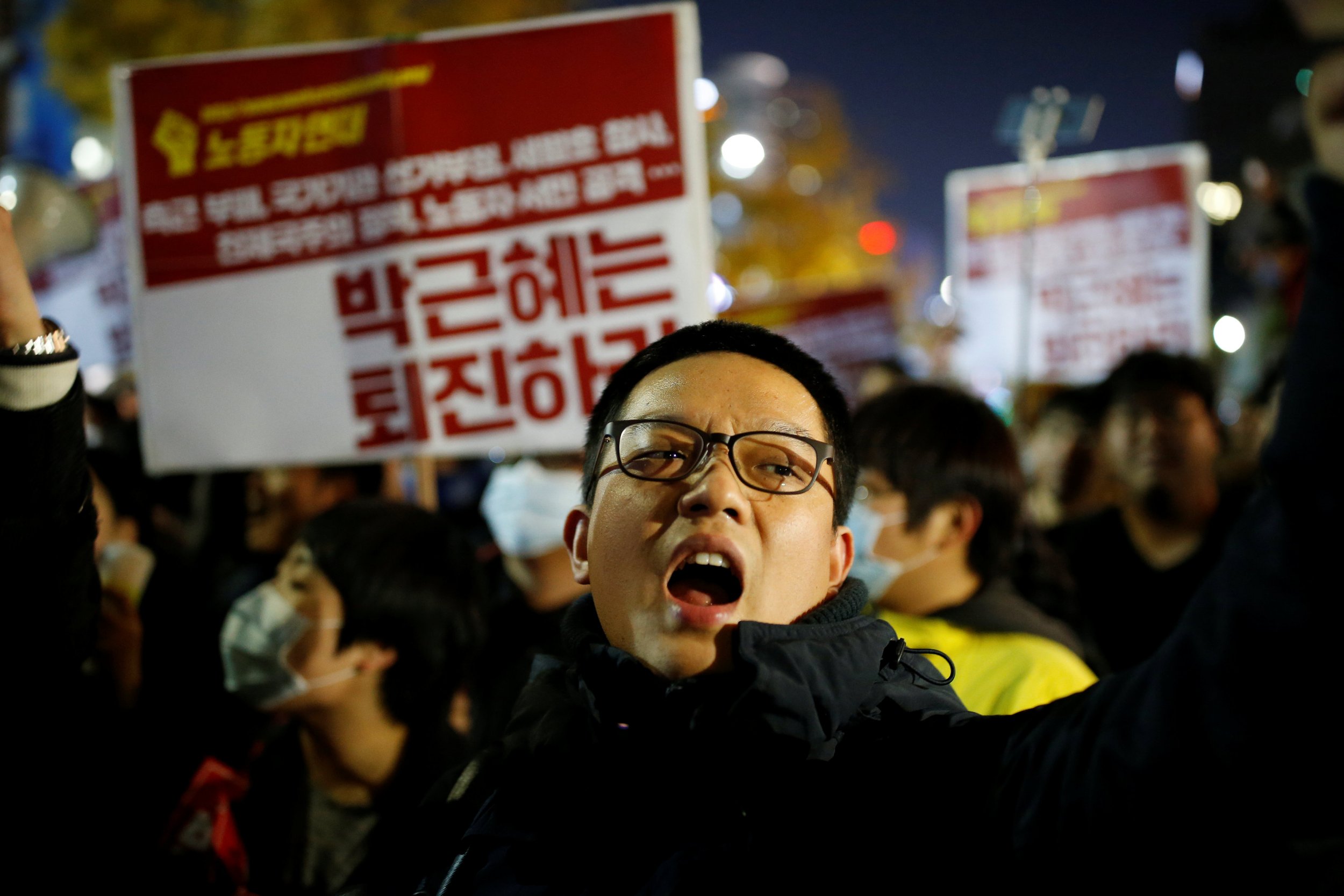 Thousands of South Koreans rallied in Seoul on Saturday demanding the resignation of President Park Geun-hye, as a crisis deepened over allegations a friend exerted inappropriate influence over her and interfered in state affairs.
The street protest came as prosecutors investigate presidential aides and other officials to determine whether they broke the law to allow Park's friend, Choi Soon-sil, to wield undue influence and gain financially.
Angry Koreans say Park betrayed public trust and mismanaged the government, and has lost a mandate to lead the country.
"She must step down," Lee Jae-myung, mayor of Seongnam city south of Seoul and a vocal critic of the government, said to a loud cheer from the crowd. "If Park Geun-hye is no longer president, will our lives be any worse off and will the tension with North Korea be any worse?" he asked the crowd, which responded "No!"
About 8,000 people attended the rally, according to police, organized by a group of left-leaning civic groups. Organizers said up to 30,000 people took part in the march through the capital.
"It's become clear the people made a wrong decision and picked a wrong president," Jeong Hong-woo, 22, told Reuters at the rally.
Police in riot gear faced some protesters as they tried to march on the presidential Blue House.
Park is in the fourth year of a five-year one-term presidency. Opposition parties have demanded a thorough investigation, but have not raised the possibility of impeaching her.
Park's office said late on Friday she ordered her senior secretaries to tender their resignations, and she will reshuffle the office in the near future. Her chief of staff separately offered to resign earlier, the office said.
The deepening crisis over Choi has sent Park's public support to an all-time low. In one opinion poll, more than 40 percent of respondents said Park should resign or be impeached.
Public Apology Falls Flat
Prosecutors are investigating two of Park's aides who allegedly helped Choi get access to drafts of Park's speeches and set up two foundations with about 50 billion won ($44 million) in contributions from conglomerates that she later benefited from, South Korea's Yonhap news agency reported.
The presidential office said it was cooperating with the prosecutors' investigation, including a request for documents.
A public apology by Park on Tuesday—for giving Choi access to draft speeches during the early months of her presidency—has done little to deflect demands that the president reveal the full extent of her ties with Choi and whether Choi gained favors from the relationship.
Choi said in a newspaper interview on Thursday from Germany, where she was staying, that she read and revised Park's speeches early in the presidential term, but denied all allegations she interfered in state affairs.
As well as demanding Park stand down, civic groups and students want criminal charges brought against her aides and others who helped Choi have access to government documents.