South Koreans Keep Pressure on Impeached President Park Geun-hye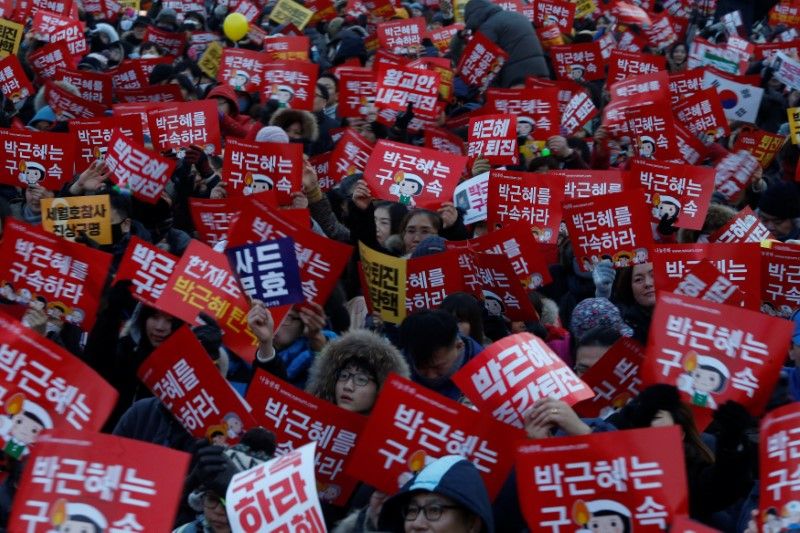 A large crowd of South Koreans took to the streets of central Seoul on Saturday for the ninth weekend in a row to demand the immediate resignation of President Park Geun-hye, who has been impeached by parliament over a corruption scandal.
About 200 young people dressed as Santa Claus gave out gifts to some of around 200,000 people taking part in the rally, many of whom brought their children.
Like previous rallies, the event was held in a festive mood, with music and speeches from a stage set up in a large square a few blocks from the presidential Blue House.
"It'll be a Merry Christmas if Park Geun-hye steps down!" the crowd chanted.
Park Chans, a 25-year-old office worker in a Santa costume, said the aim was to see the end of Park's presidency and bring in a new year for the country with those accused of corruption being held responsible.
"I hope that in the new year, this country will be a better to place to live for the youth," he said.
Park's impeachment, for violating her constitutional duty as leader, is being reviewed by the Constitutional Court which has up to 180 days from the Dec. 9 impeachment to decide whether to uphold it or reinstate Park.
Earlier on Saturday, a special prosecutor probing the scandal summoned a friend of Park at the center of the crisis, Choi Soon-sil, for questioning on charges including bribery and embezzlement, according to an official. Choi and former presidential aides were charged in November with abuse of power and fraud, but Park has immunity from prosecution as long as she is in office even though her powers are suspended.
The special prosecutor, with a large team of investigators, has taken over the investigation from government prosecutors and is likely to probe the role of Park and others who have yet to be indicted in the case.
"The charges in the indictment (against Choi) are but a very small part of the 14 points under investigation by the special prosecutor," said Lee Kyu-chul, a spokesman for the team.
Choi will be questioned on charges of bribery and transferring embezzled assets abroad, Lee told a briefing.
Choi, wearing a grey prison uniform and a surgical mask, was brought in to the special prosecutor's office from a jail where she is in detention, pushed by a throng of correctional officers through a media scrum. She did not answer journalists' questions about the charges. At a court hearing on Monday, Choi denied all charges against her, including fraud and abuse of power.
The special prosecutor has up to 100 days to investigate allegations that Park colluded with Choi and her aides to pressure big conglomerates to contribute 77 billion won ($64 million) to foundations set up to back her policy initiatives.
Park has denied wrongdoing but apologized for carelessness in her ties with Choi.