South Koreans were largely supportive of U.S. President Donald Trump's unprecedented engagement with North Korean supreme leader Kim Jong Un. Now they hope President-elect Joe Biden will fix frayed U.S. ties with both sides of the divided peninsula, according to a new survey and its corresponding authors.
The Korea Institute for National Unification, a South Korean state-funded think tank based in Seoul, recently published the results of a survey of the country's citizens in the wake of last month's U.S. presidential election, which ultimately saw Biden certified as the next U.S. leader in spite of ongoing protests by Trump.
The report, which was obtained by Newsweek, showed that 57.9% of respondents backed Biden in the race, while only 8.7% supported Trump, with just over a third displayed no preference for either candidate.
While Biden may have been the favorite, some 71.9% of those surveyed expressed a positive opinion of Trump's meetings and letters with Kim. Over half—52.9%—supported Biden resuming top-level diplomacy with Kim if North Korea makes "some progress" on denuclearization, while about a quarter felt this should occur only if Pyongyang "completely abandons nuclear weapons," and a fifth thinks talks "must resume without conditions."
Research fellow Lee Sang Sin, who co-authored the study with his colleagues Min Tae-un, Yoon Kwang-il of Sookmyung Women's University and Koo Bon-sang of Chungbuk National University, said South Koreans viewed U.S.-North Korea relations practically, but also as a matter of their national security.
"South Koreans are not the spectators of the North Korea issues," Lee told Newsweek. "The Trump-Kim Jong Un talks directly touched our daily lives. Of course, they understand that denuclearization of North Korea is only a remote possibility, and that even if the Biden administration chooses to engage with North Korea, it will still take a long time to achieve real progress."
As North Koreans view nuclear weapons as critical to their own national security, past efforts to denuclearize the elusive and militant nation have often fallen short. The data revealed skepticism among South Koreans as to whether relations between Washington and Pyongyang were likely to improve. A plurality (47.8%) of those who answered felt they "would not change much," 34.4% believed they "will improve somewhat," with smaller groups seeing other eventualities.
Lee said the numbers did not negate the need for both Koreas to strive toward their official goal of reconciliation and reunification.
"That doesn't mean that we must give up hopes for a peaceful Korean Peninsula," he said. "Even conservative Koreans seem to agree that confrontation with North Korea has not achieved any progress on our security and unification."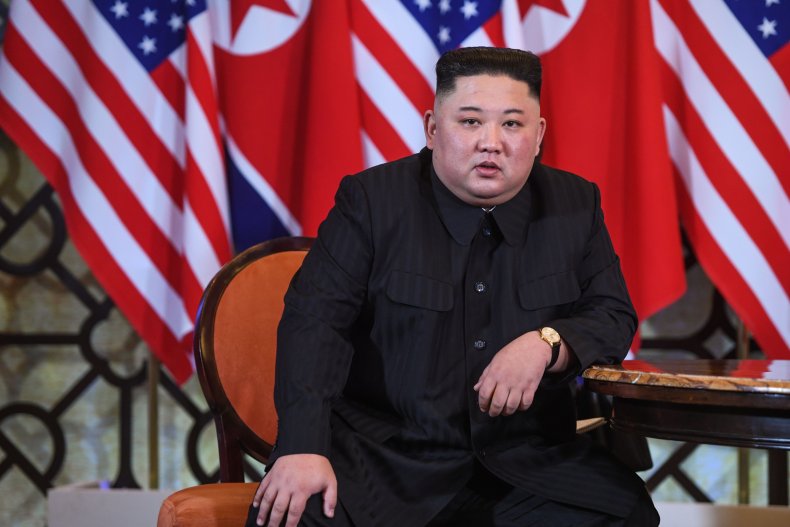 This year marked seven decades since the outbreak of the bloody Korean War that first pit two Cold War-era satellite states against one another. Since then, leaders of the two countries have only met five times. Three of those meetings occurred in one year, 2018, when the most recent peace process involving the two Koreas and the Trump administration began.
After two meetings with South Korean President Moon Jae-in, Kim met with Trump for the first time that June during a historic summit in Singapore. The two men pledged to continue working toward peace and the denuclearization of the Korean Peninsula. But a follow-up summit in Vietnam in February 2019, a surprise border meeting the following June and various working-level talks all failed to produce any agreements.
Today, North Korean leadership has once again toughened its tone against both Washington and Seoul, though messages have grown scarce as the country's gaze appears to be turning inward.
While North Korea maintains it is one of only 10 countries to not have reported any COVID-19 cases, the country has expended considerable efforts toward anti-epidemiological measures. In a rare moment of self-criticism, Kim has admitted that his country's economic outlook fell short of what he had anticipated as part of his five-year plan mapped out in January 2016.
The young ruler is expected to announce a new five-year strategy during next month's Eighth Party Congress, an event likely to occur around the same time as Biden's January 20 Inauguration. As preparations for the event begin in Pyongyang, South Korean media outlets and online plane spotters reported Tuesday that a U.S. Air Force RC-135 flew over the peninsula.
Trump had sought to deescalate the tense atmosphere that has long clouded the region. But conditions have grown unpredictable once again as the issue of the two Koreas faded into the background as the U.S. leader refocused his foreign policy efforts elsewhere.
As the next president enters the White House, Lee says he and his compatriots seek U.S. leadership that prioritizes the peace process itself, rather than using it as a vehicle to send messages to domestic audiences.
"Koreans had no illusion about Trump's intention. We understood that Trump used the talk with Kim Jong Un only for his political gain," Lee told Newsweek. "But as long as Trump's ego doesn't collide with our security and national interest, Koreans welcomed Trump's approach. Now Koreans expect Joe Biden to continue what Trump started."
And though Biden has accused Trump of "legitimizing" Kim through their summits, Lee urged the incoming leader to pick up where the current president left off as opposed to starting from scratch.
"The Singapore Agreement is still valid and Biden has no reason to ignore it," Lee said. "Biden doesn't have to restart the whole process all over again."
One thing South Koreans do feel Biden will have to reverse is Trump's approach to the alliance between the two countries. The Trump administration's efforts to push Moon's government to pay billions of dollars more for their alliance has proven wildly unpopular in South Korea, with 69.7% wanting the current funding level to continue, while a quarter said Seoul should pay even less.
Of the 38% of citizens who felt the U.S.-South Korea relationship "got worse" over the past year (as opposed to 54% who said it stayed the "same" and just 7.4% said it improved), half blamed the U.S alone for the deterioration. Of this same group, 31.4% think both sides are responsible for the falling out, while 8.6% blamed their own country and 9.7% blamed the "international environment."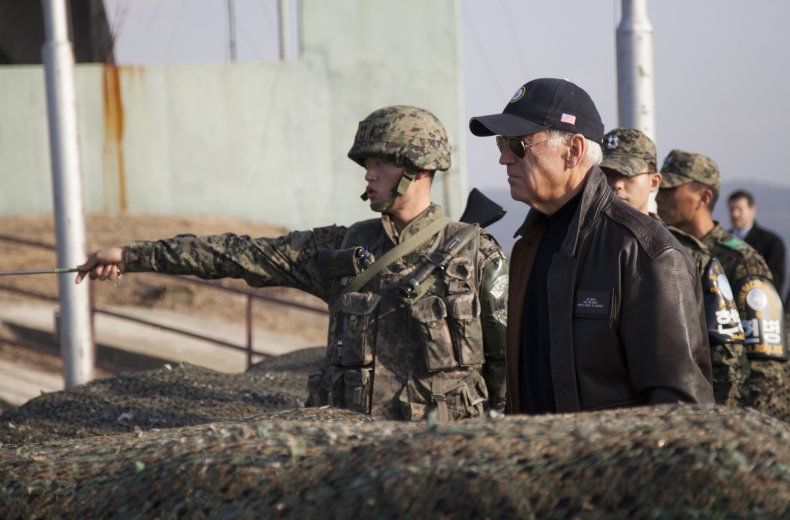 Biden has already distanced himself from his rival's handling of the U.S.-South Korea relationship and cost-sharing negotiations.
"President-elect Biden has made it very clear that he wants to re-strengthen the alliance between two countries, condemning Trump's demand for defense cost-sharing," Lee told Newsweek. "Koreans blame the U.S. for the deteriorating ROK-U.S. relations because they feel used and cheated by President Trump. But it is also about national identity and pride."
Lee argued that South Korea has become a force of its own.
"South Korea has become quite a solid mid-level power in Pacific-Asian region, and the KINU Survey shows that Koreans finally start to realize that they are no longer a developing country that can't defend itself," Lee said. "For Koreans, the defense cost-sharing issue is not about the money. It is about the mutual respect for the alliance."
And while maintaining U.S. forces in South Korea enjoys nearly universal support today at 90.2%, this number drops drastically to just over half at 54.3% when respondents were asked about the necessity of these forces after the long-sought unification of the two Koreas.
Lee's insights fell in line with those shared with Newsweek earlier this month by experts and former officials familiar with the Korean Peninsula and U.S. strategy there.
As for the South Korean government itself, a South Korean Foreign Ministry official told Newsweek at the time that Seoul's goals would remain unchanged as Biden took office.
"The ROK-US alliance has served as the foundation for peace and prosperity on the Peninsula and in the region," the official said. "The ROK government will continue to work closely with the US government for the denuclearization and the establishment of permanent peace on the Korean Peninsula."