South Korea's New President Steps Into a Geopolitical Minefield | Opinion
On May 10, Moon Jae-in will step down as South Korea's president after a five-year term. The man who will replace him, conservative Yoon Suk-yeol, will enter office with a large to-do list waiting for him, the most pressing of which is unifying a highly divided South Korean population, lowering high living costs across the country and ensuring South Korea's economy continues to grow after a 4 percent increase in 2021—the highest spurt in more than a decade.
Yoon is a largely unknown commodity. If people have heard of his name, it's probably due to his career as a prosecutor, during which he helped convict former South Korean Presidents Lee Myung-bak and Park Geun-hye on bribery charges. Yoon is a political novice; his very first political campaign was this year's presidential race, a contest he won by less than a percentage point. So it's only natural if countries around the world are a bit curious about how Yoon will run his government or deal with any number of foreign policy issues that await him.
If there is any clarity about Yoon's foreign policy, it can perhaps be summarized as "look at what Moon did and do the opposite." The new conservative government, which will be inaugurated in roughly two weeks, aims to distance itself from many of its predecessor's policies, particularly on North Korea, China and Japan.
Whereas the outgoing Moon administration sought to improve ties with North Korean leader Kim Jong Un through joint economic endeavors, letter writing and several leader-to-leader summits (during one of those meetings, Moon rode with Kim in an open-top car through the streets of Pyongyang, waving to a large crowd of jubilant North Koreans), Yoon has made it abundantly clear that the summitry days are over. While Yoon has kept the option of diplomacy open, he is in no hurry to mend fences with the North, let alone sign a peace declaration with the Kim dynasty. In an April 24 interview with The Wall Street Journal, Yoon said he was willing to boost the amount of humanitarian aid to North Korea and help Pyongyang attract foreign investment, but only if Kim took the first step toward disarming his nuclear weapons program. Just in case the North viewed him as too overly eager for a negotiation, the South Korean president-elect also discussed the need to strengthening South Korea's military in order to deter, and if necessary preempt, a hypothetical North Korean attack.
On China, Yoon is straddling somewhere between a hawkish South Korean nationalist and a pragmatic technocrat. During the campaign, he wrote an article condemning the Moon government's approach to Beijing, which he called so docile and wimpish that it jeopardized South Korea's national interest. Yoon was referring to Moon's "three no's" policy, designed to accommodate China after a year of hostile relations spurred by Seoul's decision to accept a U.S.-supplied THAAD missile defense system on its territory (the "three no's" included "no additional THAAD deployment, no participation in the U.S.' missile defense network and no establishment of a trilateral military alliance with the U.S. and Japan"). The decision put South Korea-China relations into a downward tailspin and prompted Beijing to curtail the China-based activities of a large South Korean retail conglomerate—costing Seoul $7.5 billion in revenue losses. The economic pain was enough of a jolt for Moon, who offered concessions to stabilize the relationship. But for Yoon, the concessions themselves were nothing short of humiliating.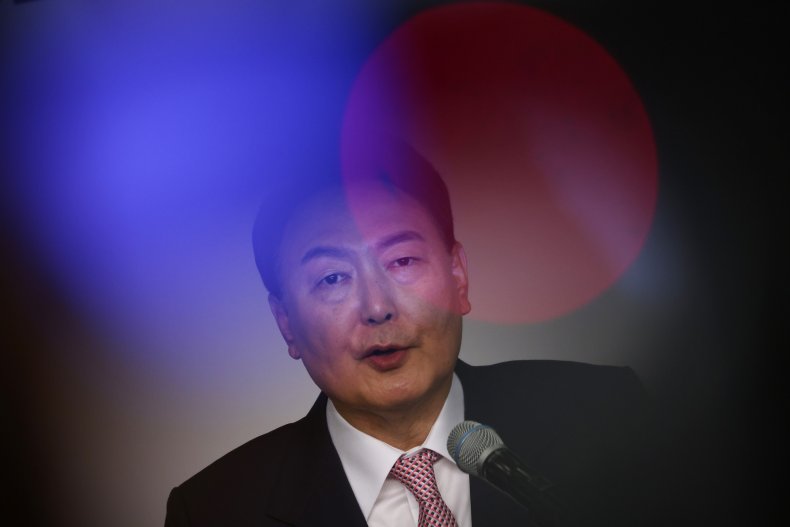 South Korea and Japan are Washington's strongest allies in East Asia. Yet relations between those two allies are in the dumpster, having nosedived after years of mutual antagonism on everything from Tokyo's 1910-1945 occupation of the Korean Peninsula, a dicey 2018 military altercation in the Sea of Japan and trade issues. One of the incoming Yoon administration's foremost priorities is to introduce some normality to the South Korea-Japan relationship. Yoon spoke with Japanese Prime Minister Fumio Kishida shortly after his election victory, and a personal delegation organized by Yoon traveled to Tokyo this week to meet with senior Japanese officials, where both sides expressed an interest in moving on from their years-long rough patch.
Will any of Yoon's policies stick? Or more to the point, will Yoon actually stick with them? Promising things on the campaign trail is one thing, but actually delivering on those promises is something else entirely. The world looks a lot different in the presidential suite than it does on the stump or even in the prosecutor's office. President-elect Yoon may have more trouble than most making the transition because many of his policy proposals will be complicated by the world he's going to inherit.
For instance, how does he intend to redouble the U.S.-South Korea military alliance and increase engagement with the Quad group without undermining his goal of a mutually-respectful dialogue with China, South Korea's largest trading partner? How can he revitalize South Korea-Japan ties when the politics in both countries are exceedingly hawkish against any form of compromise? Karl Friedhoff, an Asia expert at the Chicago Council on Global Affairs observed, "No one [in South Korea] wants to be cast as pro-Japan." Is it possible for Yoon to recommence talks with North Korea and de-escalate the situation on the Korean Peninsula when his entire policy toward Pyongyang depends on Kim waking up one morning and doing the improbable—giving up the North's nuclear warheads? And how does the incoming government expect to balance relations between the United States, its main security ally, and China, Asia's biggest power?
All of these questions will be answered in due time. If Yoon Suk-yeol successfully navigates the turbulent waters of geopolitics in Asia, then he could be remembered as one of South Korea's most transformative presidents. If he doesn't, then Yoon will be just the latest politician unable to compete with his own aspiring rhetoric.
Daniel R. DePetris is a fellow at Defense Priorities and a foreign affairs columnist at Newsweek.
The views expressed in this article are the writer's own.