Russia Could Gain More Territory, But It Won't Come From Ukraine
Russia could have another region added to its federation, although major governmental problems could occur due to it.
South Ossetia, a breakaway state in the country of Georgia, has officially applied for membership to the Russian Federation. The news was first reported on by the Russian news outlet Sota.Vision on its official Telegram channel, then confirmed by South Ossetia's official channel.
"I believe that unification with Russia is our strategic goal," said South Ossetian President Anatoly Bibilov in the post, according to a translation provided by Pravda. "This is our path, the aspiration of the people. And we will walk along this path. We will take appropriate legal steps in the near future."
Bibilov also cited Russia's explanation of eradicating Nazism as a primary reason for South Ossetia's decision to file for integration. He said that Russia is trying to advance human values and rights, not take them away with the invasion of Ukraine.
"Today, the Russian world defends the interests of those who are committed to it, of those who oppose Nazism, who respect universal human values ​​and fundamental rights and norms accepted by the entire international community," wrote Bibilov.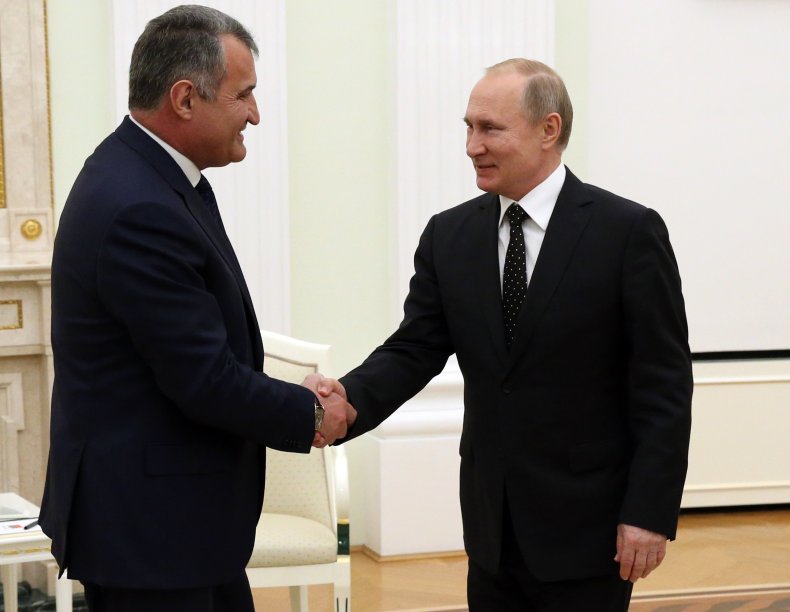 These messages are similar to those he had already sent regarding the ongoing Russian-Ukrainian conflict. The Moscow Times reported that Bibilov signed off on the deployment of South Ossetian soldiers to assist Russia.
"Our guys are going to fulfill their military duty with a proudly raised banner," Bibilov wrote on Telegram at the time. "They understand perfectly that they are going to defend Russia, they are going to defend Ossetia too. Because if fascism is not crushed at the distant frontiers, tomorrow it will again manifest itself here."
It is unclear how many South Ossetian troops have been deployed to Russia. Meanwhile, many Georgian fighters and civilians have begun assisting Ukraine's army. Georgians have posted on social media about their commitment to helping Ukraine "reclaim" their country from Russia.
"We Georgians who have been fighting for freedom in Ukraine...are also ready to fight for the freedom of Georgia," said one man in a video obtained by Radio Free Europe. "Therefore, we urge you to take up arms and strike at the enemy. We will never have such a chance again."
Although officially recognized by Russia as an independent state, South Ossetia is more akin to a breakaway state from Georgia due to it not being legally independent. It had previously declared independence in the early 1990s, with a bloody war playing out between Russia and Georgia over the region in 2008. Along with South Ossetia, Russia has also formally recognized the Georgian separatist region of Abkhazia.
Update 03/30/22, 1:36 p.m. ET: This article was updated with additional information.
Update 03/30/22, 1:21 p.m. ET: This article was updated with additional information.