News broke Monday that South Park was banned across the internet in China after a controversial episode of the long-running animated comedy aired last week poking fun at the Chinese government and Hollywood's attempts to temper its content for Chinese audiences.
The Hollywood Reporter said Monday that all things South Park had been scrubbed from the Chinese internet, including full episodes and clips of the show on streaming service Youku and any and all discussion of the hit comedy on Weibo, one of China's top social media platforms that boasts 445 million monthly active users.
Not shying away from the Chinese backlash brought on by last Wednesday's episode, titled "Band in China," South Park creators Trey Parker and Matt Stone released a derisive statement on Twitter Monday taking aim at the Chinese government's trigger-fingered censorship.
"Like the NBA, we welcome the Chinese censors into our homes and into our hearts. We too love money more than freedom and democracy," said Parker and Stone. "Xi doesn't look like Winnie the Pooh at all. Tune into our 300th episode this Wednesday at 10! Long live the great Communist Party of China. May the autumn's sorghum harvest be bountiful. We good now China?"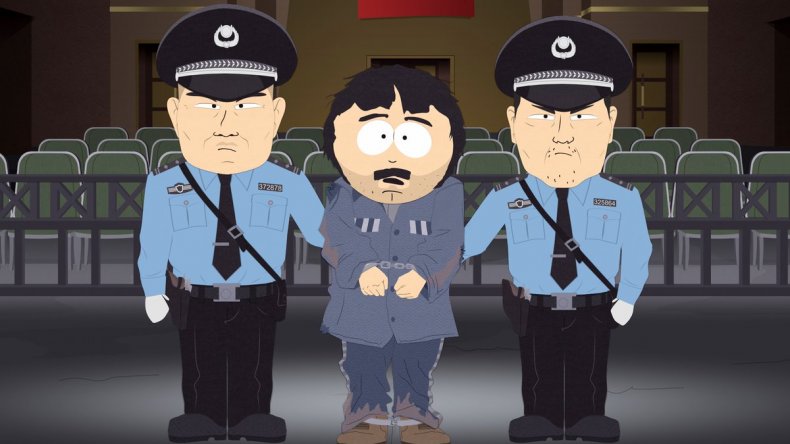 The fiery statement made references to the current controversy involving the NBA's Houston Rockets, and more specifically its general manager Daryl Morey, and China after Morey supported recent protests in Hong Kong against mainland China. It also referenced a Winnie the Pooh movie being banned in China last year because of comparisons between the Disney animated bear and China's President Xi Jingping.
South Park: What happened in the "Band in China" episode?
China's censorship of South Park stems from the episode "Band in China," which aired last Wednesday, October 2. It marked the second episode of South Park's 23rd season.
The episode—among other things—mocks how Hollywood often cuts its content to appease Chinese censors for film and television releases.
The main plot revolves around Randy Marsh taking his family to China, seeing an opportunity to expand his marijuana business. However, Randy is arrested and taken to prison when marijuana is discovered in his luggage. In prison, Randy encounters Winnie the Pooh and Piglet (imprisoned because of memes likening Xi Jingping to the bear) and is lambasted by a ruthless Mickey Mouse for endangering Western alliances with China by being critical of the government.
In a subplot also set in China, Randy's son Stan and his band Crimson Dawn are approached by a music producer who wants to make a biopic about the band. As filming commences, Stan and the band encounter numerous attempts to censor content in the film to pass China's board of censors. At one point, Chinese officials appear on set to approve the content in the film. "Now I know how Hollywood writers feel," Stan says.
The full episode is available to stream on the Comedy Central website—unless, of course, you are in China.