'South Park: The Fractured but Whole' DLC Download Time: When Can You Play From Dusk Till Casa Bonita' Story Pack?
South Park: The Fractured But Whole's long-awaited DLC, "From Dusk Till Casa Bonita," is almost here. Fans of the superhero RPG with a perverted twist have been drooling over visiting the fabled Mexican restaurant as their childish superhero persona.We've covered everything you need to know about the DLC download, plus when and how to get it below.
South Park: The Fractured But Whole From Dusk Till Casa Bonita DLC: How To Get It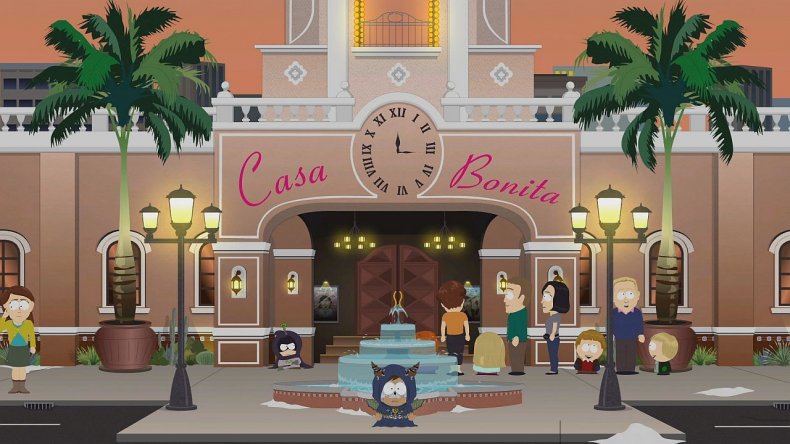 If you already have the Season Pass, then the new DLC should download immediately upon its release. If you want to just buy the expansion on it's own, you'll need $11.99. Just don't let the Loch Ness Monster get any of your money, you'll need that three-fifty.
What Time Do South Park: The Fractured But Whole DLC Downloads Start?
"From Dusk Till Casa Bonita" releases on March 20, most likely around midnight EDT.
Don't go crazy if the update doesn't launch for a few hours later, DLC release times can be less consistent than those of full games, and more importantly, I do not have a mind control device pointed at Ubisoft. If I did, I would have not pre-ordered Assassins Creed: Origins and ended up more disappointed than my girlfriend on prom night. Not because I underperformed in any way, but I did go to a Weird Al Yankovic concert instead of wearing a tuxedo and a dead flower around my neck.
"From Dusk Till Casa Bonita" has Kenny's sister join the goth kids and it's up to Coon and friends to save her from a miserable life of shopping at Hot Topic. They have descended upon Casa Bonita and you are the only one who can stop this wave of darkness from engulfing South Park. There's a new class, the Netherborn, who have four unique occult-born powers, and a new support hero, Henrietta. If you were a fan of the original story, this looks to be just as awesome.