'South Park: Post Covid' Special: Here's What Happens to Eric, Stan & Kyle In the Future
South Park creators Matt Stone and Trey Parker offered up their own vision of the future in their new Paramount+ event South Park: Post Covid.
Forty years into the future when COVID-19 finally comes to an end, the world will be meat-free and filled with driverless cars, virtual reality headsets, singing doorbells and incredibly realistic Alexa devices, according to the South Park writers.
The one-hour special, available to watch on Paramount+ now, also shows what happens to each of the South Park characters. While we've seen Kyle, Stan, Kenny and Cartman at 9-years-old for the last twenty four years, it's a shock to see them all in their late forties.
Here's a run down of how all of the South Park characters are doing in the year 2061. Please note: Some spoilers for South Park: Post Covid ahead.
Stan Marsh
Things aren't going well for Stan Marsh in the future. We meet him hard at work as an "online whisky consultant" while a person who we assume is his wife screams at him to answer the phone.
He's moved away from South Park and lives in the city. It's revealed that he lost touch with his family, specifically Randy, years ago.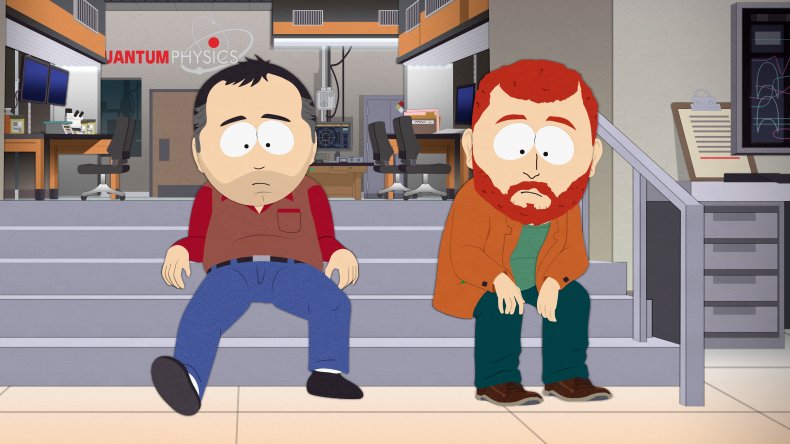 Kyle Broflovski
Adult Kyle Broflovski has lost the iconic green hat but still wears an orange coat. The bright red hair and beard helps us identify him as Kyle too.
He never left South Park and tells Stan he's working on a "counselling online start-up thing." It's not mentioned what happened to the Broflovskis but Kyle seems to be single and living alone.
Jimmy Valmer
An episode of "Late Night with Jimmy" starts up during South Park: Post Covid but it's not hosted by Fallon or Kimmel, it's South Park's Jimmy Valmer.
He's always been an avid comedy fan and in the future his propensity for telling jokes has landed him a gig as the host of a late night show. During his opening monologue, he rolls off a series of incredibly kind and complimentary jokes because he claims it's hard to do "comedy these days."
Eric Cartman (Spoiler)
Cartman was always harsh towards Kyle for being Jewish, which makes it hard for Kyle and the audience to believe that Cartman is now a Rabbi.
Kyle doesn't buy it for one minute but we meet Eric's Jewish wife Yentl and their three adorable children and we may have to consider the possibility that he might not be faking it.
Kenny McKormick (Spoiler)
Kenny seemed to have led the most accomplished life out of all of the original four boys. His death is the catalyst that brings everyone back together in South Park: Post Covid but before that he was as a scientist and working on something related to COVID.
He died under mysterious circumstances and from that point everyone who knew him works to discover the cause of his death.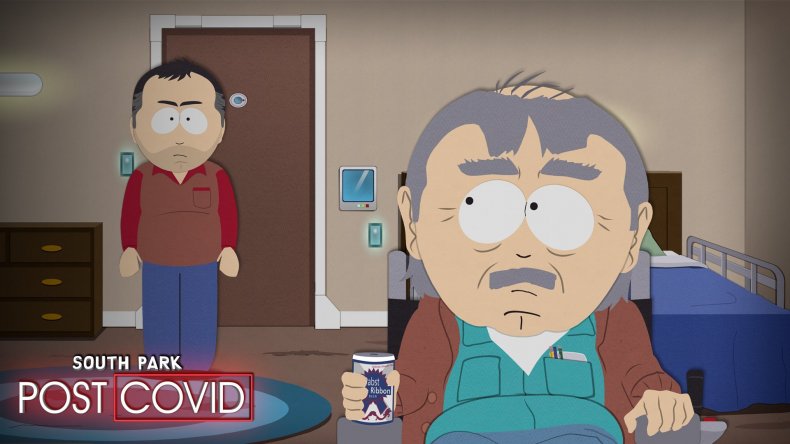 Randy Marsh
Randy Marsh looks very similar to his own father, Marvin and is living in the overcrowded towers of the Shady Acres Retirement Community where 600,000 other old people live.
Grey and balding, Stan still wears the same blue shirt. He and Stan don't get on but they revisit what used to be Tegridy Farms where Randy reveals he caused the coronavirus.
Other South Park characters
Across the episode we also get flashes of other recognisable South Park characters all grown up.
Token Black is a detective helping solve Kenny's case, Wendy Testaburger shows up with her new husband Darwin, Tweek and Craig are still together decades down the line while Clyde Donavan is an antivaxxer. Scott Malkinson is a priest now, and still reminds people he has diabetes, while Mr. Garrison and Mr. Mackey are in the same retirement home as Randy.
In the background of scenes we see other minor characters reimagined as adults with the likes of the goths and Nathan featuring in non-speaking roles.
The next South Park movie event coming to Paramount+ will likely continue on from the South Park: Post Covid special. It's scheduled to arrive some time in December, 2021.