Who Sings 'Pajama Time' In 'South Park' Season 25 Episode 1
Normal service finally resumed for South Park as Season 25 returned to Comedy Central with an incredibly catchy song in the episode "Pajama Day."
Season 25 marked the first full-length season of the show since 2019. In between there's been a two-episode long Season 24, and two feature-length specials which aired exclusively on Paramount+. While the previous episodes saw Stan, Kyle, Eric and Kenny deal with global threats and time travel, Episode 1 of Season 25 lowered the stakes and took part in the confines of South Park Elementary.
During the episode, "Pajama Day," the song "pajama time" was repeated as the residents of South Park rushed to wear their nightwear.
Who sings "Pajama Time" on South park?
"Pajama Time" was an existing song before it was used twice during the recent South Park episode.
"Pajama Time" is a 2016 song recorded by children's entertainers The Laurie Berkner Band. It's taken from the album released in the same year, Superhero.
There's an accompanying music video on YouTube with two million views.
Who is Laurie Berkner?
Berkner is an American musician who is best known for creating children's music. She provides the vocals in The Laurie Berkner Band while Susie Lampert plays piano. Brady Rymer is on bass, and Bobby Golden is on drums. Their music is categorized as kindie rock, which is essentially family and child friendly music.
Now 52-years-old, Berkner has been performing since 1992 and has released dozens of singles and albums across her career.
The Laurie Berkner Band will be touring in 2022 with four dates scheduled in New Jersey across March and May.
Berkner even celebrated the song's appearance on the Comedy Central show by tweeting, "Who knew the kids from South Park were Laurie Berkner Band fans??"
"Pajama Time" on South Park
Pajama Time was used multiple times during the Season 25 premiere of South Park on Comedy Central.
During the episode, the kids had their Pajama Day taken away from them at school, the "Met Gala for children." In support, the adults of South Park started to wear their pajamas too, which led to a cheery sequence where most people are enjoying being in their PJs.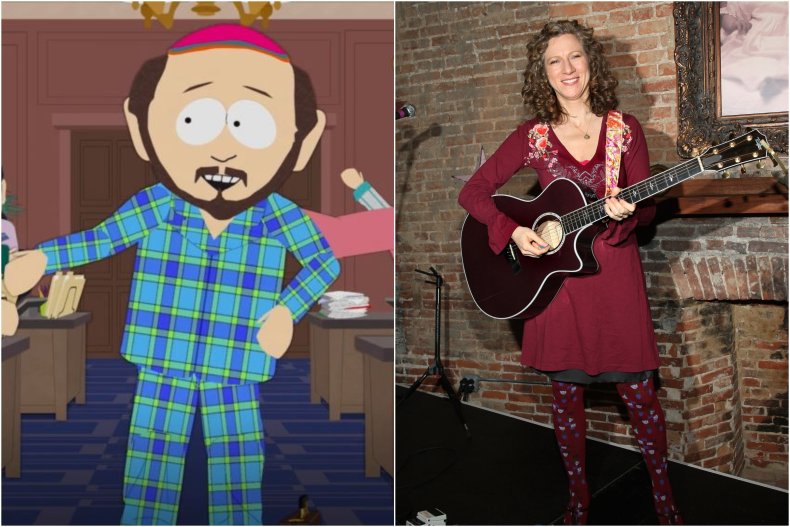 The pajamas become a thinly veiled metaphor to the usage of masks in today's society, as some residents of South Park begin to start refusing to wear pajamas.
Eventually, the school allows all of the kids to wear their comfy clothes on Pajama Day, which leads to an upbeat sequence of everyone in their pajamas, soundtracked by The Laurie Berkner Band's song "Pajama Day."
The next episode of South Park airs on Comedy Central on Wednesday February 9, 2022.
Correction 02/04/2022,11:00 a.m. ET: This article was updated to correct Berkner's nationality. It was also updated to include Berkner's tweet.