South Sudan Becomes 206th Olympic Country in Emotional Ceremony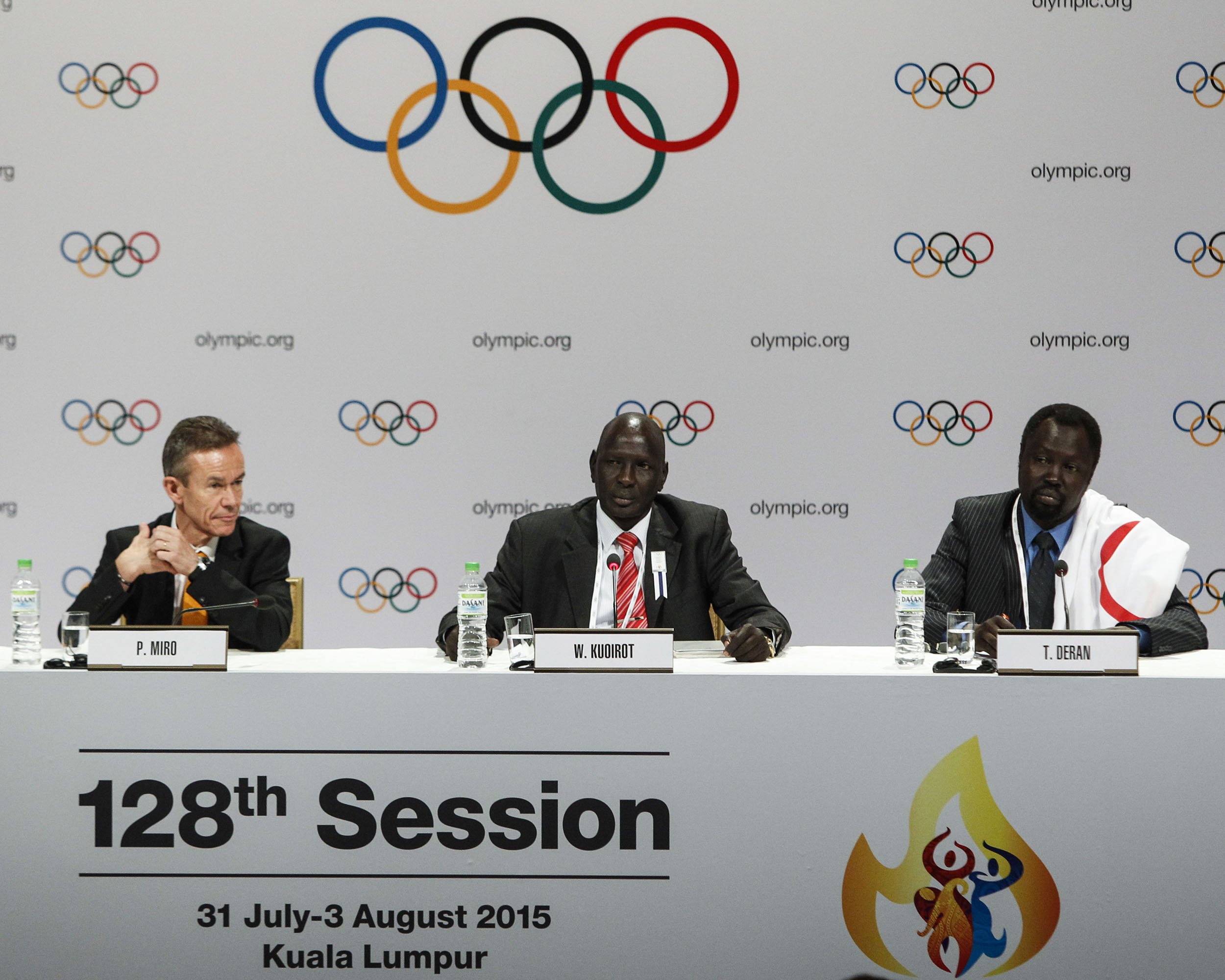 South Sudan became the 206th country to join the Olympic family in an emotional ceremony on Sunday and will compete under its flag for the first time in the Olympic Games in Rio next year.
The International Olympic Committee (IOC) approved the country's National Olympic Committee on Sunday, four years after South Sudan split from Sudan in July 2011 to become an independent country of approximately 11.3 million people. Since December 2013, the country, has been beset by a violent political conflict between the Dinka and Nuer ethnic groups. The conflict was in part ignited by a power struggle between President Salva Kiir, an ethnic Dinka, and Vice President Riek Machar, a Nuer, and their supporters. Thousands have died in the violence, which has displaced more than 100,000 people and put millions at risk of starvation.
"With this recognition, we send a signal of hope to this young nation of South Sudan; a signal of hope because sport builds bridges between people and cultures," IOC President Thomas Bach said during the meeting in Kuala Lumpur, Malaysia, on Sunday.
IOC officials and South Sudanese representatives were seen wiping away tears during Sunday's ceremony. South Sudan has seven recognized Olympic sports federations, including basketball, table tennis and athletics. The country needed five federations to be recognized, according to IOC requirements, a process that took four years.
"In sport all people are equal, all ethnic groups, all cultures and all religions are equal; a signal that South Sudan needs in difficult times," said Bach. Representatives from South Sudan's National Olympic Committee, President Lieutenant General Wilson Deng Kuoirot and Secretary General Tong Chor Malek Deran, were given an Olympic flag and certificate of recognition.
"We will arm our young people with sport and not with guns," Deng said. He added that the Olympic recognition will be "a great vehicle for promoting repatriation, national unity, peace-building and development of our young nation."
While South Sudanese athletes have previously competed in Olympic events, the 2016 Olympics in Brazil will be the first time South Sudanese athletes can compete under their country's flag. In the 2012 Olympic Games in London, Guor Marial, a South Sudanese marathon runner and refugee, competed as an Independent Olympic Athlete under the Olympic flag, along with three athletes from Curacao. Until 2010, the Caribbean island was part of the Netherlands Antilles, a country of five islands within the kingdom of the Netherlands that was dissolved, with two of the five islands, including Curacao, renamed as an autonomous territories of the Netherlands. The IOC withdrew recognition of the Netherlands Antilles Olympic Committee in 2011. The three Curacao competed at the Olympics independently as they did not want to identify as Dutch citizens.
South Sudanese athlete Margaret Rumat Hassan competed in athletics at the Youth Olympic Games in Nanjing, China, last year as an Independent Olympic Athlete. In a video screened at the ceremony Sunday, Hassan said the country's limited resources made training difficult, and she often had difficulty accessing a gym or even eating breakfast. Marial and Hassan, as well as another male and female athlete, are hoping to compete in the Olympics next year, international news channel France 24 reports.