South Sudan 'Permanent Ceasefire' Agreement Raises Hopes of End to Civil War
South Sudan's warring leaders agreed to a "permanent" ceasefire on Wednesday while meeting for peace talks in Sudan's capital, Khartoum. The deal has raised hopes that the country's civil war will end.
Sudanese President Omar al-Bashir looked on as South Sudan President Salva Kiir and South Sudan opposition leader Riek Machar signed the agreement, which could end a conflict that has killed 50,000 people and displaced 25 percent of the country's population.
The deal signed Wednesday, which Reuters says allows for humanitarian access, the release of prisoners and the formation of a transitional government, is not a final accord.
"The parties will continue talks in Khartoum to discuss the arrangements for implementing the ceasefire, and after it comes into place the issue of power sharing will be discussed," Sudan's Foreign Minister Al-Dirdiri Mohamed Ahmed told Reuters.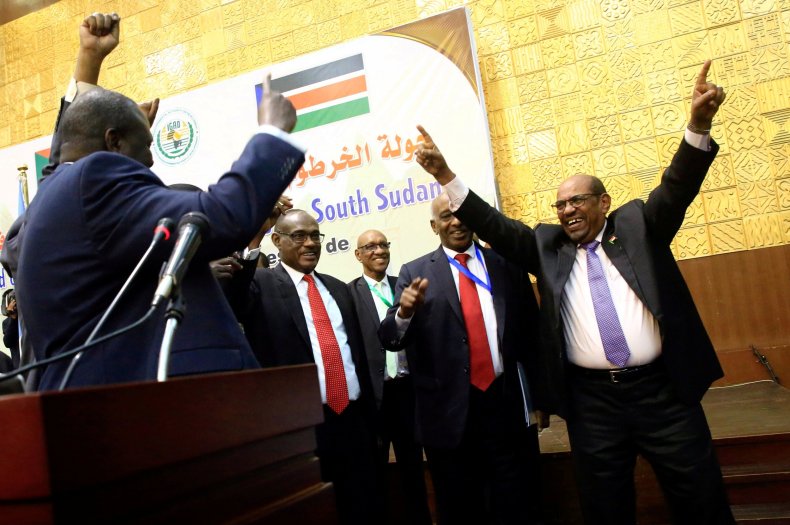 Although the agreement—which will take place within 72 hours—claims to permanently halt fighting, previous deals have failed to bring about permanent peace in the world's youngest country.
The opposing leaders still need to reconcile major policy disagreements. The proposal to distribute power across three separate capitals and negotiations to resume oil production, which a spokesman for Machar said would not happen until a more substantive agreement is reached, are among the main issues that have yet to be settled.
"What Sudan came up with by bringing those two sides together is a new transitional period of 36 months for the warring sides, a new ceasefire mechanism, and they also included European Union troops, as well as troops from the East Africa regional block, called IGAD [the Intergovernmental Authority on Development], to try to see if the ceasefire is actually being implemented," Al Jazeera said.
Fighting has plagued the country, which gained independence from Sudan in 2011 after a lengthy war, for much of its history. Violence between rival factions in South Sudan initially erupted in 2013, when Kiir claimed that Machar, then his deputy, was planning a coup. Internal conflict subsequently adopted ethnic elements and splintered, as new groups emerged. Many of these smaller factions fight under the South Sudan Opposition Alliancecoalition, which was not included in the Khartoum agreement.
The United Nations Refugee Agency reported that by the end of April 2018, the country of 12 million had 1.76 million internally displaced people. In 2016, the conflict in South Sudan generated the world's third largest group of refugees, with only fighting in Afghanistan and Syria causing more people to flee their homes.