Who's Who In South Sudan's Game of Thrones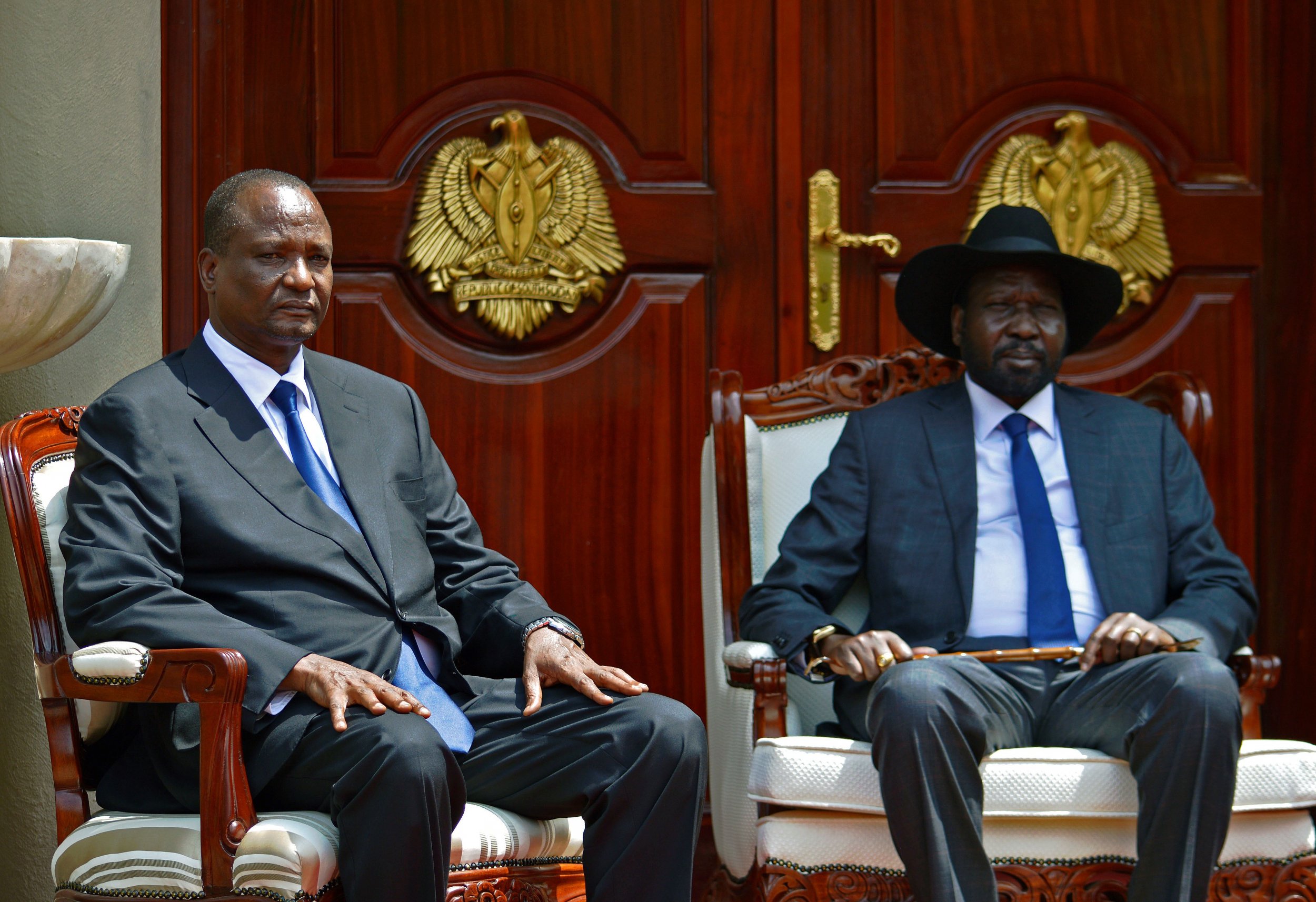 South Sudan has a new first vice-president. To go with two other vice-presidents. One of whom is not happy with the development.
President Salva Kiir swore in a new vice-president, Taban Deng Gai, on Tuesday, replacing opposition leader Riek Machar. The latter has been absent from the capital Juba since fresh fighting broke out between Kiir's troops and Machar's soldiers in July, claiming 300 lives and sending tens of thousands of South Sudanese fleeing into neighboring Uganda.
South Sudan's citizens will be all too aware that, the last time Machar was deposed as vice-president by Kiir, the country later erupted into a deadly civil war in December 2013 that continues in sporadic fighting, despite a peace agreement signed in August 2015.
Newsweek considers the key characters in South Sudan's potentially deadly game of thrones.
The President: Salva Kiir
A committed Christian who is rarely seen without his trademark black Stetson hat, Kiir was a founding member of the resistance in Sudan, the Sudan People's Liberation Movement, which fought for the South's independence. When this was achieved in 2011, Kiir assumed the role of president of the world's youngest country.
In December 2013, the country descended into chaos after clashes between his troops and those of his vice-president, Riek Machar. Kiir accused Machar of a coup and a bloody civil war began.
Following the signing of a peace agreement in August 2015, Kiir welcomed Machar back to Juba in April following an absence of more than two years. Machar was installed in the position as first vice-president and the two pledged to work together to implement peace, with Kiir referring to Machar as his "brother."
But Kiir's stance has hardened since the latest outbreak of fighting in Juba. Despite claiming to have shielded Machar with his own body during fighting at the presidential palace in July, Kiir issued an ultimatum Thursday for the rebel leader to return to Juba within 48 hours. As that did not happen, Kiir made good on his threat to replace Machar. The peace agreement "cannot be personalized [so] that if X is away, the agreement can be shelved until when that person comes," said Kiir when swearing in Gai, the Sudan Tribune reported.
The Deposed Vice-President: Riek Machar
Despite changing sides several times during South Sudan's independence war, Machar has always commanded strong support among the country's second-biggest ethnic group, the Nuer. He is viewed as a counterpoint to Kiir, a Dinka, and fighting in the recent civil war frequently took on ethnic undertones.
Machar has consistently denied he was plotting a coup in December 2013, when the civil war broke out, and his return to Juba in April was marred with signs of mistrust—Machar was denied permission to land in the capital for more than a week due to a dispute over how many soldiers he could bring with him for personal protection.
Machar claimed that he was almost assassinated during the recent fighting in Juba, though he was not clear on whether this was by forces loyal to Kiir or a third column seeking to sow instability in the country. While he has failed to return from hiding—he is reported to be holed up outside the capital—his spokesman James Gatdet Dak has vociferously opposed the appointment of Gai in Machar's stead. Dak said that Kiir had "destroyed the August 2015 peace agreement" by appointing Gai, whom he said had little support among the SPLM-In-Opposition (SPLM-IO), as Machar's forces are known.
But since Machar has said he will only return to Juba once an intervention force is deployed—and since Kiir has rejected the African Union's proposals for any such force—his absence could be longer than first anticipated.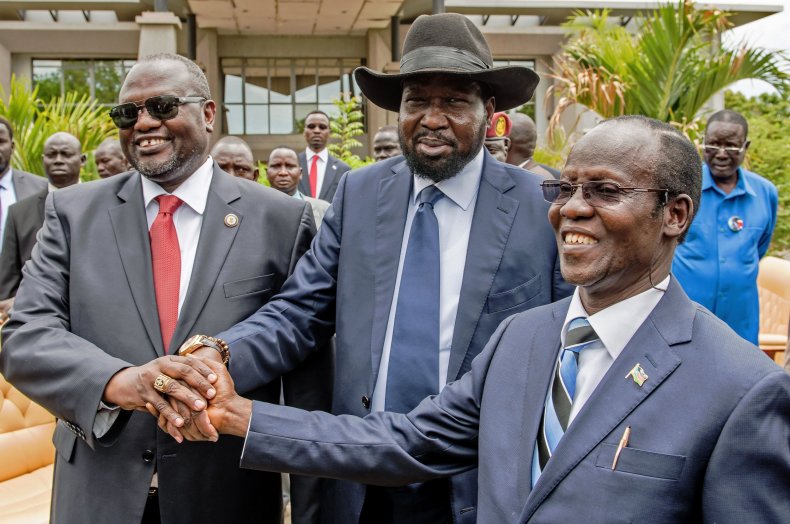 The Disputed Vice-President: Taban Deng Gai
Gai served as the opposition's chief negotiator for several years, as the two warring factions in South Sudan attempt to broker a peaceful solution, aided by the international community. An ex-governor of the former Unity state in South Sudan, Gai was appointed as the mining minister in a coalition cabinet established by Kiir and Machar earlier in 2016.
But Gai's relationship with Machar has deteriorated dramatically in recent days—Machar's spokesman Dak said Friday that Gai had been recalled from his ministerial post and dismissed from the opposition SPLM-IO, amid accusations that Gai had switched sides and was now working with Kiir.
Gai was nominated as Machar's replacement by an opposition faction on Saturday, with his appointment being rubber-stamped by Kiir on Tuesday. For his part, Gai has said he is simply "filling a vacuum" and would give up the role of first vice-president upon Machar's return. He has also denied that he has been dismissed from the SPLM-IO, telling Al Jazeera that he had seen no signed document from the rebel leader to such effect.
Gai began his possibly short tenure by calling on both sides to cooperate with the international community's efforts to mediate peace in South Sudan, and asked Kiir to consider the possibility of unifying government and opposition forces in a single army, the Sudan Tribune reported Tuesday.
The United Nations has warned that Gai's appointment must be consistent with the peace agreement, but Gai and Kiir maintain that it is—the agreement stipulates that, should the post of first vice-president fall vacant, "the replacement shall be nominated by the top leadership body of the South Sudan Armed Opposition."
The Other Vice-President: James Wani Igga
In July 2013, President Kiir dismissed Machar along with his entire cabinet of ministers following the pair's power struggle. In Machar's stead, the president appointed Igga as his new deputy in August 2013.
The previous speaker of the National Legislative Assembly, South Sudan's lower house of parliament, Igga also served as the secretary-general of the SPLM. He hails from the Bari community, a minority ethnic group that has a large presence in Central Equatoria, a state in the south of the country. Following Machar's return in April, the role of first vice-president was created for the rebel leader, while Igga's position was changed to second vice-president.