Southern California Edison Says Maria Fire Ignited 13 Minutes After It Re-energized Nearby Power Line
A power company in Southern California said on Friday that it had re-energized a power line just minutes before a wildfire ignited nearby on a hilltop northwest of Los Angeles.
Southern California Edison (SCE) had cut off power to hundreds of thousands of customers last week in an effort to prevent wildfires as strong winds threatened to down power lines, NPR reported.
Once winds had died down, the company told state regulators that it restored power to one 16,000 volt line in Ventura County on Thursday evening. But just 13 minutes later at around 6:14 p.m., the Maria fire erupted. Nevertheless, SCE said it did not know what had caused the blaze and added that it will cooperate with investigators.
"While the exact origin of the Maria Fire is unknown, SCE can confirm that the reported location of the Maria Fire is within its service territory," company spokeswoman Susan Cox told NPR.
The fire quickly spread to cover around 750 acres within the first hour. It has now burned an area of more than 9,000 acres and mandatory evacuation orders have been issued for around 10,800 people in the area.
Authorities say that approximately 1,300 firefighters are working to contain the blaze, however, efforts have been hampered by erratic winds, which have been shifting in direction.
"It has been an uphill battle," Ventura County Fire Chief Mark Lorenzen told a press conference, The Associated Press reported. "We are finding that the winds are starting to change, and that presents its own challenges all by itself."
Firefighting efforts have also been hindered by the presence of a civilian drone in the area.
"Earlier this evening, our firefighting aerial efforts were hampered by someone flying an unmanned aerial system in the area," Ventura County Sheriff Bill Ayub told NPR. "This created quite a dangerous situation. Not only is it illegal, but it hampers our firefighting efforts."
Officials say that Maria is threatening around 2,700 structures, and has already forced the closure of several schools and roads, KCLU reported. However, incoming cooler weather and a change in the wind is expected to stop the fire growing more than 12,000 acres.
Also currently burning in Ventura County is the Easy Fire, which has spread to more than 1,800 acres but is 80 percent contained. Furthermore, on Friday afternoon, the Sobrante fire broke out in Riverside County, east of Los Angeles, burning at least 35 acres, CBS News reported.
In total, wildfires across the state have burned more than 100,000 acres in the past three weeks, fueled by a perfect storm of environmental factors in many areas, including unprecedented high wind events, low air humidity, warm air temperatures and low fuel moisture.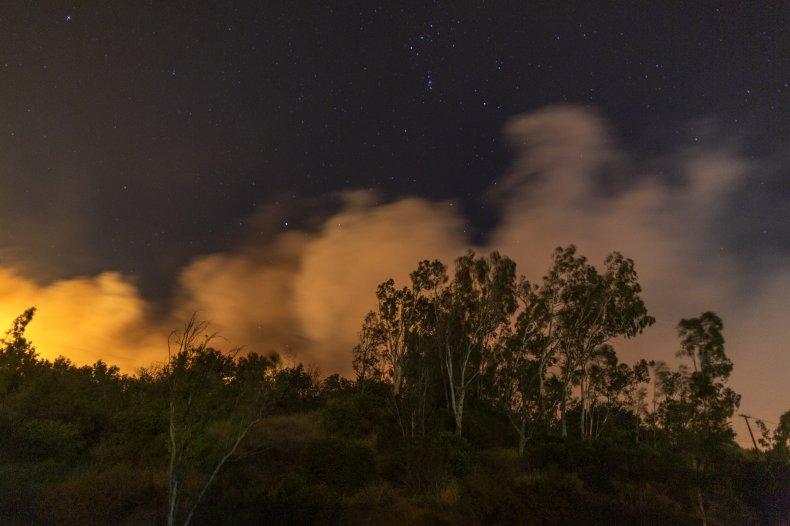 The largest of the blazes is the huge Kincade Fire, which has burned more than 77,000 acres in Sonoma County and is 70 percent contained. So far it has destroyed more than 360 structures and injured four people, although there have been no reported fatalities, according to the California Department of Forestry & Fire Protection.
On October 27, California Governor Gavin Newsom declared a statewide emergency in response to the spread of the fires.
"We are deploying every resource available, and are coordinating with numerous agencies as we continue to respond to these fires. It is critical that people in evacuation zones heed the warnings from officials and first responders, and have the local and state resources they need as we fight these fires," Governor Newsom said in a statement.
Southern California Edison Says Maria Fire Ignited 13 Minutes After It Re-energized Nearby Power Line | U.S.