Southern California Edison (SCE), a power company supplying energy to over 15 million customers, has been hit by an outage.
As of 2 p.m. local time on June 15, there have been nearly 500 reported outages, according to Downprotector, a website that provides information about the status of various websites and services.
However, an SCE spokesperson told Newsweek that Downprotector's numbers are inaccurate. As of 4 p.m. local time on June 15, SCE said that 166 reported outages had left an estimated 19,000 SCE customers without service across SCE's service area. Most of the outages are repair outages involving equipment issues, the company said.
A map of outages displayed on the SCE website showed reported outages along the state's southern region.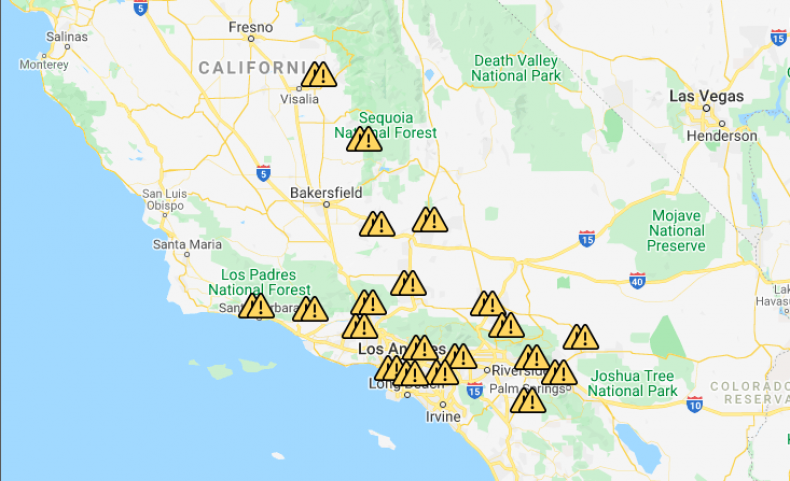 This week, the state prepared for its first major heatwave of 2021 with daily temperatures reaching highs of 100 to 110 degrees.
SCE told Newsweek that it has been prepared for the heatwave, with crews on standby. The company has advised its customers to conserve energy during the heatwave, not due to limited energy reserves but rather to avoid a strain on the electric grid. SCE advises customers to set home thermostats to 78 degrees or higher and to keep their fridge stocked with objects to take up airspace. Because opening refrigerators causes cool air to escape—requiring more energy to cool the space down—keeping fridges full creates less air to cool down.
In early May, SCE donated $18 million to help pay for firefighting helicopters in the counties of Los Angeles, Orange and Ventura, Daily Energy Insider reported. The three helicopters will help firefighters respond more quickly and drop large amounts of water and fire retardant on wildfires. The helicopters will be managed by local firefighting agencies and strategically placed within SCE's 50,000 square mile service area.
"Following the historic 2020 fire season, it is an honor to work with our frontline fire agency partners to help save and protect lives," SCE President and CEO Kevin Payne said. "SCE remains committed to reducing the risk of wildfires and supporting the readiness and response efforts of our fire agencies."
Hot temperatures, strong winds, dry air and drought conditions have created an elevated fire risk throughout California.
Four fires have already ignited within the state, including the Beale Fire, the Goose Fire, the Flats Fire and the Farm Fire, according to the California Department of Forestry and Fire Protection. The fires are burning hundreds of acres statewide.
In response to the regional wildfires, SCE reportedly considered issuing public safety power shutoffs in the cities of Lompoc, Gaviota, Goleta, Santa Barbara, and Montecito, KSBY reported. The shutdowns would affect roughly 5,100 customers.