Southwest Airlines Changes Stance, Will Not Fire Unvaccinated Employees
The CEO of Southwest Airlines said Thursday that employees who don't comply with a federal vaccine mandate will not be fired.
"This is an evolving process working with the government in terms of what they expect, and very clearly, we wanted our employees to know that nobody is going to lose their job on December the 9th if we're not perfectly in compliance," Gary Kelly said during a call about company's third quarter earnings on Thursday.
"It is a work in progress, and we're going to continue working in good faith to meet the requirements of the executive order. But I've already said, and I'm sure you've heard, we're not going to fire anybody who doesn't get vaccinated," he continued.
In his comments on Thursday, Kelly added that "how we work through the people that don't get vaccinated, or don't seek an accommodation, we're going to have to figure out, and we are working with the government on that."
Insider first reported on Kelly's remarks on Thursday.
The comments mark a change in the company's stance on the vaccine mandate.
Earlier this month, Southwest Airlines said that employees would have to be fully vaccinated against COVID-19 "or be approved for a religious, medical or disability accommodation" by December 8 "to continue employment with the airline."
In a statement on October 4, the Southwest said that it had completed a "thorough review of review of President Biden's COVID Action Plan and determined that the carrier's contracts with the U.S. government require full compliance with the federal vaccination directive."
On September 24, the White House announced that government contractors must ensure their employees are vaccinated against COVID-19 "unless the employee is legally entitled to an accommodation."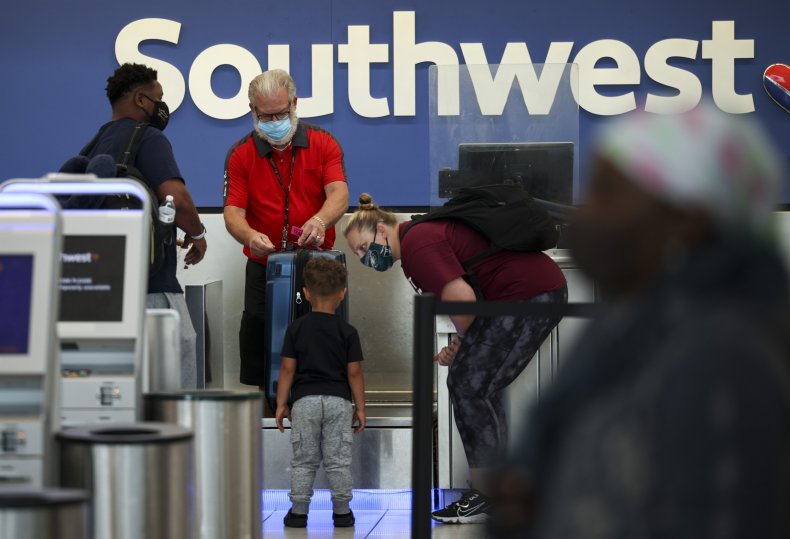 Following the announcement, federal contractors, including Amtrak, Union Pacific Corp., Boeing, Verizon and several U.S. airlines, said they would comply.
CNBC reported Tuesday that Southwest had nixed a plan to put employees who had applied for a vaccine exemption, but hadn't yet received one, on leave after December 8. Company officials told employees that those whose exemption requests were still pending could still work while following masking and social distancing protocols.
American Airlines also says that it won't terminated or suspend employees who file for vaccine exemptions, the Dallas Morning News reported on Tuesday.
But the newspaper noted that American Airlines employees who decline to submit proof of vaccination, or apply for a vaccine exemption could still be fired.
A spokesperson for Southwest told Newsweek that while the airline encourages its employees to get vaccinated, it "does not want to lose any Employee over the vaccination mandate."
"Southwest will work with each Employee, as best the airline can, to understand their personal situation as the carrier continues to work toward compliance with the federal mandate," the spokesperson wrote to Newsweek.
The spokesperson added that if "a request for accommodation has not been reviewed or approved by December 8, the Employee will continue to work, while following all COVID mask and distancing guidelines applicable to their position, until the accommodation has been processed.
"Southwest intends to grant all valid requests for medical and/or religious accommodations. In the event a request is not granted, the Company will provide adequate time for an Employee to become fully vaccinated while continuing to work and adhering to safety protocols."
Update 10/22/21 11:27 a.m.: This story has been updated with a statement from Southwest Airlines.