Southwest Airlines Customers Report Outages Days After Thousands of Flights Canceled
Customers flying Southeast Airlines reported outages early Tuesday morning, just a couple of days after the Dallas-based airline canceled thousands of weekend flights.
Downdetector, an online platform that provides the real-time statuses of certain websites and services, reported that problems with Southwest peaked just before 8 a.m., with 40 reports.
Concerns regarding flights, website troubleshooting and check-in did not seem to affect other airlines at the time.
Customers appeared to continue reporting ongoing issues with Southwest throughout the morning, with more than a hundred other outages problems being reported before noon.
However, a spokesperson for the airline told Newsweek its internal teams did not see any outages on Southwest's website or mobile page.
The outages come as Southwest attempts to stabilize its operations following the weekend. Since Saturday, the airline has canceled close to 2,400 flights. On Sunday alone, it canceled more than 1,100 flights, or about 30 percent of its schedule.
Delays and cancelations were expected on Tuesday as the airline tried to return to normal.
On Monday, Southwest had reduced its cancelations to about 10 percent of the flights scheduled. On Tuesday, the airline canceled 87 flights, or 2 percent of its schedule.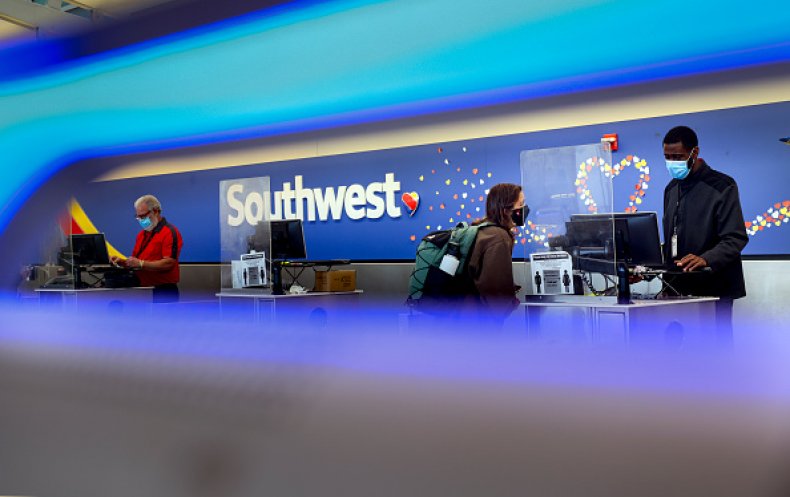 The Southwest Airlines Pilots Association (SAPA) has rejected "false claims" that the mass cancelations were due to noncompliance with a COVID-19 vaccination mandate, saying that the chaos unfolded because of the airline's poor planning. This past weekend, Southwest attempted its biggest schedule since April 2020.
The airline had already scaled back its fall schedule after complaints of exhaustion from understaffed crews over the summer. October is on track to be the second-worst month for pilot fatigue since August, according to the SAPA.
The airline had hoped that reducing the number of flights would prevent the dozens of cancellations it was forced to announce throughout the summer. But Mike Van de Ven, Southwest's chief operating officer, said the airline would continue to review additional cuts if necessary.
"We've already made significant reductions from our previously published November and December schedules, and if we think we need to do more, we will," Van de Ven told employees in a message obtained by CNBC.
He acknowledged that Southwest "is still not where we need to be on staffing, and in particular with flight crews."
In a previous statement sent to Newsweek, the airline said flight reductions in the fall would not cause huge disruptions for customers because fewer people fly during this time of year.
Southwest said it provides special "protection" around peak days of travel, specifically around the holidays, to prevent passengers from having to reschedule flights during those peaks.
Airlines across the nation have struggled to staff their flights as eager passengers rushed to book travel plans after the apparent peak of the coronavirus pandemic.
Update 10/12/21 11:46 a.m. This story was updated with comments from Southwest.