Southwest Airlines Expands Despite COVID-19, While Other Airlines Try to Survive
Demand for air travel collapsed during the coronavirus pandemic, devastating the airline industry – and, paradoxically, creating an opportunity for Southwest Airlines to expand operations in Chicago and Houston.
Major carriers have cancelled flights and furloughed staff as passengers stayed home. But Southwest is betting on a rebound, and next year will begin service to Chicago's O'Hare International and Houston's George Bush Intercontinental airports.
"Southwest was the 800-pound gorilla in the industry and I think it will come out of this as a 1,000-pound gorilla," Robert Mann, president of R.W. Mann & Co., in Port Washington, New York said. "Slack exists in the system due to the COVID-19 pandemic, and Southwest is now going into places that weren't previously available in big city markets."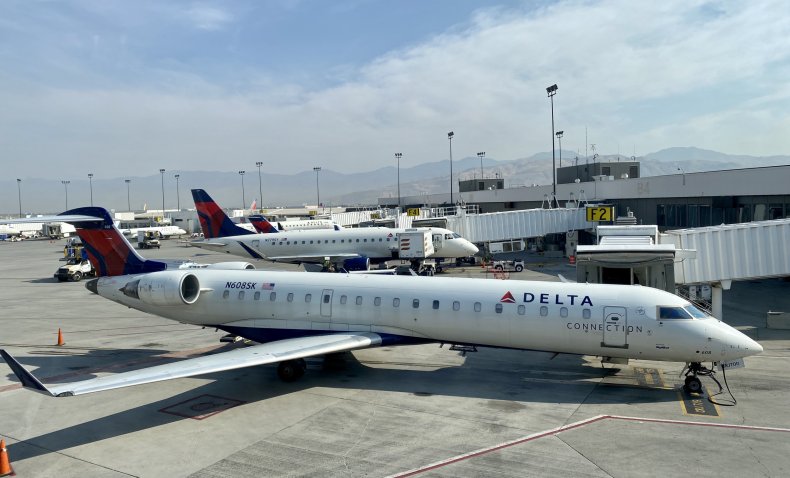 Southwest, the nation's fourth-largest airline by revenue, already carries more than 90 percent of passengers at Chicago's Midway and Houston's Hobby secondary airports. But Mann said Southwest understands that to earn big-city revenue it must fly to primary airports like O'Hare and George Bush Intercontinental.
In the past, Southwest attempted to tap the New York market by flying to Islip, Long Island, about 55 miles and a two-hour drive east of Midtown Manhattan. It now serves La Guardia Airport in New York City. The airline had previously extended service to Miami after flying into Fort Lauderdale and West Palm Beach.
But the pandemic makes the move more risky. As Dr. Anthony Fauci famously said, "You don't make the timeline. The virus makes the timeline."
Mann acknowledged the extra risk the pandemic poses to the Southwest expansion strategy.
"When Southwest publishes its schedule, it risks dollars because it's committed to pay crews and staff the operation," Mann said. "If there's a subsequent wave of coronavirus infections, the airline will have under-utilized and unprofitable capacity."
But unlike many competitors that have cut back during the pandemic, Southwest takes the long view.
"They're betting they will come out of this with more corporate travelers – when corporate travel resumes, of course – and more income," Mann said. "To do that, they must move into core city markets. You go fishing where the big ones are."
In March, the Coronavirus Aid, Relief and Economic Security Act (CARES) provided $25 billion to airlines to keep workers on the payroll as the number of passengers plunged. The aid ran out last month and Congress continues to wrangle about the next round of funding.
Southwest announced its move as the industry reported steep losses during the pandemic. In July, Southwest reported a second quarter loss of $915 million compared with a $741 million profit for the same period a year ago. Nevertheless, Southwest has the "best liquidity in the business" and that makes its move into major airports possible, Mann said.
Delta Airlines reported a third quarter loss of $5.4 billion compared with a profit of $1.5 billion for the same period a year ago. Revenue fell 75.64 percent to $3.06 billion from $12.56 billion.
United Airlines fell to a third quarter loss of $1.8 billion from a profit of about $1 billion a year ago as revenue declined 78.12 percent to $2.49 billion from $11.38 billion.
"We've got 12 to 15 months of pain, sacrifice and difficulty ahead," Scott Kirby, United's CEO, said Thursday in a conference call with Wall Street analysts. "But we have done what it takes in the initial phases to have confidence – it's really about confidence – in getting through the crisis and to the other side."
Like competing airlines, United has furloughed workers and stored planes. Single-aisle planes used for domestic service are likely to be returned to service before twin-aisle planes generally flown on international flights.
Air travel has rebounded since the worst of the coronavirus shutdown, but remains significantly below last year's level. On April 14, the U.S. Transportation Security Administration said 87,534 passengers were screened at US airports, compared with 2,208,688 for the same day a year ago – a drop of 96.04 percent.
On October 14, 717,940 passengers were screened compared with 2,317,763 in 2019. That's a drop of 69.02 percent. Nevertheless, Wall Street believes the industry will rebound as the economy recovers.
"The near-term pain is real, but the truth remains that COVID-19, like all stress scenarios, is transient," New York investment bank Cowen and Company said in a research report. "This too shall pass, and when it does the airline industry will fall back into long-term traffic and fleet growth trends."
But they have to get through the pandemic first.
The industry's immediate concern is surviving a "period of severely limited demand," Cowen said.
Cowen said US airlines emerged stronger and better capitalized with less debt after the last recession sparked by the collapse of the subprime mortgage market in 2008. However, a continued sharp reduction in the number of travelers could lead to mergers and a slimmed down industry offering fewer flights, especially to smaller cities. In the worst case, cutting "spoke and wheel" service could lead to a reduction in the number of travelers at major hubs and further undercut the airline industry.
Air travel may not fully recover until there's a COVID-19 vaccine. While progress is encouraging, it appears there will be no immediate miracles, after Johnson & Johnson suspended clinical trials of its vaccine because a test subject became ill for unexplained reasons.
In the short-term, airlines have responded to the downturn by cutting fares to win back customers. In the first quarter of 2020, U.S. average ticket price declined to $336, the lowest inflation-adjusted quarterly ticket price reported by the U.S. Bureau of Transportation Statistics since 1995.
Adjusted for inflation in 2020 dollars, the first-quarter airfare this year was down 6 percent from the first quarter of 2019 ($358) and down 21.6 percent from the first quarter of 2015 ($429), the government agency reported. Airlines are also offering attractive deals for frequent fliers, urging customers to cash in fewer miles than previously required for seat upgrades or free flights.
Airlines also attempt to reassure and attract passengers by deep cleaning of planes between flights, maintaining social distancing measures and installing new air filters. In July, United Airlines said it will use high efficiency particulate air (HEPA) filtration systems during boarding and deplaning of all "mainline aircraft."
In addition, the carrier said cabin air will be re-circulated every two or three minutes to remove 99.97 percent of particles including any bacteria and viruses "making the air onboard a plane significantly cleaner than what people typically experience in restaurants, grocery stores, schools or even some hospitals."
Other airlines have taken similar steps.
United Airlines, working with San Francisco International Airport, will make two Covid-19 tests available for travelers to Hawaii: a quick test taken at the airport on the day of departure or a drive-through test conducted 48 to 72 hours prior to travel. Passengers who test negative for the coronavirus will be exempt from quarantine requirements in Honolulu and Lihue, Maui. However, those going to Kona will be required to take a second test upon arrival to avoid quarantine.
"In partnership with the San Francisco Airport, we look forward to helping re-open the Hawaiian economy, and look forward to making testing options more broadly available to our customers," Toby Enqvist, United's chief customer officer, said in a statement.
The downturn in demand for air travel has slashed orders for new aircraft at Boeing and Airbus, its European rival. Boeing said it delivered 28 commercial jets in the third quarter and 98 so far this year.
Hundreds of orders have been cancelled during the pandemic and following crashes of the 737 MAX, the company's best-selling plane, in Indonesia and Ethiopia that killed a total of 346 passengers and crew. The Federal Aviation Administration has not recertified the 737 MAX for commercial service and there is no timetable to do so.
Boeing reported a second-quarter loss of $2.40 billion, or $4.20 a share, down from $2.94 billion, or $5.21 a share a year earlier when it took about a $5 billion charge on the MAX.
"Regretfully, the prolonged impact of COVID-19 causing further reductions in our production rates and lower demand for commercial services means we'll have to further assess the size of our workforce," Boeing's CEO David Calhoun said in a note to employees after announcing the loss. Boeing will release third-quarter results October 28.
The challenges facing at least one company in the airline industry are far more dire.
"We're bleeding cash at an unprecedented speed," Airbus CEO Guillaume Faury said in a note to employees, "which may threaten the very existence of our company."