Southwest Airlines canceled thousands of flights over the weekend, citing air traffic control issues and disruptive weather.
Since Saturday, Southwest has canceled close to 2,400 flights, according to FlightAware data. Cancellations peaked on Sunday when the airline shut down about 30 percent of its flight schedule.
While issues seemed to diminish moving into Monday, customers were still reporting issues as of early Tuesday.
As the airline seeks to return to its normal flight schedule, here's what you need to know about Southwest's cancellation policy and how to redeem refunds or credits if your travel is affected.
Under the Department of Transportation rules: "Airlines are not required to provide passengers with money or other compensation for costs that fall outside of the canceled airline ticket and fees tied directly to the airline ticket."
There are also no federal laws that entitle customers to money or compensation in the case of delayed flights.
However, while airlines in the U.S. are not required to provide compensation compared to its European counterparts, which are subject to tighter air traveler protections, each airline adheres to its own policies.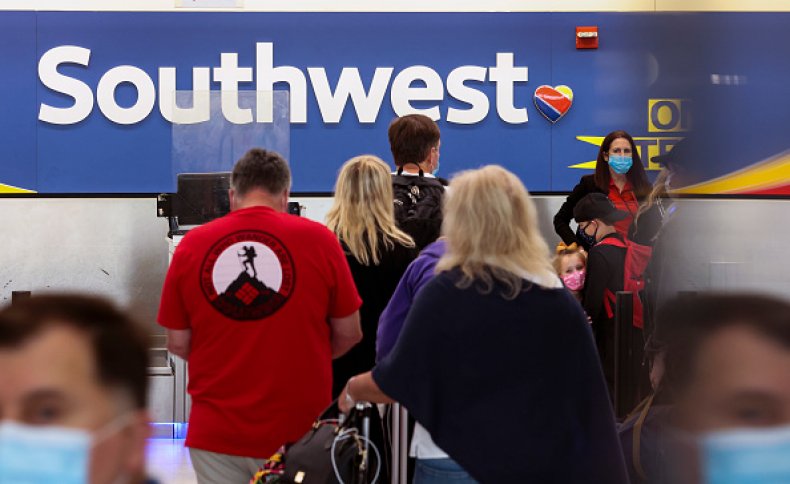 According to the Southwest's website, full refunds are issued if a flight is canceled for the same reasons the airline cited over the weekend.
"If Southwest Airlines have canceled due to heavy airline traffic, bad weather, or any other reasons, then, passengers will get a full refund amount without any cancellation fee," the website read.
If you are eligible for a refund under the airline's policy, Southwest will transfer the amount on the same bank account used for booking within 7 to 10 working days after a reservation cancelation.
However, refunds for reservations booked on a third-party website may take 20 to 25 business days to credit.
In the case of a flight delay, Southwest says that passengers will receive compensation in the form of a meal and drink voucher or promo code for future bookings.
In most cases, Southwest does not reimburse hotel expenses or travel-related expenses, like car rentals, for customers whose flights are canceled or delayed overnight.
Southwest has recommended affected customers use their self-service option to rebook any flights that were canceled in recent days.
"We're offering customers added flexibility to explore self-service rebooking options on Southwest.com, where they can get updates on the status of their travel," the airline said in a statement.
Passengers can also protect themselves from weather delays by flying nonstop, which sidesteps fluctuating weather conditions in connecting cities—or purchasing travel insurance, which typically covers interruption including those caused by disruptive weather.