Video Shows COVID-Hit Southwest CEO Cough Near Delta, United, American Bosses
Southwest Airlines' CEO, Gary Kelly, who later tested positive for COVID-19, was seen coughing without a mask during a U.S. Senate hearing earlier this week in which he questioned the benefits of masks on flights.
Kelly was sitting near other airline executives—including Delta chief of operations John Laughter, United CEO Scott Kirby and American Airlines' CEO Doug Parker—on Wednesday to testify before the Senate Commerce, Science, and Transportation Committee about federal aid.
At one point, Kelly told lawmakers "the case is very strong that masks don't add much if anything in the air cabin environment," adding that "it's very safe, very high quality compared to any other indoor setting." Southwest later said it supports the current federal mask mandate at airports and on airplanes.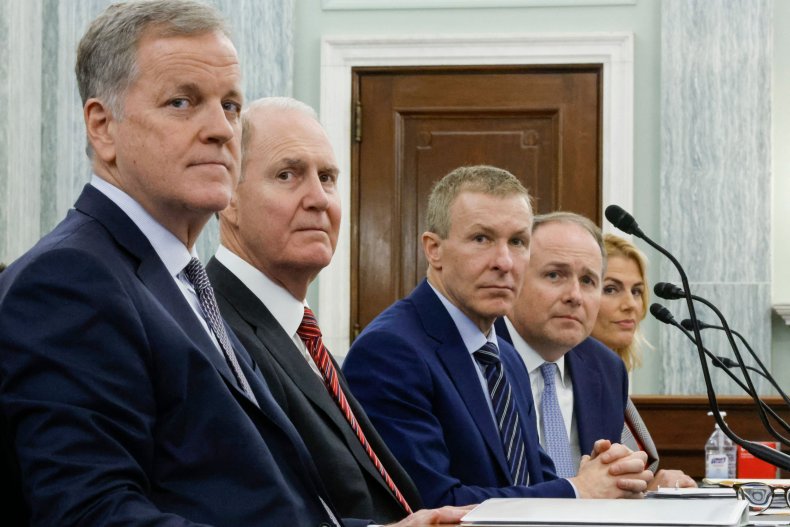 About 20 minutes before the end of the approximate 3-hour-long hearing, Kelly addressed Democrat Senator Ben Ray Luján, for New Mexico, telling him that flight activity had not been fully restored across the airline's system.
Kelly said "no airline was back to pre-pandemic activity yet," before cupping and raising his left hand to cover a cough.
A clip of the incident during the hearing televised by C-SPAN was tweeted and shared widely. As of Saturday morning, it had received more than half a million views online.
Southwest confirmed to Reuters that Kelly had tested positive for COVID-19 after returning home from the hearing and was "experiencing mild symptoms."
The airline said Kelly had tested negative for the disease before the hearing and was fully vaccinated with a booster shot. "Each day he is moving closer to a full recovery," it added.
Laughter, Kirby and Parker have all tested negative, their respective airlines have said. Sara Nelson, president of the Association of Flight Attendants-CWA, who also gave testimony during the hearing, also tested negative for COVID, Reuters reports.
Southwest later released to the media an email it sent to staff insisting that the airline backs the current federal mask mandate at airports and on airplanes, adding, "there is no effort underway to change it before it expires."
The federal mandate has been extended until March 18 2022. Senate Commerce chair Maria Cantwell, who presided over Wednesday's hearing would get a COVID test on Saturday, her office said.
The aviation bosses were testifying about the impact of federal aid received by the industry during the pandemic. They also discussed with lawmakers issues including the government's Payroll Support Program under the CARES Act, mask and vaccine mandates, pilot shortages, violence on flights, airline fees, as well as fuel availability.
Southwest Airlines and Cantwell's office have been contacted for comment.