The Federal Aviation Administration on Wednesday said it would order the inspection of 220 jet engines following the death of a passenger on a Southwest Airlines flight after one of its engines failed.
Jennifer Riordan was killed Tuesday after the left engine on a Southwest flight from New York to Dallas failed and caused debris to crash through a window of the Boeing 737-700. Her body was partially sucked out of the window before the pilot managed an emergency landing. Her death, a result of blunt trauma to the head, neck and torso, was ruled an accident by Philadelphia's medical examiner.
The FAA has now ordered inspections of CFM56-7B engines, the type that failed on the Southwest flight and that is used in more than 6,700 airliners.
"The FAA will issue an Airworthiness Directive (AD) within the next two weeks that will require inspections of certain CFM56-7B engines," read a statement from the agency. "The directive will require an ultrasonic inspection of fan blades when they reach a certain number of takeoffs and landings. Any blades that fail the inspection will have to be replaced."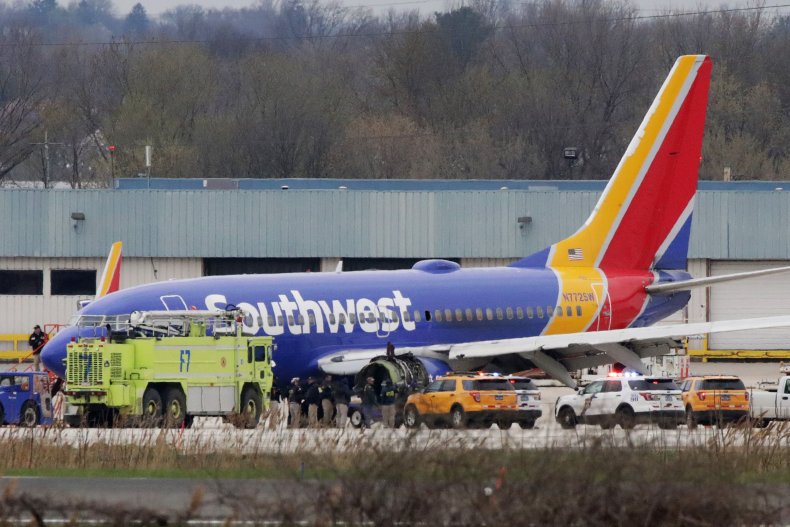 The same engine failed on another Southwest Airline flight two years ago. Although no one was injured, the plane was again forced to make an emergency landing following cracks in some of the engine's fan blades. Investigators found that the engine failed on Tuesday after one of its 24 fan blades snapped off.
But National Transportation Safety Board Chairman Robert Sumwalt said that it was too early to say whether there was a widespread issue with the Boeing 737-700.
"We want to very carefully understand what was the result of this problem, and as I mentioned a few minutes ago, I'm very concerned about this particular event," he said at news conference at the Philadelphia airport. "To be able to extrapolate that to the entire fleet, I'm not willing to do that right now."