Flight Attendant Hailed an 'Angel' for Soothing Screaming Baby on Flight
The video of a flight attendant who helped out a new mom by giving her screaming baby a tour of the plane has been viewed 1.5 million times online.
Her actions during a Southwest Airlines flight went viral after the mom posted it to her TikTok account @jessicawindsorr on August 30.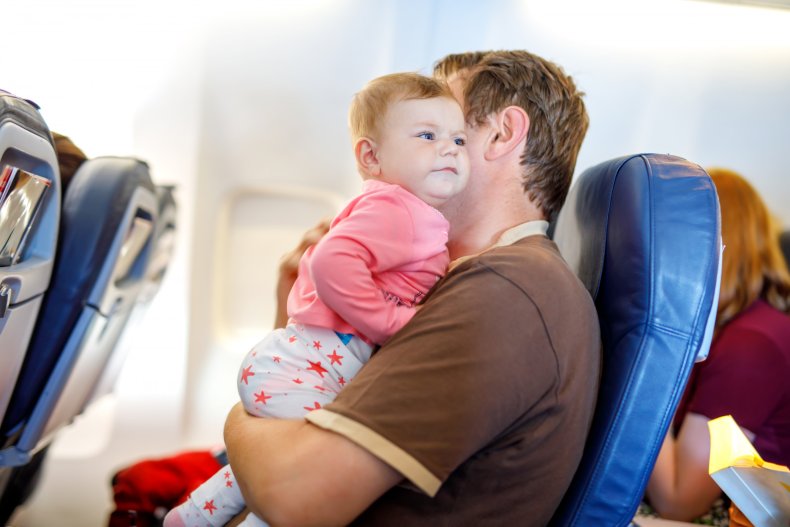 "To the flight attendant who gave my screaming baby a plane tour, thank you," wrote mom Jessica Windsor. "Southwest, she deserves a raise."
The video showed the flight attendant walking the aisle of the busy plane, carrying the baby and rubbing her back while talking attentively to her.
In the caption of the clip, the mom described the attendant as an "angel" and said she "saved me on my baby's first plane ride."
Babies are allowed to fly on Southwest planes from just 14 days old. Some moms choose to keep their babies on their laps during a flight, but the Federal Aviation Administration advised that "the safest place for your child on an airplane is in a government-approved child safety restraint system or device."
For those who aren't blessed with a kindly Southwest flight attendant, the best way to stop a baby from crying during a flight is to give them milk or formula on takeoff and landing, according to Conde Nast Traveler. This method helps them adjust to the change in cabin pressure.
TikTokers were impressed by the unnamed flight attendant, with some moms even claiming it eased their nerves about an upcoming trip with their own baby.
One TikTok user wrote, "This needs to be a commercial," while another added, "I don't have kids yet and this makes my heart so happy. We need more people like her."
"This woman has extreme skill," read one comment. Another user wrote: "As a parent, these kinds of people are actual walking angels. It takes a village and I'm so grateful for people like her."
This isn't the first time a flight attendant has gone viral online after trying extra hard to look after passengers. In May, when a Southwest flight was experiencing a delay, one attendant took it upon herself to become the in-flight entertainment.
Passenger Summer Lowe shared the moment her attendant started singing over the intercom system, to lift spirits during a four-hour delay.
"I can't make this up," Lowe wrote on her video.
Newsweek has contacted Windsor and Southwest for comment.