Southwest Plane Diverted After Man Allegedly Touches Female Passenger, Threatens Flight Attendant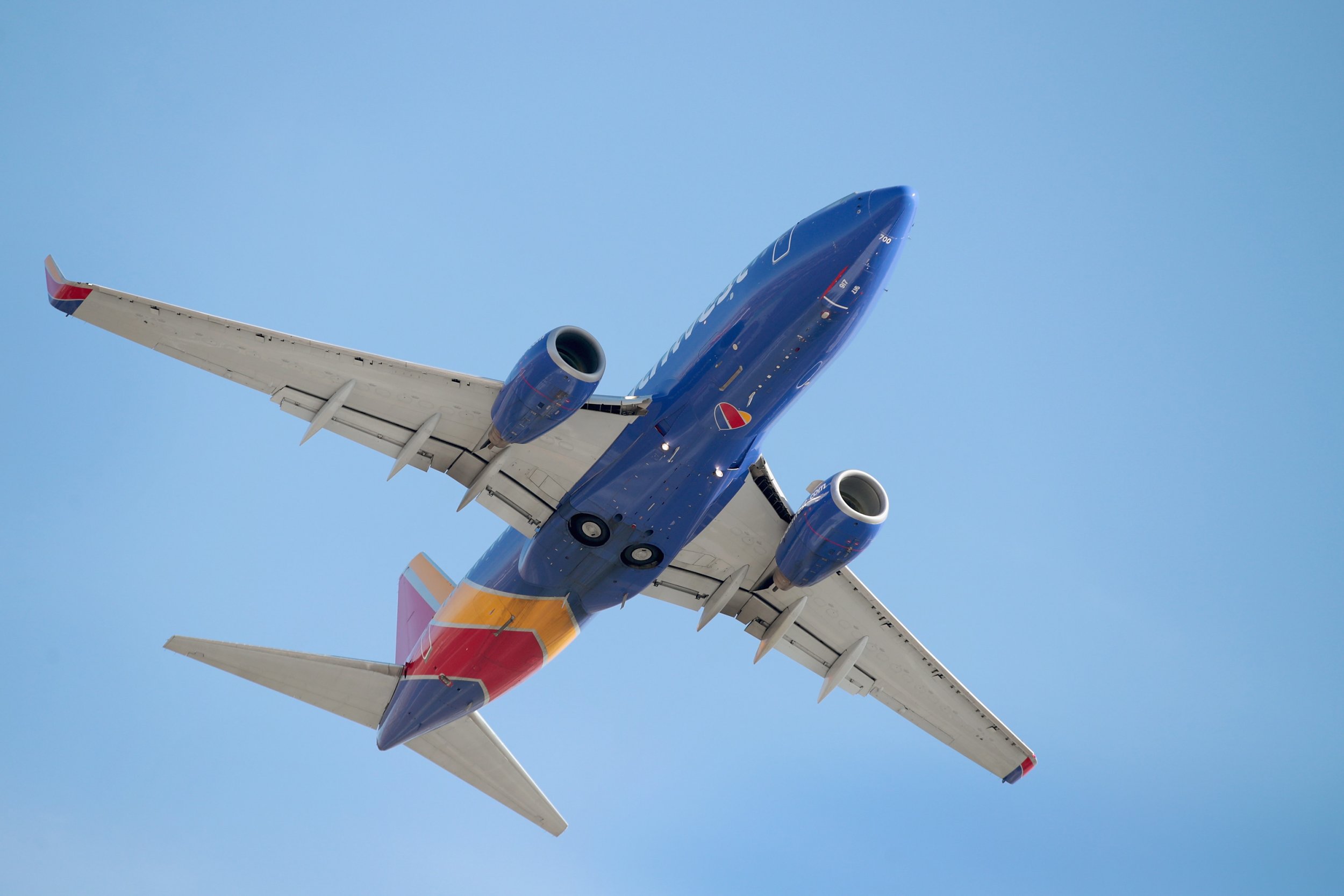 A Southwest Airlines flight from Los Angeles to Dallas made an impromptu stop in Albuquerque, New Mexico, after a male passenger allegedly verbally and physically harassed his female seatmate and became belligerent when confronted by flight attendants.
Justin Riley Brafford was charged with interfering with and intimidating members of a flight crew and flight attendants while on an aircraft, which is a felony, and the misdemeanor charge of simple assault, stemming from his alleged behavior on a Tuesday flight.
Brafford, who was arrested after the plane landed, told officers that he'd overdosed on heroin on October 13 and used methamphetamines the day before the flight.
"He was also receiving 'calls' while on the plane, and later explained that 'calls' meant that God was talking to him," read a criminal complaint filed in the United States District Court in New Mexico.
The criminal complaint outlined three perspectives from people involved in the incident: the victim's account, a flight attendant's account and Brafford's account.
The Victim's Account
The victim, identified as "M.W." in the criminal complaint, was seated in an aisle seat on the Southwest Airlines flight when Brafford allegedly asked if he could sit in the open middle seat next to her. Before takeoff, the 29-year-old leaned closer to M.W.'s seat and put his arm over her armrest, touching her leg.
At first, M.W. tried to ignore him by leaning away from him, but he continued leaning closer to her and began "playing footsies" with her to get her attention. When Brafford asked M.W. if he was bothering her, M.W. responded that he was and asked him to stop kicking her.
However, the unwanted touching didn't stop, according to the criminal complaint, and Brafford began tugging on her sweater, asking, "What did you say?" despite M.W. not having said anything.
Among the questions Brafford allegedly asked M.W. were where she lived, if she was staying alone in her hotel room and what her name was. He asked her out on a date, which she declined.
"Don't f**k with me," Brafford allegedly repeatedly whispered to M.W.
During the flight, M.W. grew so uncomfortable that she asked a flight attendant if she could switch seats, which the flight attendant, identified as "C.K.," facilitated; he also moved M.W.'s belongings for her.
Flight Attendant's Account
C.K. initially thought the two passengers were a couple because of how Brafford was behaving, until C.K. and M.W. had a conversation at the back of the plane, during which M.W. said Brafford was "asking her out, touching her and rubbing her feet with his."
C.K. offered M.W. a complimentary beverage, and when he went to bring her the drink he noticed she was crying. M.W. told him that Brafford came over to her seat and confronted her, bringing her to tears.
C.K. then confronted Brafford in a quiet voice so as to not involve the other passengers. Brafford stood up and started yelling variations of "this is not happening," "we are not doing this" and "this is not f**king going on."
"Brafford was not acting like a normal person and seemed to have gone from 'zero to sixty in nanoseconds,'" the complaint said C.K. recalled.
C.K. was able to get Brafford to sit down, at which point the flight attendant used a telephone at the rear of the plane to inform the pilot of what was going on. The pilot agreed to divert the plane to Albuquerque.
Brafford's Account
Brafford agreed to waive his rights and provided an audio-recorded statement to authorities. He acknowledged that he was in the middle seat and M.W. was in the seat next to his. However, he said they were watching videos on M.W.'s computer, and she had her arm on top of his while they were watching.
He told law enforcement officers that he thought she was flirting with him and began to nudge her leg to get her attention. Brafford acknowledged that M.W. initially ignored him and then told him to stop kicking her.
He also acknowledged that during the flight he asked her what she said, to which she responded that she hadn't said anything.
"You're f**king with me," Brafford claimed he told M.W.
Brafford admitted to putting his hand on M.W.'s leg but said he did so because he thought they were connecting. He claimed he removed it when he felt like he went too far and may have misread the situation.
When M.W. got up, Brafford said he asked if she was moving seats, and she claimed she was just going to the restroom. He said he approached her new seat to tell her that if he was bothering her she could have just told him.
After telling a flight attendant to "leave [him] the f**k alone," Brafford said he told the nearby passengers, "as a matter of fact, all you guys leave me the f**k alone."
Brafford, who appeared in federal court, faces up to 21 years in prison and fines of up to $350,000 if convicted on both charges.