Southwest Airlines is waiving fare differences for customers who want to alter travel plans because they are scheduled to fly on a Boeing 737 Max 8, as concerns rise after a fatal crash on Sunday.
"We are not issuing refunds of non-refundable fares, but we are working with Customers who wish to rebook their flight to another aircraft type on a case-by-case basis. As a courtesy, we will waive the fare difference for the new flight between the same city pairs," a company spokesperson told Newsweek on Wednesday afternoon.
"The current waiver is through March 18 to support our Customers."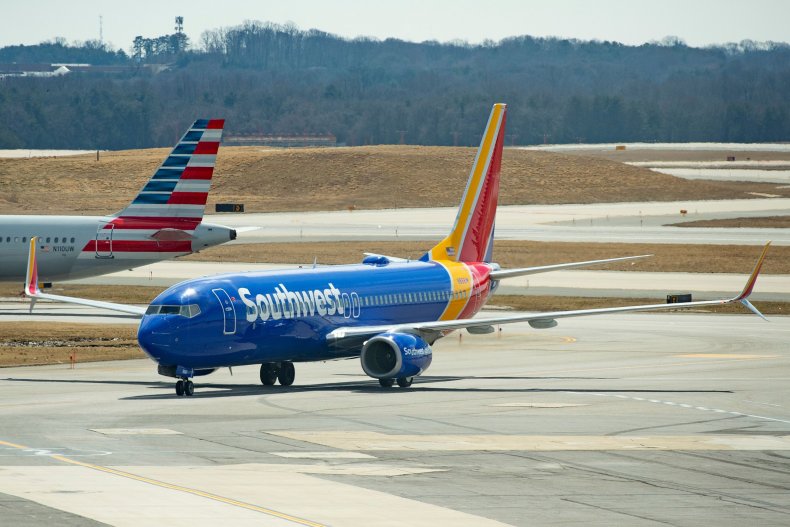 Travel company Kayak said it would allow passengers to filter flights by the type of plane used, CNN reported on Wednesday. Southwest and American Airlines are still flying the Boeing 737 Max 8.
U.S. travelers have expressed concerns about the aircraft after an Ethiopian Airlines plane traveling to Kenya crashed on Sunday, killing all 157 people on board. The fatal crash was the second of a Boeing 737 Max 8 in five months. In October, a Lion Air flight crashed into the Java Sea. All 189 people on the flight died.
After the Lion Air crash, pilots said they had not been adequately informed of a safety feature that pulled the plane's nose down to avoid stalling, according to USA Today.
Countries around the world have grounded Boeing Max 8 flights. The European Union, India and Canada, among others, have temporarily prevented the Max 8 planes from taking to the air. The U.S., meanwhile, has continued flying the planes, with the Federal Aviation Administration saying the aircraft are safe to fly.
Lawmakers have also called for the planes to be grounded. Democratic senators Elizabeth Warren and Richard Blumenthal called for flights to be stopped, as have Republican Senators Mitt Romney and Ted Cruz.
Boeing issued a statement on Tuesday asserting confidence in the 737 Max. "Safety is Boeing's number one priority and we have full confidence in the safety of the 737 MAX. We understand that regulatory agencies and customers have made decisions that they believe are most appropriate for their home markets. We'll continue to engage with them to ensure they have the information needed to have confidence in operating their fleets," the statement said.
President Donald Trump spoke to Boeing CEO Dennis Muilenburg on Tuesday, CNN reported.
The president also commented on the crash, tweeting "Airplanes are becoming far too complex to fly. Pilots are no longer needed, but rather computer scientists from MIT. I see it all the time in many products. Always seeking to go one unnecessary step further, when often old and simpler is far better. Split second decisions are needed, and the complexity creates danger. All of this for great cost yet very little gain. I don't know about you, but I don't want Albert Einstein to be my pilot. I want great flying professionals that are allowed to easily and quickly take control of a plane!"
Vox noted that automation of airplanes has made flying safer.